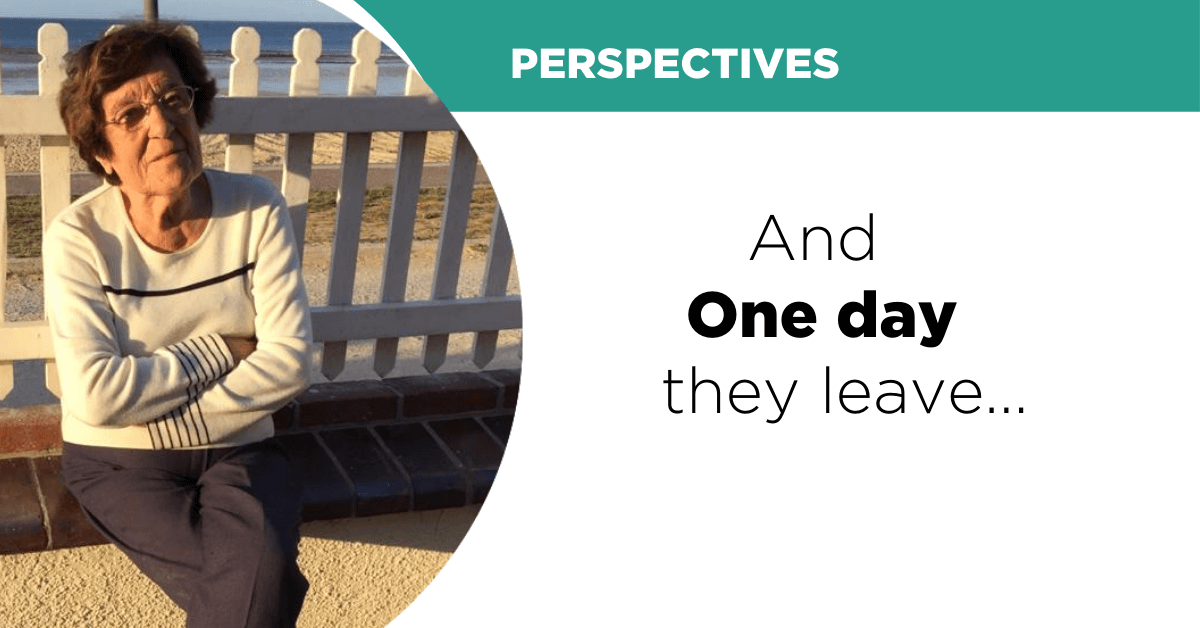 I was recently in France visiting my family.
It is quite the trip from Maui, and it is always an exciting journey traveling with my daughter and son.
When you live so far away, you think people will come visit you where you are, but the truth is that everyone has their own lives going on. I understood early on that it was on me to go visit my friends and family wherever they live in France.
During the trip, I had a short window where my kids were with their grandparents to embark on a tour of the country.  I went to see friends, cousins, and my grandma, Mana.
I was very much looking forward to meeting old friends and going through some beautiful parts of France.
First, I jumped on a train to Paris to visit Mana.
She was 87 at the time, and for the last two years her health had been fragile.  A mother of 6, she has always been very independent, also caring for a heavily handicapped child her whole life.
Two years prior, she had a heart failure and barely made it.  She had trouble getting back to the quality of health she needed to be as independent as she once was.  Even with her health problems, though, she had still been driving just a year before!
Last time I had seen her was the previous summer, 8 months ago, days before her stroke.
I was very excited to see her. She had always been the caring, comforting grandma we see in movies and read in about in books.
Working in the Senior Industry has made me more sensible about the end of life.
The 2-hour train ride to Paris gave me time to reflect on the perspective of older adults as they realize they are close to the end.
How must it feel to have all your mental capacity but not your physical?
How do you come to terms with the fact you might never regain your independence after living a full and active life? Now, you're dependent on others for the smallest tasks we always take for granted. Having to adjust to how slow you feel now…you can't rush anything anymore. Everything takes time now.
Knowing, (or do you even know) the end is close?
How does it feel?
Even though death and end of life isn't something we look forward to, is there not a silver-lining to be found in this chapter of our lives?
The noise of the busy train station pulled me out of my thoughts.  A couple of subway rides later, I was back in the beautiful Parisian neighborhood that seemed so familiar. With its amazing architecture, the bakery where I remember buying bread with my grandma as a child, the cafes with Parisians enjoying their coffee on outside tables, the park she took us to for cotton candy . . . the timeless city felt like a movie set, like a glimpse of another reality and a jump back in time.
As I push the typical Parisian building door open, everything is so familiar – the smell, the textures. It's like I'm eight again, excited to see my grandma. The door opens, but it's not her, it's my uncle.
She is weak today. The apartment hasn't changed. I make my way through the corridor to her room and see her sitting on the bed.
It is a magical feeling to embrace my grandma; it's so comforting. She has the peace of advanced age, and maybe the vulnerability, too. She apologizes for being tired. As I hold her hand – it's soft – I help her to the living room couch.
Her wit is shining through her eyes; she looks great, she has all her abilities. Aside from the loss of mobility, I can't tell how tired she is.
She talks about the days she spent moving into her apartment . . . 60 years ago! She jokes about how the owner won't answer her requests to change the water-heater because he is waiting for her to pass away so he can finally get his apartment back and subdivide it among higher paying renters. When I see her pill organizer all mixed up, she jokes that it doesn't matter because the pills probably don't help anyways.
She also tells me she is tired of going to the hospital; she doesn't want to anymore . . . Several times she talks about her passing. For some reason, it doesn't make me uncomfortable. She seems ready and at peace with it.
It would be a relief from a life that's nearing its end.
We talk for hours. Her eyes light up when she remembers her best years, all the good times: the first dates with my grandpa, their first apartment, how she used to cook pot-au-feu for him on a tiny gas stove. Strangely, the conversation feels light, uplifting.
 Even if it sounds like a summary of something coming to an end, it carries a tremendous gratefulness.
She is getting tired and I need to meet a friend at the Eiffel Tower. Life breaks this time out of time. I hug and kiss her. She is 87, old and tired, but she has a magical, peaceful gaze in her eyes. As I leave and turn around to say one last goodbye, I know I won't see her again. She is ready.
At the evening of death, I now believe more and more that angels come to alleviate all suffering and open the door to what's next.
After days of catching up and traveling 28 hours back to Maui with the kids, we are settled back in.
Perspective on end of life
I get a call from my mom.
I know why. She's calling from her cell, not WhatsApp.
I don't really want to pick it up, as if that could change anything.
"Hi."
"She's gone. Lightly as a feather."