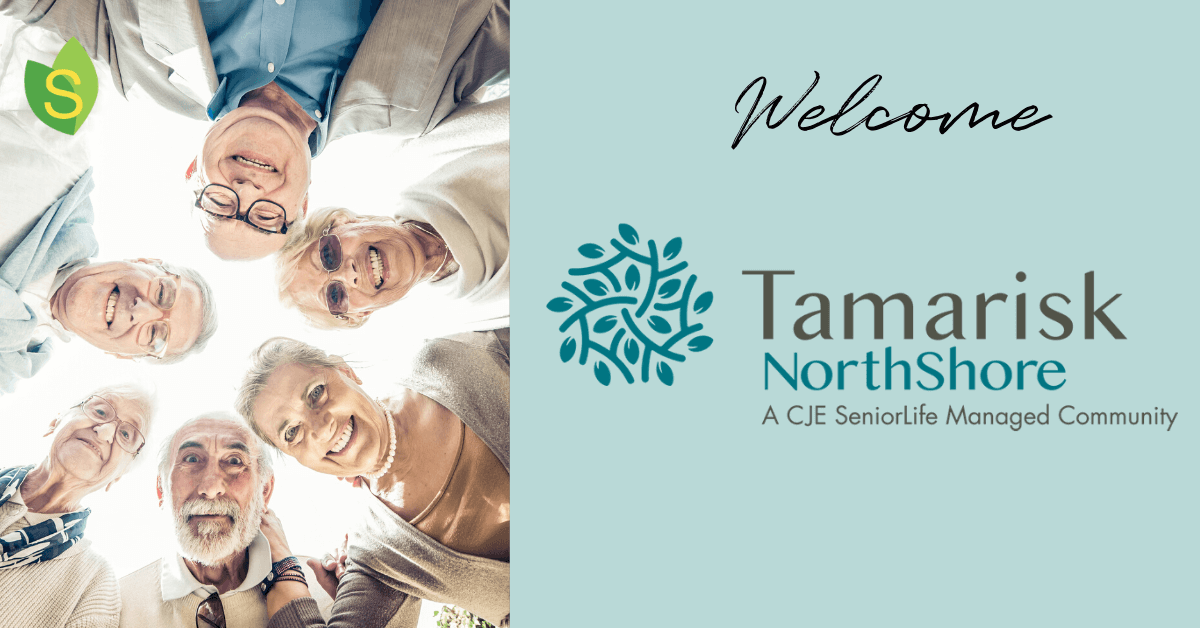 Sagely has partnered with Tamarisk NorthShore to support their shared values and mission to create opportunities for older adults to interact with society in ways that allow them to continue living life to its full potential. 
This partnership will increase connection and social engagement, both inside and outside of the communities.
Sagely we are proud to offer a product suite that helps Senior Living communities optimize programming, communication, and well-being. We could not be more thrilled to partner with Drew and the Tamarisk team as they provide an exceptional community where people come not just to live, but to Thrive. Welcome to the family Tamarisk Senior Living!
Tamarisk NorthShore is an exceptional new rental independent living community for adults 65 and better. Managed by CJE SeniorLife, Tamarisk NorthShore offers a vibrant community where you can make meaningful connections, live an active lifestyle and flourish.
Tamarisk NorthShore's Executive Director, Drew Kowalski, and his team are creating a beautiful environment where older adults can be active, productive and community-minded by participating in an array of unparalleled health and life enrichment activities.
I look forward to building a caring and compassionate community to enhance the quality of life for older adults. We chose Sagely because it provides us with the tools we need to stay well-connected with our residents and families. The platform encourages communication, engagement and top-notch wellness and programming for our residents.
Drew Kowalski
Executive Director, Tamarisk NorthShore
CJE SeniorLife
What sets CJE SeniorLife apart from other organizations are its mission and values, and how its programs and services complement one another, creating a constellation of care.
Since 1972, CJE SeniorLife has been helping older adults pursue lives of meaning, independence and good health. Today, CJE has over 600 employees who provide 20,000 older adults and family members annually with a myriad of programs and services including independent housing, assisted living, home delivered meals, transportation, long and short-term skilled nursing care, adult day services, geriatric care management, health and wellness activities, support groups for clients and caregivers, and numerous lifelong learning opportunities.
The mission of CJE SeniorLife is to enhance quality of life and facilitate the independence of older adults.
At CJE SeniorLife, we fulfill our mission and realize our vision for and on behalf of our Clients, our Clients' families, our Staff, our Board Members and our Volunteers by striving for excellence through Respect, Advocacy, Compassion, Intention, Innovation and Accountability.
CJE SeniorLife will strive to be the preferred provider for the Jewish community of Metropolitan Chicago.
CJE is extremely excited to have an opportunity to manage this independent living community on the North Shore and add it to our portfolio of residential options for active adults," said CJE President and CEO Dan Fagin. "Located across from the highly–recognized and well-established Weinberg Community, this building will help CJE fulfill its mission to enhance the lives of older adults by adding breadth to our continuum of care. We are responding to a need for an upscale rental option for older adults in the Jewish and the larger community who have decided to downsize and let someone else do the cooking, housekeeping, and yard work!
Dan Fagin
Resident and CEO, CJE SeniorLife