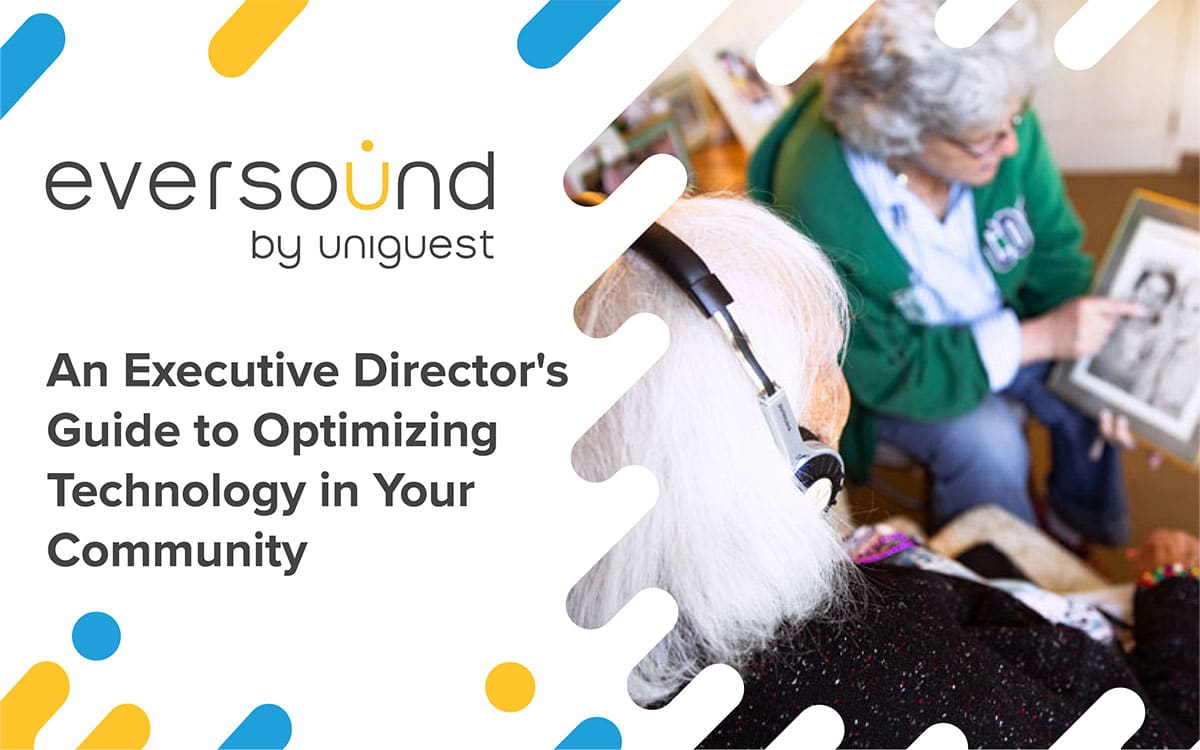 Senior living executive directors need tools throughout every department in their communities to provide better care and services, and to make the staff and resident experience more enjoyable. Purposeful technology is a powerful tool to help senior living communities improve operational efficiency, enhance a resident's quality of life, and streamline communication between staff, residents, and loved ones. Eversound technology, brought to you by Uniguest, offers executive directors and their communities a versatile solution. This cost-effective addition to senior living communities can be utilized in numerous ways beyond just community activities. Eversound's intuitive hearing solution serves not only as an aid for individuals with hearing loss but also as a means of improving residents' concentration in noisy environments and supporting those with memory care needs. The wireless headphone system can be used in large group activities, family visits, clinical appointments, prospect tours, one-on-one therapy sessions, music therapy, resident council meetings, devotionals, and everything in between. Let's look at ways to optimize your Eversound investment after onboarding:
Sales and Marketing
Eversound by Uniguest serves a two-fold purpose for sales and marketing staff. First, it differentiates your community by showing your emphasis on engagement, inclusion, and accessibility. Secondly, it can help with day-to-day activities like prospect tours, family visits, and brand-building.
Prospect Tours
Scheduling a prospect tour is a great achievement for the sales and marketing director, as it means they have successfully generated excitement for the community's amenities, programs, and care options. However, if the prospect experiences hearing loss or if the tour is scheduled during a busy activity or mealtime, distractions may occur, making it difficult to convert leads. Using Eversound's wireless headphone systems ensures that nothing gets lost in translation during the tour, allowing the sales and marketing director, prospects, and family members to walk through the community worry-free. In fact, during a three-month study at Vitality Living, Eversound helped drive 4-5 new move-ins over the course of three months in 7 communities. (This translates to Eversound helping to drive approximately 2 additional move-ins per community per year!)
Family Visits
In order to minimize move-outs and make a positive impression on adult children who are often the decision-makers, it's crucial to prioritize the satisfaction and well-being of residents even after they have settled in. A tried and true method for achieving this is by facilitating regular visits from family members. However, impaired hearing can hinder the conversation and lead to further frustration, declining health, and even depression. Thankfully, Eversound by Uniguest offers a solution by enhancing communication during these visits, fostering more enjoyable and fulfilling experiences for all involved with its easy-to-use, no cellular or WiFi needed, headphone systems.
Brand-Building
Sales and marketing represent a prospect's first impression of your community. Nailing that initial interaction is essential, and innovative communities are leveraging Eversound to get the job done. Bring Eversound to your booth or outreach event to showcase how it works to potential residents and their families. Resident ambassadors can demonstrate how they use the system daily, helping prospects witness its benefits first-hand and envision their loved ones utilizing it.
Memory and Clinical Care Specialists
Your community is built for residents' unique and diverse needs. Clear communication is important, whether you're offering memory care for residents with dementia or conducting physical therapy for a resident who experienced a fall. Every specialist is searching for a solution that makes their appointments and sessions more enjoyable, helpful, and therapeutic for their residents.
PT & OT Sessions
Eversound is used as part of physical and occupational therapy, aiding in long-term recovery goals. The wireless headphone system provides clear communication and more engaging conversations between residents and their therapists. Eversound also helps boost resident confidence and reduces therapist repetition with clearer communication during physical movements like stretching.
Reminiscence Therapy
Reminiscence therapy, commonly used in memory care, involves using the senses to help individuals with dementia better recall memories and people from the past. Two common types of reminiscence therapy are visual (photos, pictures, videos) and aural (music and other audio). Both make for great fits for using Eversound to enhance the experience.
Memory Care Programming
Are you struggling with keeping your residents with dementia engaged, focused, and involved in your programming? These headphones are fantastic for people with dementia as it helps them remove distractions and guide their attention to their activity. Eversound is an invaluable resource for memory care professionals as it assists them with things such as sundowning, redirection, sensory room activities, and 1:1 enrichment programs. With Eversound, residents who suffer from cognitive and sensory impairment feel an instant sense of calmness and become more engaged in socializing and participating in activities like never before.
Life Enrichment and Activity Directors
Life enrichment and activity professionals set the tone for your community's social and educational culture. These individuals bring passion and energy to each activity, resident council meeting, devotional session, and field trip that residents partake in. Eversound gives residents the opportunity to march to the beat of their own drum. Your life enrichment teams or activity director can explore a library of hundreds of videos, interactive games, guided programs, turn-key program printouts, and more through the Eversound members portal. This content can be used in group settings, but may also be used individually as your staff provides resident-centric care, allowing them to experience topics that interest them. Eversound boosts engagement, attendance, and participation in group activities with its wireless headphone system. It can connect up to 120 Eversound headphones at distances up to 300 feet, without using Wi-Fi or Cellular. The group transmitter also features dual audio inputs for voice and audio inputs from other devices, ideal for large group activities. The microphone transmitter, perfect for smaller group activities, facilitates hands-free group conversations while reducing background noise. To learn more about Eversound by Uniguest, visit us at
www.eversoundhq.com
.