Digital Signage
Topic Boards
.
Effortless digital signage topic boards that captures data and informational feeds and displays relevant travel, health, sports, and local content while ensuring screens are always current.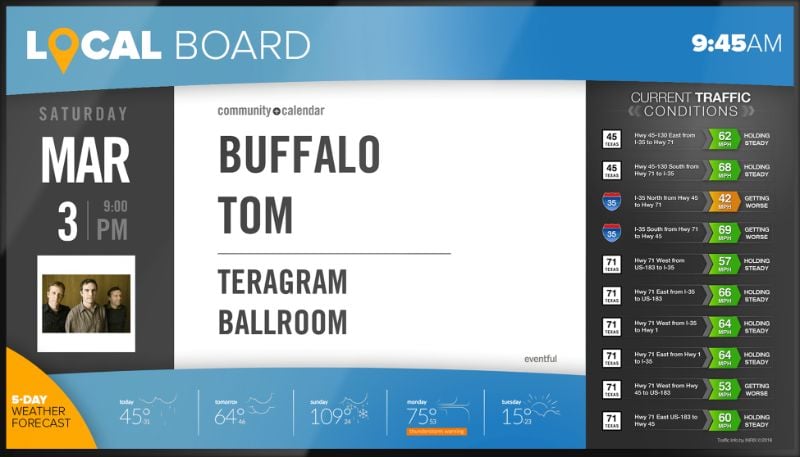 Engaging information updated in real-time,
No content curation needed.
Build your own bespoke Topic Board signage
Combine one or more content widgets to design your own personalized informational digital signage topic boards. Don't see something you want to display? Simply share your vision with our team and we'll bring it to life.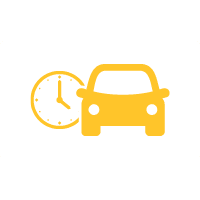 Live Traffic Info
Move traffic news into an audience's direct view by means of traffic maps, and route reports reflecting the state of the roads around you. Localized Weather
Catch and redirect visitors
attention to your screens throughout the course of the day with striking, localized weather graphics, updated every 15 minutes.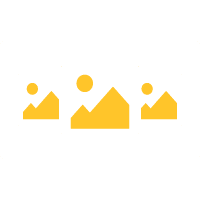 News in Pictures
Attract an audience with news in
pictures built from the ground up, for digital signage by our own design team.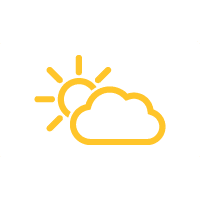 Weather Radar 
Our weather radar maps compile data from 192 unique weather regions across North America and combines radar, and satellite images, updated every 15 minutes.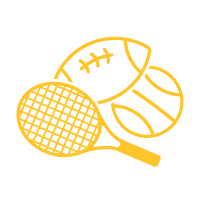 Sports Infographic
Score the attention of your viewers with our original, eye-catching sports infographics. We highlight the players, teams, divisions, conferences, and leagues that guests care about most.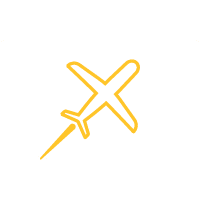 Flight Boards
Provide your audience with
customizable flight boards while in your lobby, airport, or hotel rooms. Flight arrivals/departure status boards are available worldwide.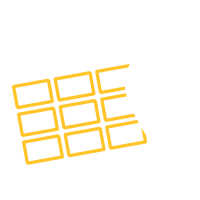 Local Events
From art exhibits, festivals, and concerts to sports events, tours, and family outings, fill your visitors' time with local events.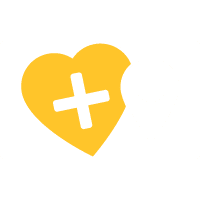 Local Health Conditions
Help visitors look after their health with our clean-and-simple infographics reflecting current and forecasted local health conditions, down to the zip code.
Travel Boards
Provide visitors with real time flight tracking, weather and traffic conditions to make their journey and travel experience flawless.
Content Includes:
Flight tracking
Local traffic conditions
Weather radar
Image/video upload feature to
Promote your products and services
Ideal for:
Hotel lobbies
Airport hotels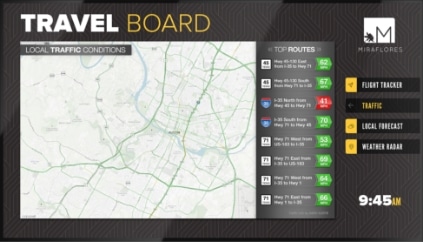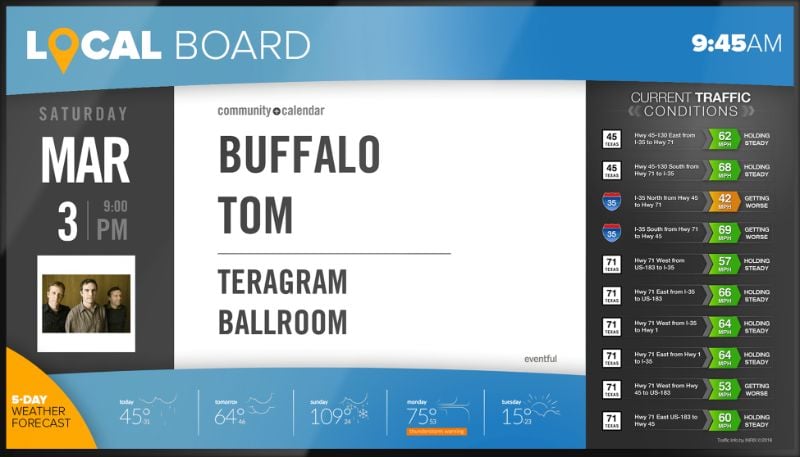 Local Boards
Display local attractions, event listings, weather and more to help visitors become fully immersed with the local community.
Content Includes:
Local community news
Local events
Weather forecast
Current local traffic conditions
Image/video upload feature to promote your products and services
Ideal for:
Hotel lobbies
Community and public spaces
Restaurants
Score Boards
Keep visitors up to date and informed of the latest sports scores, upcoming sporting events, and sports related news feeds.
Content Includes:
Latest sports scores
Calendar of sports related events
Sports themed news feed
Local sports team customization
Image/video upload to promote your products and services
Ideal for:
Sports bars
Restaurant lobbies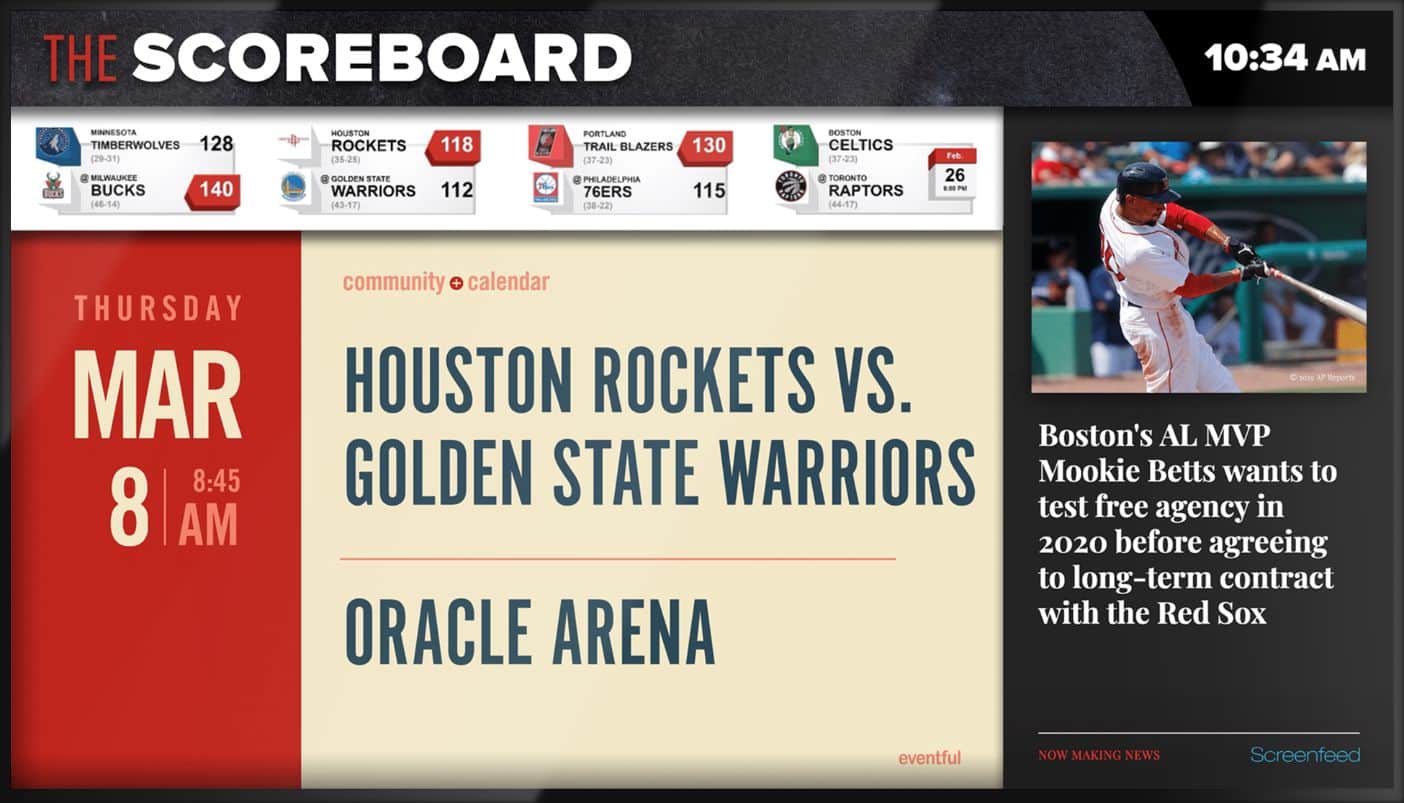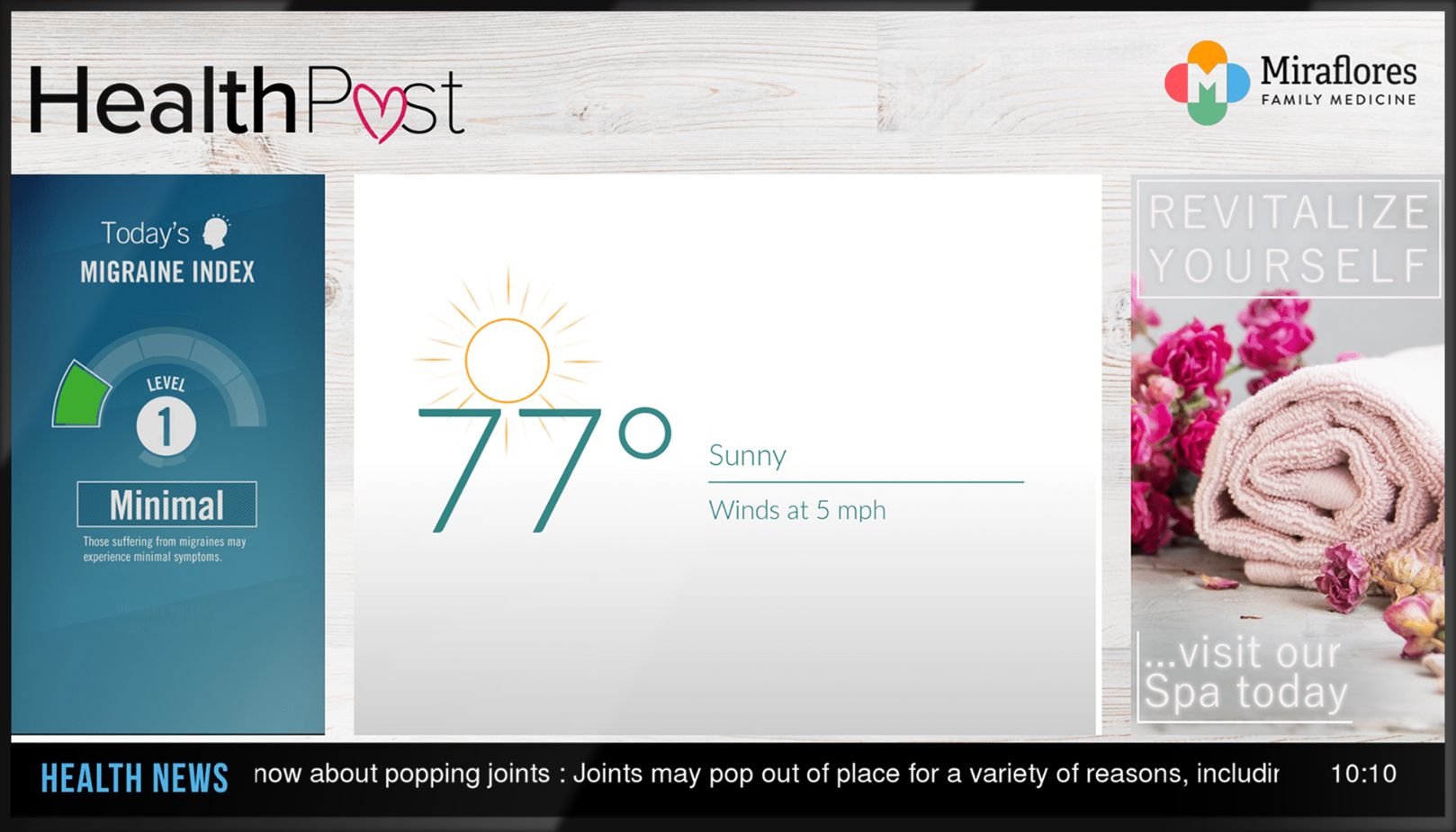 Health Boards
Keep your health conscious visitors aware of the latest health news and display pertinent warnings.
Content Includes:
Local health conditions infographic
Weather radar
Health themes news feed
Image/video upload to promote your products and services
Ideal for:
Hotel lobbies
Community and public spaces
Airport hotels
Waiting rooms