Healthcare & Wellness
.
Improve the patient and visitor experience, augment staff capabilities, and promote on-site amenities through Uniguest's Digital Engagement Platform.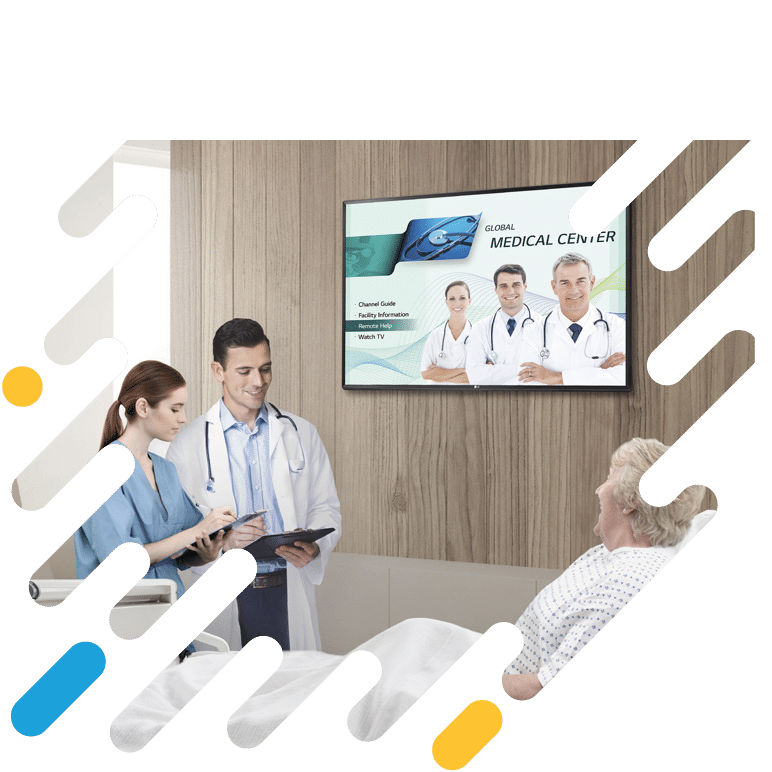 Some of the organizations we are proud to partner with…
Create a welcoming, engaging, modern environment
Provide interactive maps, important facility updates, physician directories, event directories or class directories, and/or cafeteria menus through our digital signage solutions or deliver entertainment content to waiting rooms and to patient beds via our world-class interactive IPTV platform.
Staff
Augment staff capabilities by providing live, real-time information to patients and visitors allowing them to focus on their number one objective; patient care.
Patients
Ensure patients can find their way and enjoy their stay through interactive wayfinding and directional signage and through our IPTV platform that can be delivered to bedside or via mobile device.
Visitors
Relieve the stress of a visit to your facility by providing amenity information, directions, wayfinding and entertainment services from our single platform.
Centralized, personal experiences
Spending time in hospital is not something many of us look forward to, whether it is as a patient or while visiting family members, so looking after people's mental well-being during the period is important. Digital Signage, video and digital engagement technologies help ease the difficulties faced and ensure a more comfortable experience for patients and visitors and keep them actively engaged in their own care and well-being.
Deliver multiple services from one platform, including wayfinding, emergency messaging, facility and physician directories, donor boards and live TV.
Create in-house interactive TV services for patients and visitors; delivering live TV, internal broadcasts and video on demand.
Ensure visitors can find amenities and services ensuring they don't need to leave the facility unnecessarily.
Integration with third party systems allows for automated live updating of displays.
We're proud to work with healthcare providers across the world to deliver enhanced experienced for patients and streamlined services for staff. Our technology is proven, tried and tested and helps deliver an unforgettable, engaging guest experience.