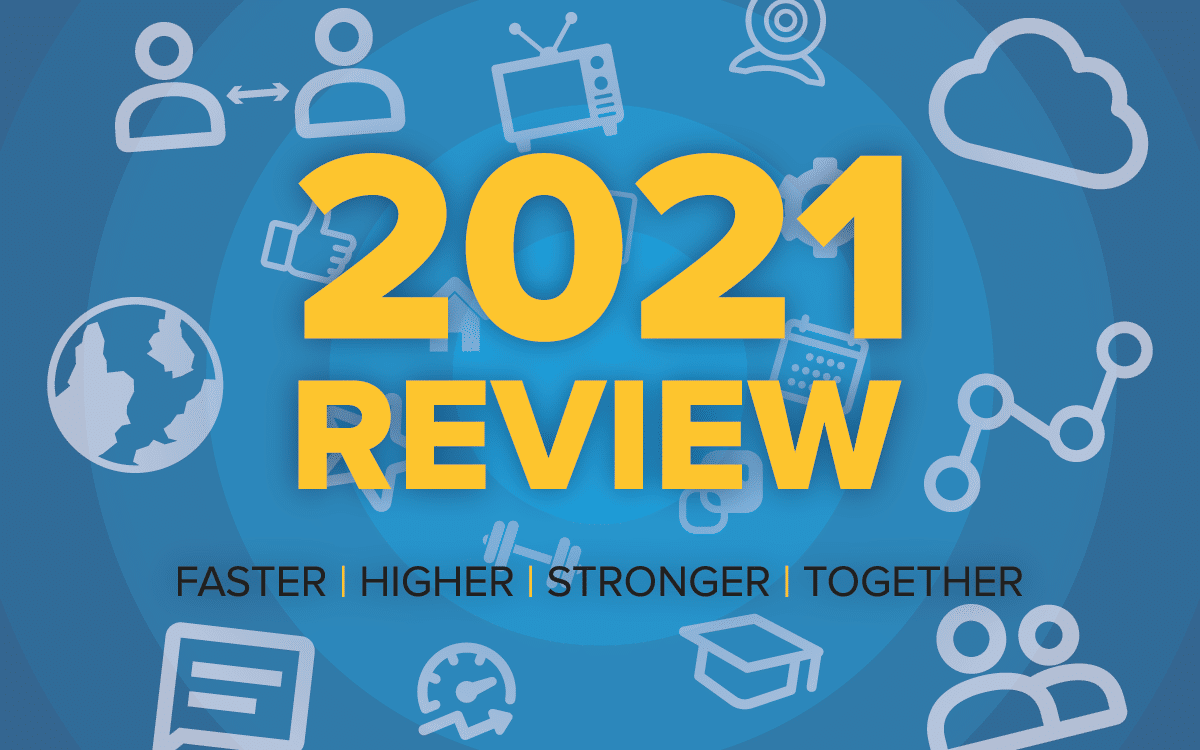 2020 was a year of change and 2021 has turned out to be the year of many more changes. We have all had to learn to adapt to the remote work life and in that same year transition back to the office in some regions, whilst not in others. If one thing can be said about this year it is that we can truly weather any storm and showcase that it is in human nature to always get back up again after we fall.
The theme for this year's highlights comes from the 2021 Olympics motto "Faster, Higher, Stronger…. Together" (Father Henri Didon). After spending so much time apart we want to share all of the amazing things that keep us together! Let's check out some of the many accomplishments we have made this year as a team.
The most important thing in life is not the victory but the struggle.
Olympic Creed
Web Designer
This year has brought so many new and exciting products for the hospitality market which have created opportunities to connect our customers. With such incredible acquisitions like Janus Displays who joined the Uniguest family in February 2021 bringing a reputation of being a "leader in the delivery of digital signage and engagement technology". To find companies that not only complement what we do in the hospitality division but strengthen our proposition has been a long-standing goal at Uniguest.
The acquisition of Volara, the voice-based engagement software provider has further strengthened our business and is an exciting addition to the brand portfolio, launching Uniguest's voice division.
Being a leader in the digital signage industry has always been about progress and finding solutions for every need. As we focus on being market leaders, 2021 has brought us incredible accomplishments, including Uniguest, with its incredible and diverse brands being recognized as one of the world's top five global CMS providers by German-based digital signage consultancy, Invidis, a fantastic achievement and worthy of a coveted gold medal!
Faster
The world of 5G & 6G. Though we just started getting our feet wet with the new 5G networks, there has been news of a faster world to come. As Japan and Korea have already started working on 6G networks with the hopes to launch in 2030!
Touchtown, the senior living division based in Pittsburg, PA had many successful moves this year. It was a great pleasure for Touchtown to welcome Sagely to the family early on in 2021. This acquisition strengthens our global leadership in prospect, family, staff, and resident engagement technology. Sagely also provided a tailored digital signage platform, in-room television, smart assistants, activity calendars, and mobile apps.
The senior living gold medal goes to Touchtown Live's new Zoom feature, which offers the ability for senior living communities to live stream Zoom calls with all Touchtown`s products. By adding this new feature, we can extend the reach of our resident engagement, helping to reduce isolation and increase well-being of seniors.
Stronger
We have become a stronger world by taking the necessary steps towards protecting the environment we live in. An amazing step taken in 2021 was 77 countries in the world have announced their participation in banning single use plastic bags.
The professional AV division at Uniguest, under the Tripleplay brand has had a year full of new and exciting products. This year we celebrated 20 years of connected content, with the 20-year anniversary since Tripleplay started, and 20 years since the first ONELAN NTB was shipped
Not to be outdone in the acquisitions front, with a late run down the home straight, Uniguest added two further businesses to the Tripleplay portfolio in the closing weeks of the year. The technology stack from US-based UCView an emerging innovator in engagement technology, further enhances the Tripleplay digital signage and IPTV offering. While Planet eStream who is headquartered in the UK, brings further AV market expertise and an exciting education-focused video platform.
All this activity may seem like it might end in a dead heat in the race for the gold medal, however, the winning feature of the year for professional AV has to go to Tripleplay Cloud, a next generation tool for digital engagement – a true winner in optimizing performance, delivering scalability and managing resources efficiently!
Together
Juneteenth has been made a federal holiday in the USA after many decades of campaigning. Starting back on June 19, 1965, Black communities have come together to recognize and celebrate the ending of slavery in the United States. If one thing is certain it is that when communities come together, they are stronger.