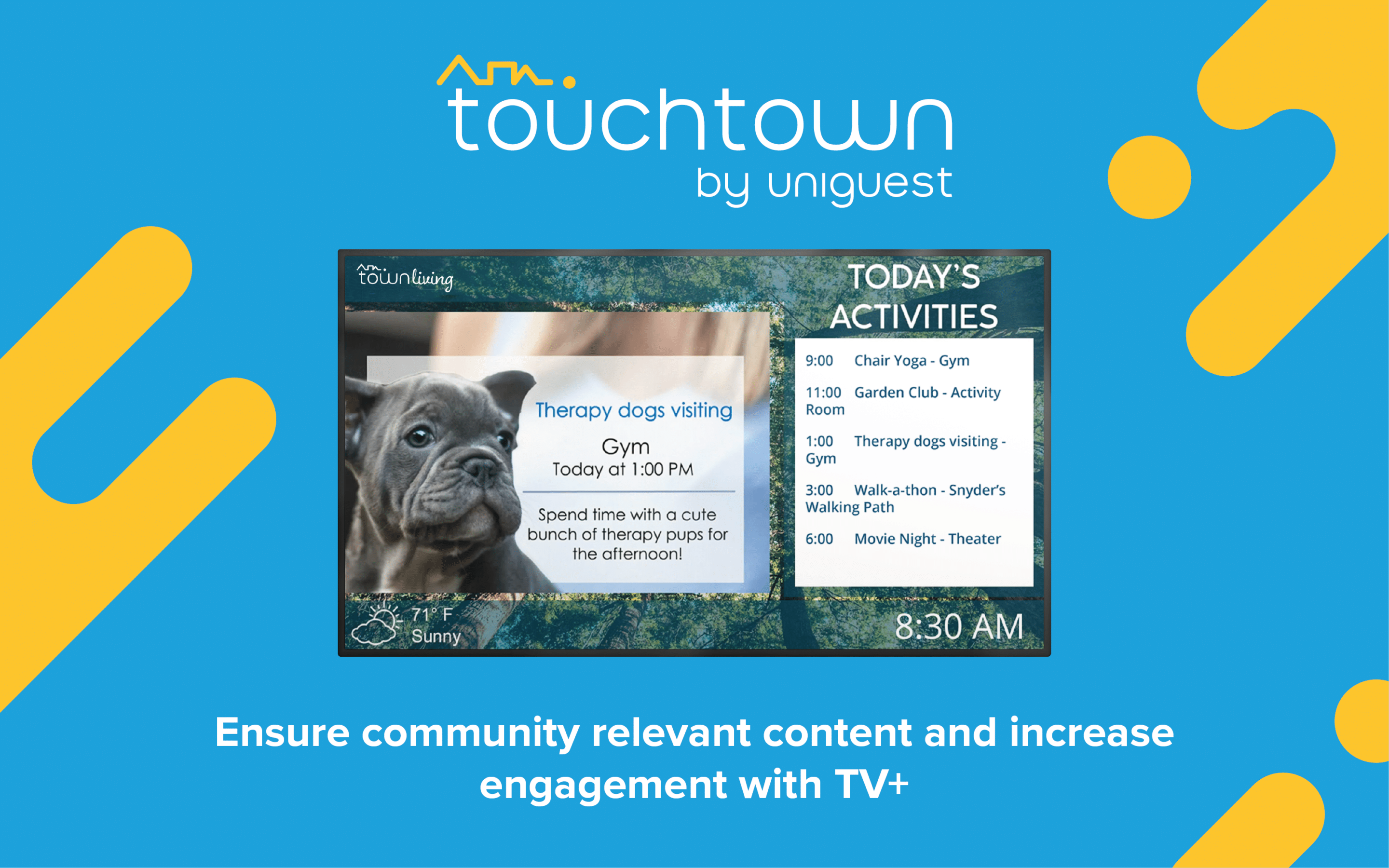 What does the future of in-room TV look like?
Access to a community TV channel is a vital part of communication and entertainment service offered within senior living communities. It can help to ensure community relevant content, important information or live streams of events are available on the largest screen in a resident's room. This helps to increase engagement, accessibility and improve well-being; ensuring that all residents can participate in their community. Advancements in technology have opened up new ways to deliver community-relevant content to residents' TVs; but what does the future look like?
This widely adopted technology allows residents to view community TV via a dedicated channel as part of an existing TV service. It requires onsite hardware and a television provider to make the necessary channels available. Once set up, it is easy to maintain, and any television plugged into cable infrastructure will be able to tune in to the community channel.
However, it is not always possible to deliver content in this way. Mainly due to difficulties with local cable providers or resident accommodation that does not have the relevant infrastructure installed. The latter is particularly common with new buildings or large communities with many properties.
Dedicated Smart TV App
Streaming apps are now commonplace as residents have smart TVs or streaming devices, such as Google Chromecast, that allow them to watch content from Netflix, Hulu, Amazon Prime Video and more.
Many residents are used to having direct 24/7 access to their content using app-based services, making it a perfect solution for delivering community content. Using the built-in Google Play store, community apps can be added to any Android device, including smart TVs and Google streaming devices. Once added, residents can navigate the app to access live streams, information, and other community content.
This solution is highly cost-effective as apps can be downloaded and installed on an unlimited number of devices. However, there is considerable variance in the specification and quality of TVs and streaming devices. This can mean the end-user experience cannot always be guaranteed, especially when residents are supplying their own hardware.
Interactive IPTV
Internet Protocol Television (IPTV) is the next generation of TV delivery that allows the creation of a more complete and interactive TV experience. IPTV is an extremely accessible technology that is delivered using standard network infrastructure. It is already commonplace in hotels and many other accommodation settings, allowing users to access multiple entertainment options and in-house amenities via a custom branded user interface.
Bringing this technology into senior living is extremely exciting as residents can access community content, TV, news, and weather controlled from their remote control.
Cast from a mobile device to the TV for viewing pictures, videos and watching streaming services such as Netflix can also be added. Casting not only makes it easier for residents to access their own content on the big screen, but it also helps to standardise in-room technology. Currently, many residents add their own devices, such as Amazon Fire Sticks or Apple TVs, however with so many devices on the market, it is almost impossible for communities to support them all.
IPTV is the future of in-room TV. Although investment in hardware will be required, the resident experience and long-term benefits vastly outweigh this.
Get in touch to learn more about how Uniguest can help to create an engaging and future-friendly community TV infotainment experience.
About Uniguest
Uniguest is a global leader in providing connected technology solutions to enable those in hospitality, senior living, sports/stadiums, entertainment, retail, education, government, corporate, and enterprise to engage with their audience. Uniguest is highly focused on creating deep client relationships as evidenced by its most recent NPS score of 78. Uniguest provides turnkey technology solutions that include hardware and software solution packages, professional services, system implementation, and 24/7/365 multi-lingual support. The Uniguest family incorporates the ONELAN, Tripleplay, Touchtown, Volara, Planet eStream, UCView, Janus Displays and Otrum technology and teams. www.uniguest.com