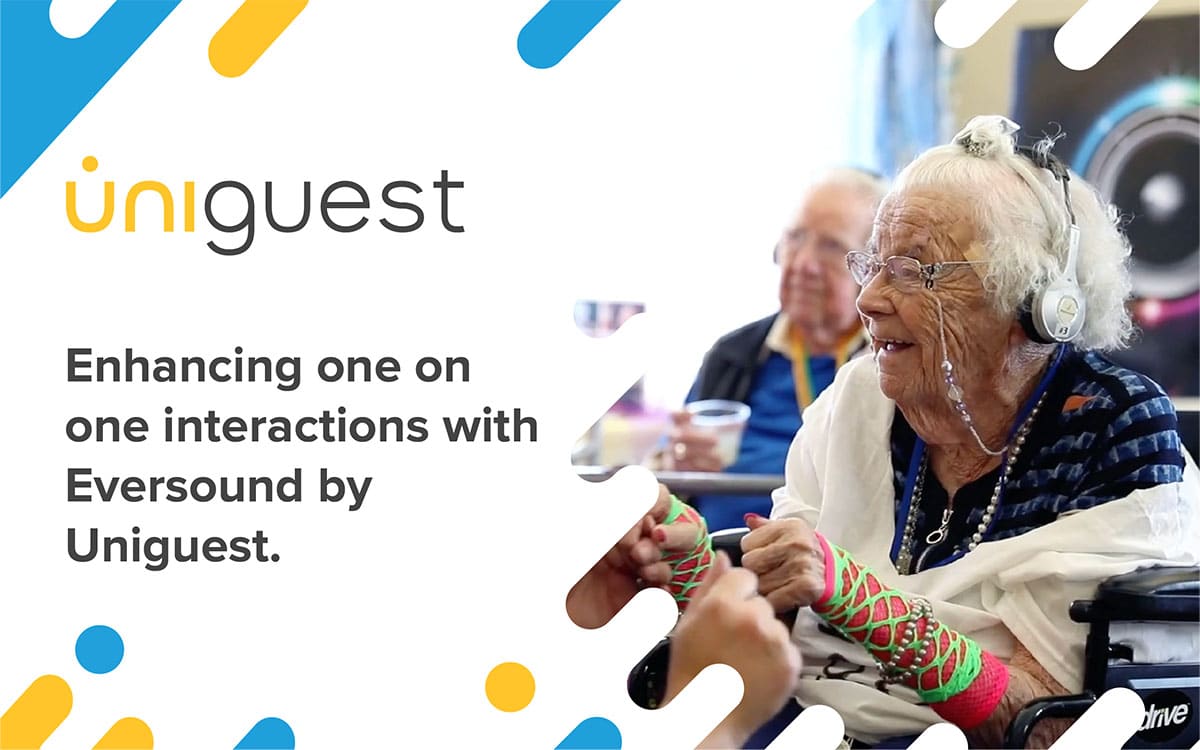 One-on-one interactions are a crucial aspect of senior living care. These intimate discussions are an important way for residents to stay engaged and connected to their community. Communicating effectively in one-on-one settings helps your staff provide the highest level of care and build meaningful relationships within your community.
Hearing loss only adds to a resident's difficulty in communicating. Eversound, a wireless headphone system, is a powerful tool for improving one-on-one interactions between seniors and their caregivers, family members, and friends—a perfect injection of purposeful technology for your community.
Eversound's headphones amplify sound and eliminate background noise, helping enhance communication and make life easier for those with treated or untreated hearing loss. The system's transmitter can act as a microphone for one-on-one conversations or transmit audio from another device such as a TV, iPad, phone, and more.
Let's explore how Eversound by Uniguest can increase comprehension and strengthen relationships within your community:
How Eversound Helps Support One-on-One Communication
One-on-one interactions aren't just helpful for understanding the needs of your residents; they also foster an environment of accessibility, inclusion, and engagement, providing a foundation for better mental health.
Data from the National Academies of Sciences, Engineering, and Medicine shows that loneliness, social isolation, and poor social relationships can lead to:
A 50% increased risk of dementia
A 29% increased risk of heart disease
A 32% increased risk of stroke
Higher rates of depression, anxiety, and suicide
Some residents might struggle in group settings, whether due to social anxiety, hearing loss, or other factors. That's what makes one-on-one meetings with staff, neighbors, and loved ones so crucial. Here's how Eversound by Uniguest makes these interactions more meaningful.
Amplification of Sound
Eversound's headphones amplify whatever sound is coming through the transmitter. That means residents can more easily understand what is being said or broadcasted to them. Additionally, senior living staff won't have to raise their voices or repeat themselves as often, reducing stress and frustration.
Reduction of Background Noise
Background noise can be one of the biggest barriers to communication. Chatting with a resident in a crowded dining room or during activities in a common area can be difficult. Eversound's technology naturally reduces background noise, allowing seniors to focus on the audio they're meant to hear. This reduces potential distractions and helps residents stay engaged.
Two-Way Communication
The transmitters are often called the "brains" of the Eversound system. These devices can transmit audio up to a range of 300 feet without the need for WiFi or cellular service. The microphone transmitter is specifically designed for one-on-one and small-group interactions, allowing the resident to both listen and speak. This way, you won't just be talking to your resident but rather encouraging them to participate in the discussion.
Examples of Successful One-on-One Interactions with Eversound by Uniguest
Our headphones will never collect dust on the shelf! Perhaps the best part of Eversound is that it can be used every single day by every part of your community:
Activity & Enrichment
Any activity that requires one-on-one interaction can be easily enhanced with Eversound by Uniguest:
Neighbor Chats: Neighbors can chat with each other while they do whatever they choose—clean up around their apartment, sit in bed, etc. Randomly assign chat partners or let best buddies chat freely one-on-one without leaving the comforts of their room.
Parallel Programming: Set up separate, simultaneous sessions to cater to residents with differing needs based on memory loss, hearing loss, or other conditions.
Memory Care
Eversound by Uniguest can help memory care staff personalize treatments for each resident's unique needs:
Appointments with Specialists: Provide the best possible foundation for doctors and memory care specialists as they provide one-on-one care for your residents.
Reminiscence Therapy: Enhance how memory care residents comprehend audio clips or videos that help them reconnect with their past experiences.
Sales & Marketing
Sales and marketing professionals can use Eversound by Uniguest to differentiate your community and showcase your commitment to technology that enables clear communication:
Prospect Tours: Ensure that nothing gets lost in translation when you're showing off your community to a prospective resident or family member.
Family Visits: Help residents get the most enjoyment when their loved ones come to the community for a one-on-one chat. Both parties will enjoy clearer conversation and the flexibility to walk outside or around the community.
How to Get Started with Eversound by Uniguest
Eversound by Uniguest offers three package options, each containing wireless headphones, a charging station, and at least one transmitter. The group transmitter is designed for large group events, while the microphone transmitter is perfect for one-on-one meetings and discussions.
Best of all, Eversound by Uniguest pays for itself: our wireless headphone systems can help drive 2 new move-ins per community each year.