Faster Navigation | Cleaner Page Layouts | Enhanced Management | Deeper Customization Options
Uniguest is pleased to showcase a preview of the brand-new eStream UI, available as part of the upcoming v6.77 software release. For further information or to discuss an upgrade, email hello@uniguest.com or contact your Uniguest account manager or local eStream reseller.
Homepage
The eStream homepage has been completely redesigned, setting the groundwork to make the whole platform easier and quicker to navigate. The landing page options are now based on the feature module being used, providing more clarity for end users.
Homepage widgets have been improved to provide more flexibility, allowing the most relevant and important content to be promoted and clearly presented to users
We are always looking to improve the efficiency of eStream, and navigation was top of the agenda at the start of this UI refresh journey. I feel the changes we have made not only look great but will also save our user's time.

Alex Spencer
Uniguest's Lead UX/UI Developer for eStream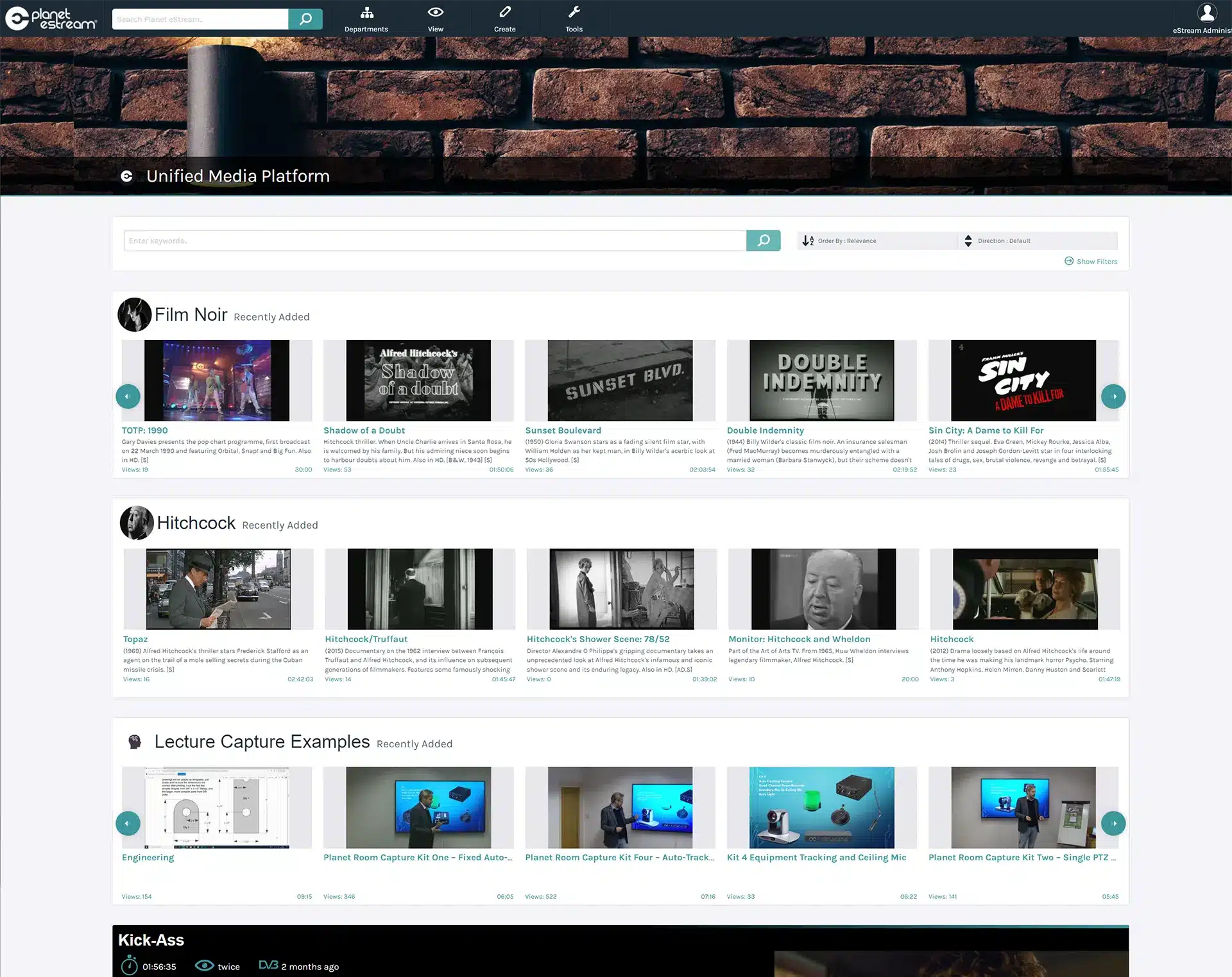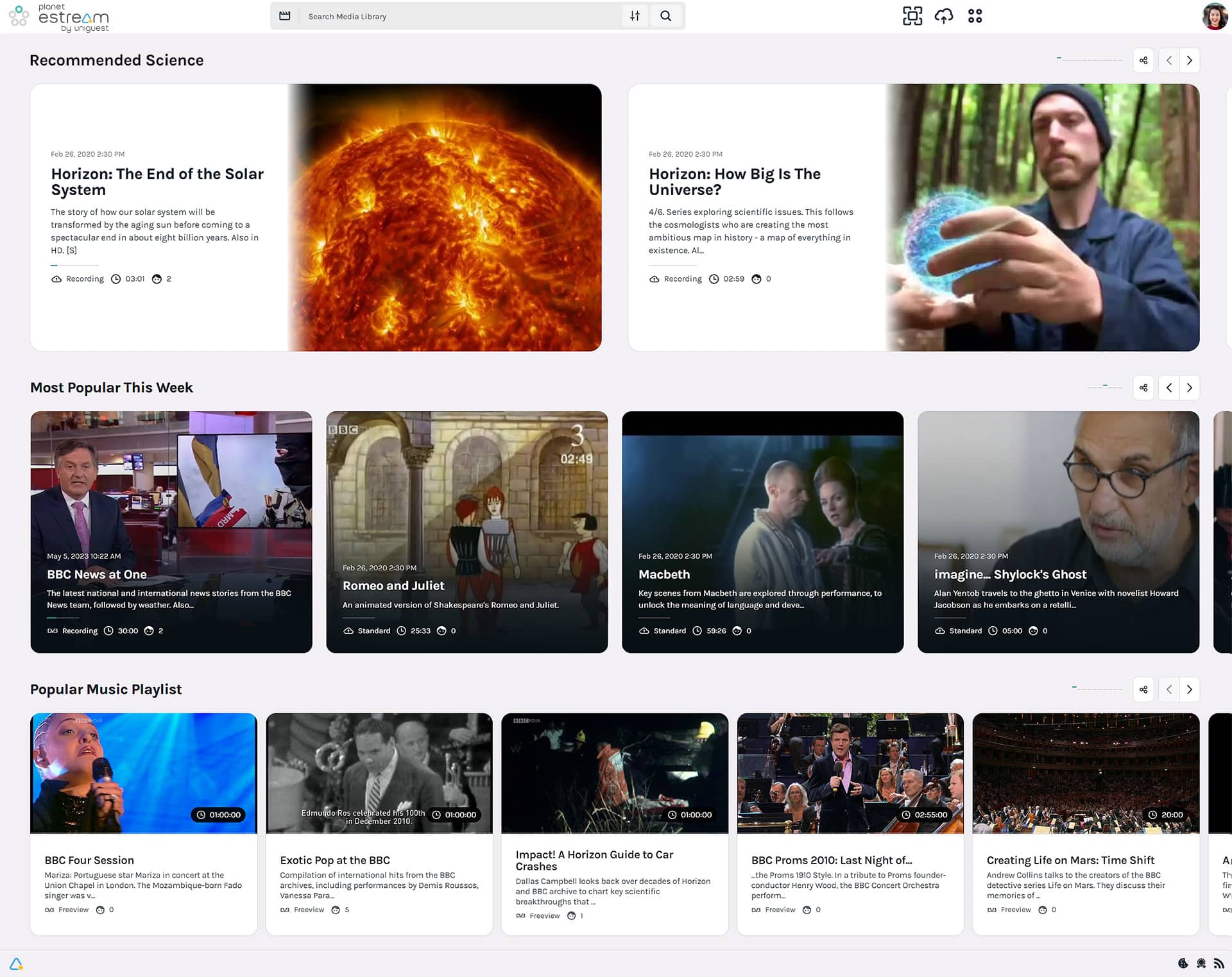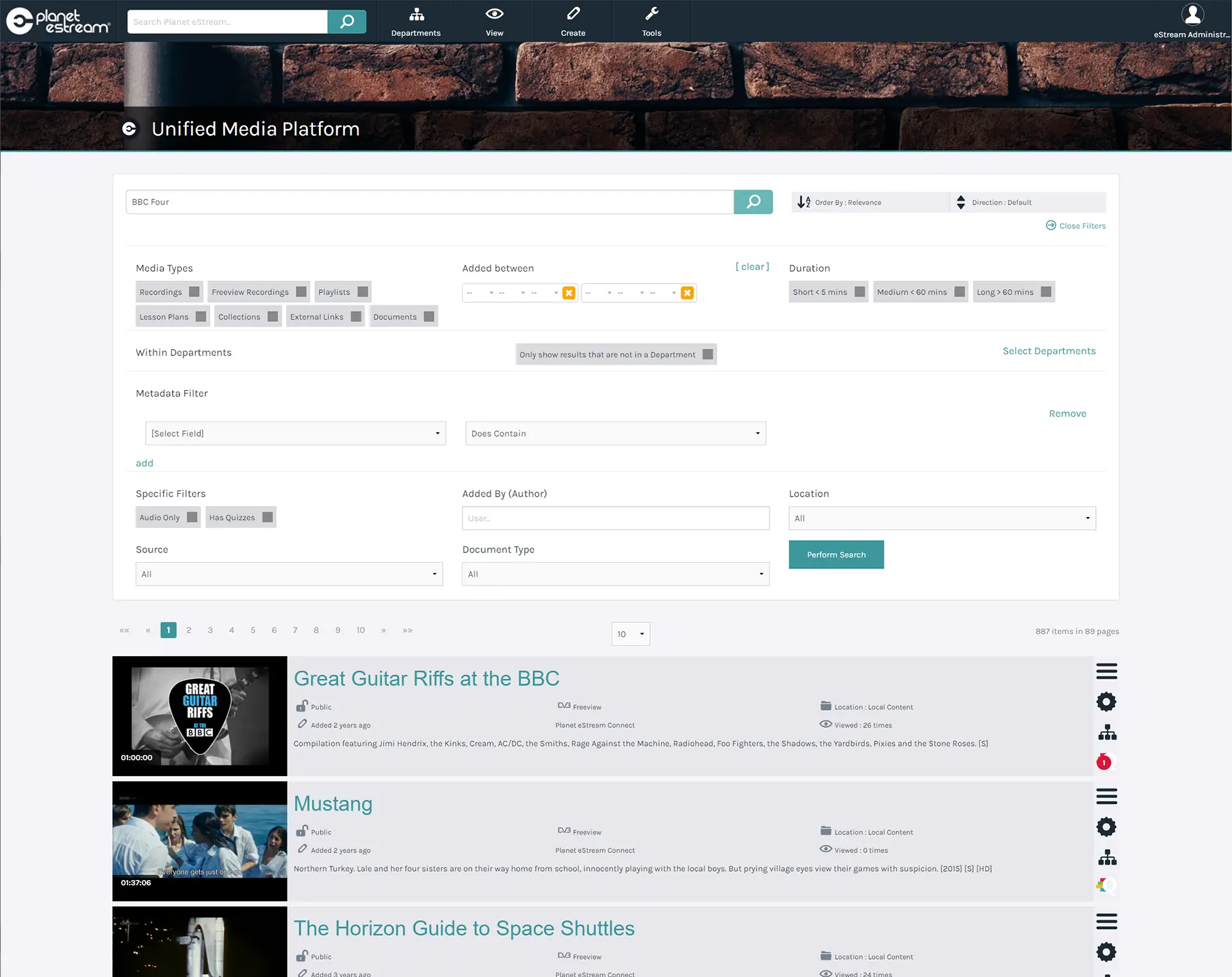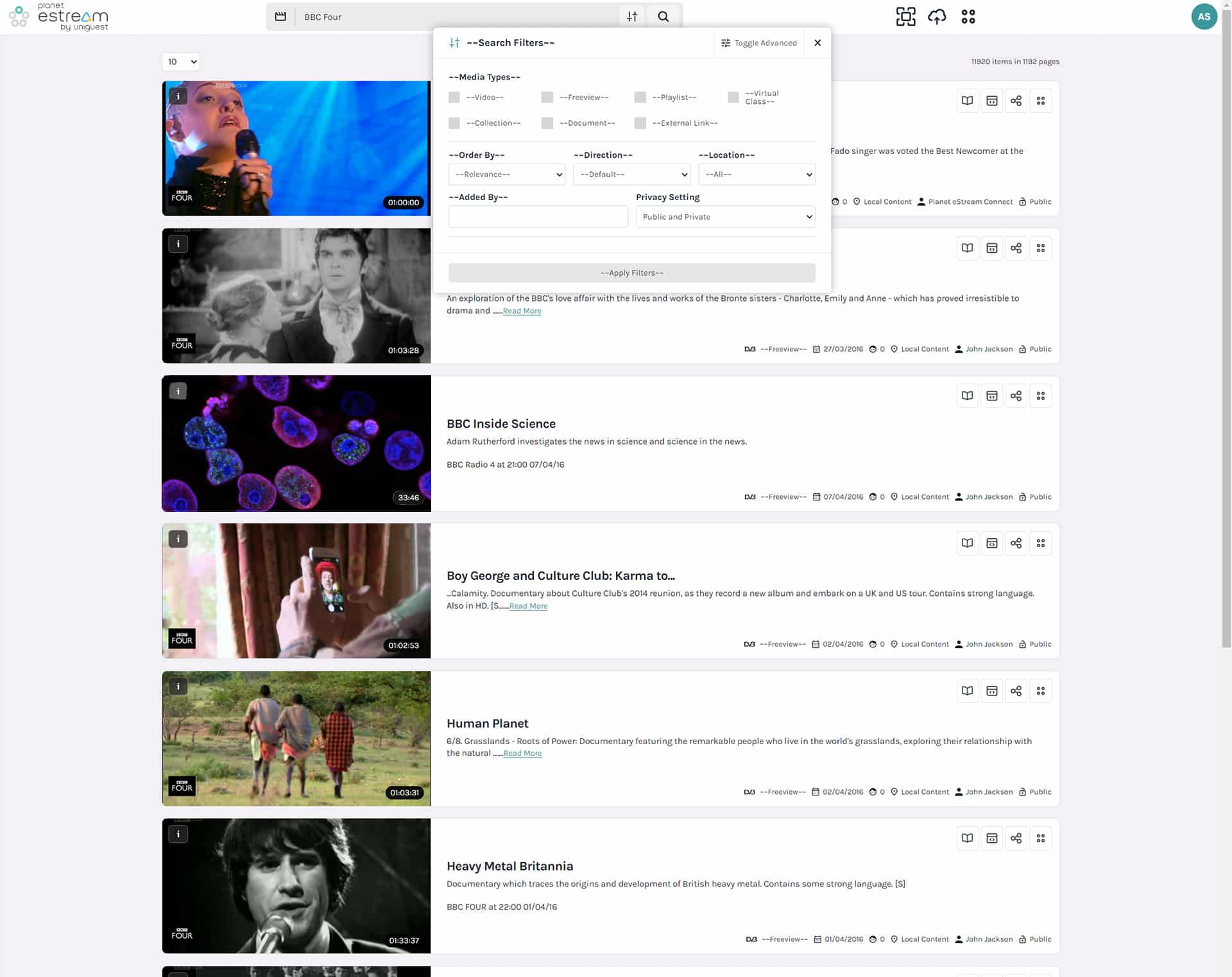 Search & Filtering Options
We have made a number of changes to vastly improve the search experience. Users can now access our powerful search and filters from the main navigation. They can also enhance their search by utilizing metadata and subtitles.
The presentation of search results is now much clearer, and video content can now be previewed using the new 'quick view' icon.
We appreciate that our customers can have large libraries of content, and this first phase of changes will assist users in finding and managing the content they need.
John Jackson
Uniguest's Technical Services Director for eStream
Categories
Our categories page has been overhauled making it easier for end users to navigate. There is also a series of new category options, including enhanced page layout tools, category widgets, and the option to upload content directly into selected categories.
Categories are a core element of media management, so our aim has been to improve the UX for content admins.
John Jackson
Uniguest's Technical Services Director for eStream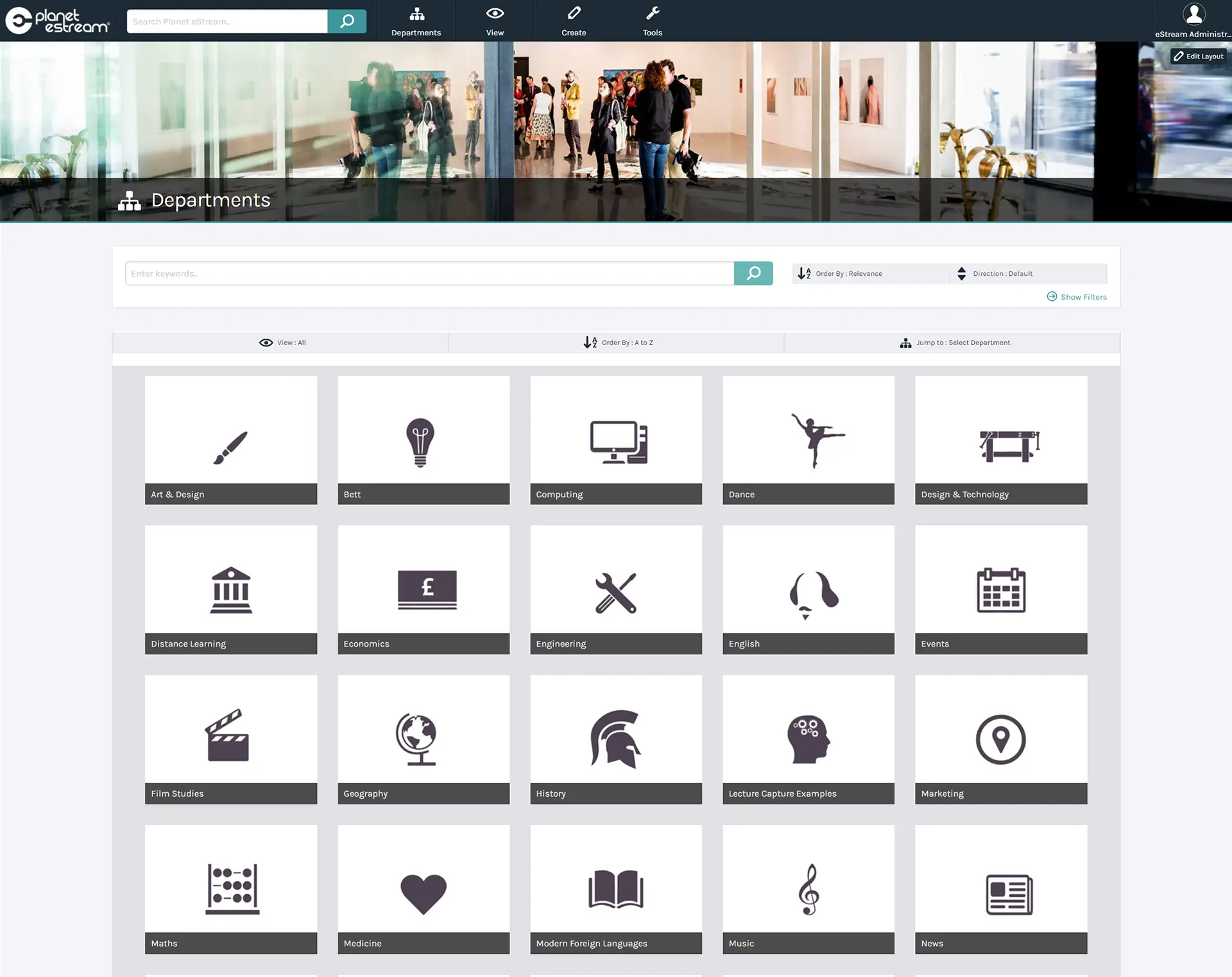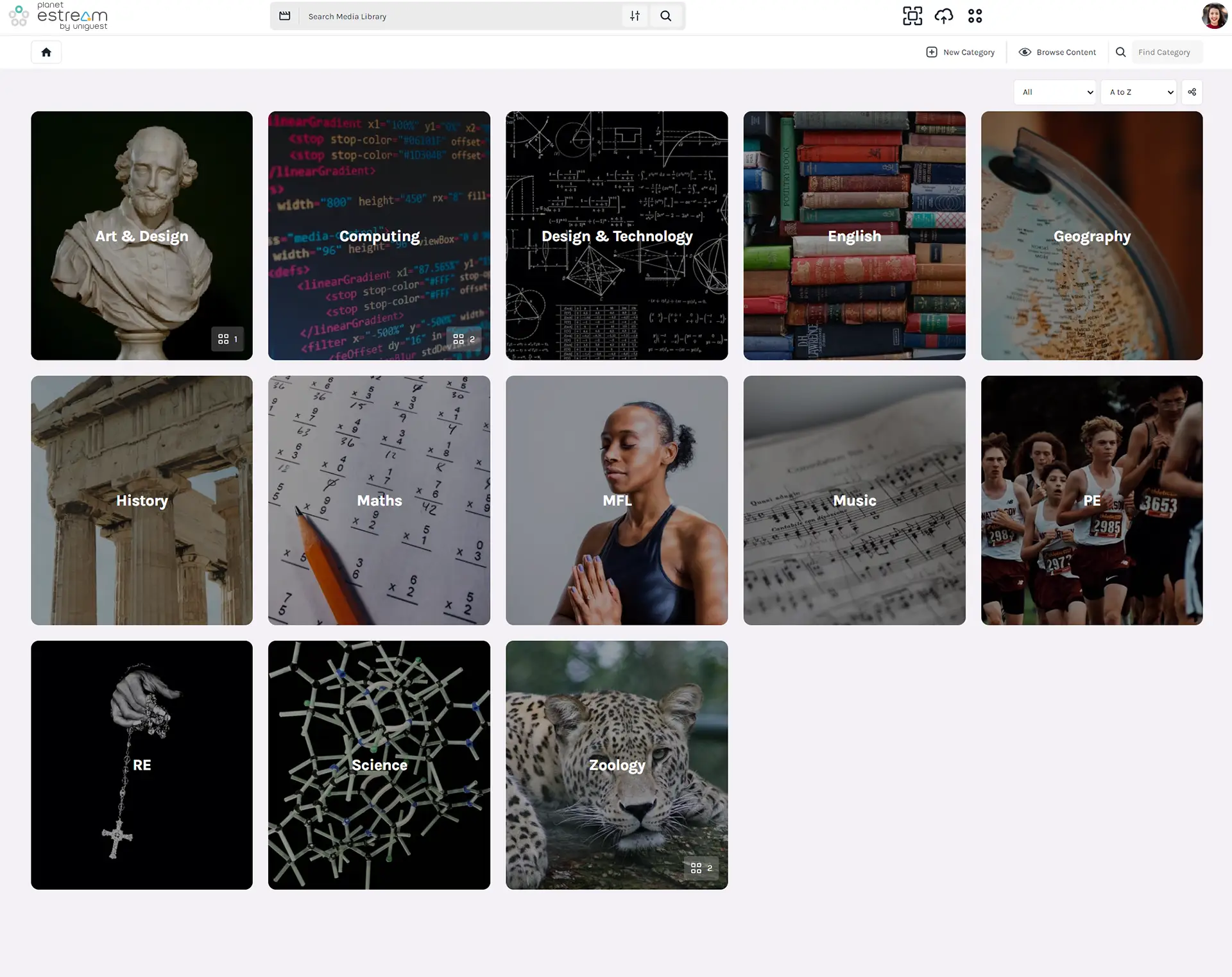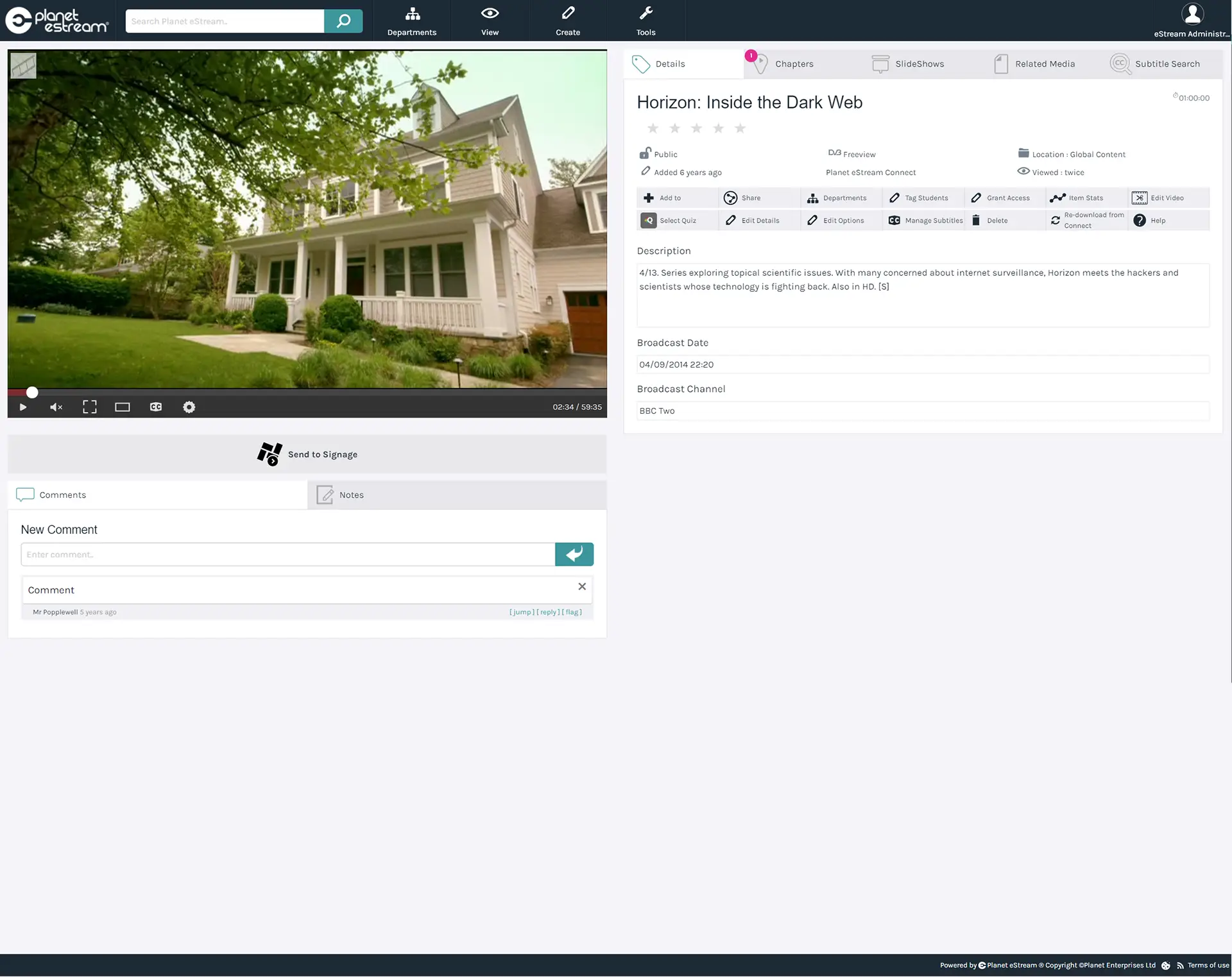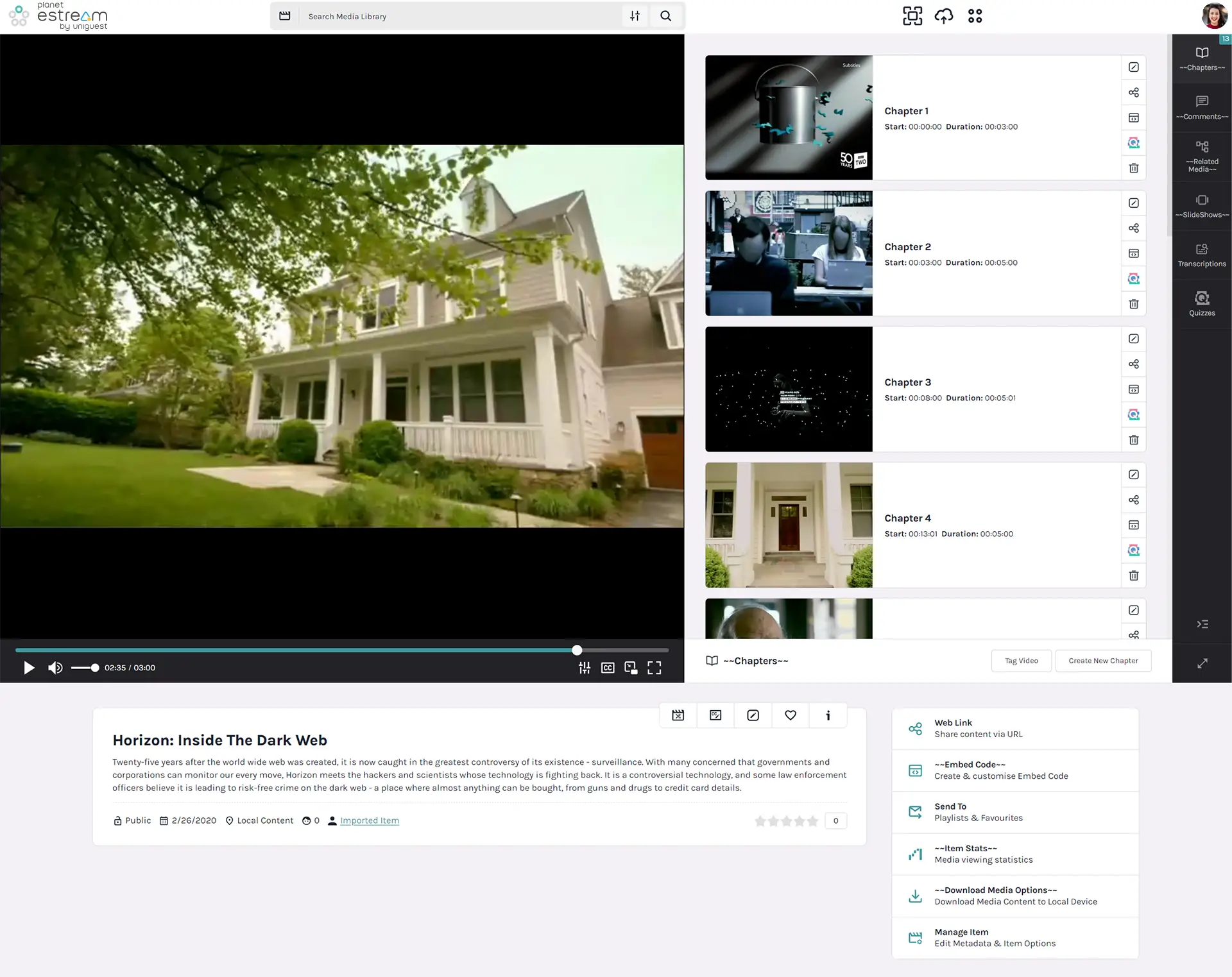 View Page and New 'Media Module'
The eStream view page now benefits from an improved layout that makes it easier to access key features, information, and the powerful built-in creative tools that eStream offers educators for creating video-based learning resources.
We have also introduced a dedicated "Media Module" to present media content and any related assets, such as chapters, comments, and quizzes. This is great for both aesthetics and workflows, as the Media Module can then be easily embedded into other platforms and websites.
eStream is well known for its flexibility to integrate with many other platforms, often acting as the media engine for digital content delivery across multiple platforms within an organization. The Media Module is a significant development step, as it provides users with even more options when sharing their learning resources with viewers.
John Jackson
Uniguest's Technical Services Director for eStream
Interactive Videos and Quizzes
The presentation of quiz elements has been redesigned, with the Media Module Sidebar now providing users with information as they move through the quiz. There are also new options for educators when creating quizzes, making it easier for quizzes to be shared and analytics to be viewed.
Interactive video-based quizzes is one of the most popular feature introductions we made during the old UI. We have taken this opportunity to improve the use of screen space, making it easier for end users to view and submit responses. We have also added a number of new options to assist quiz creation, making it easier to distribute content and ensure that analytics options are as flexible and robust as possible.
Alex Spencer
Uniguest's Lead UX/UI Developer for eStream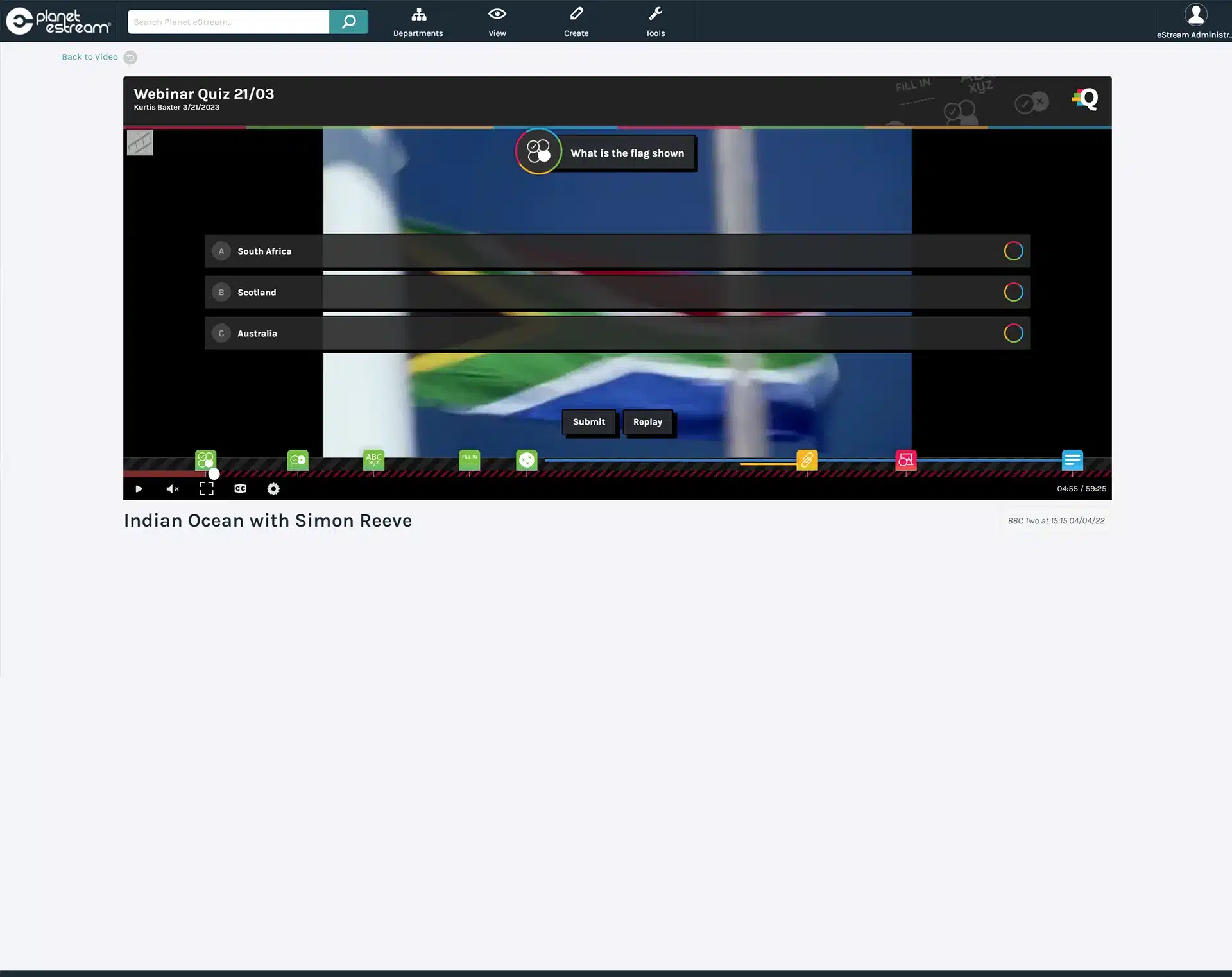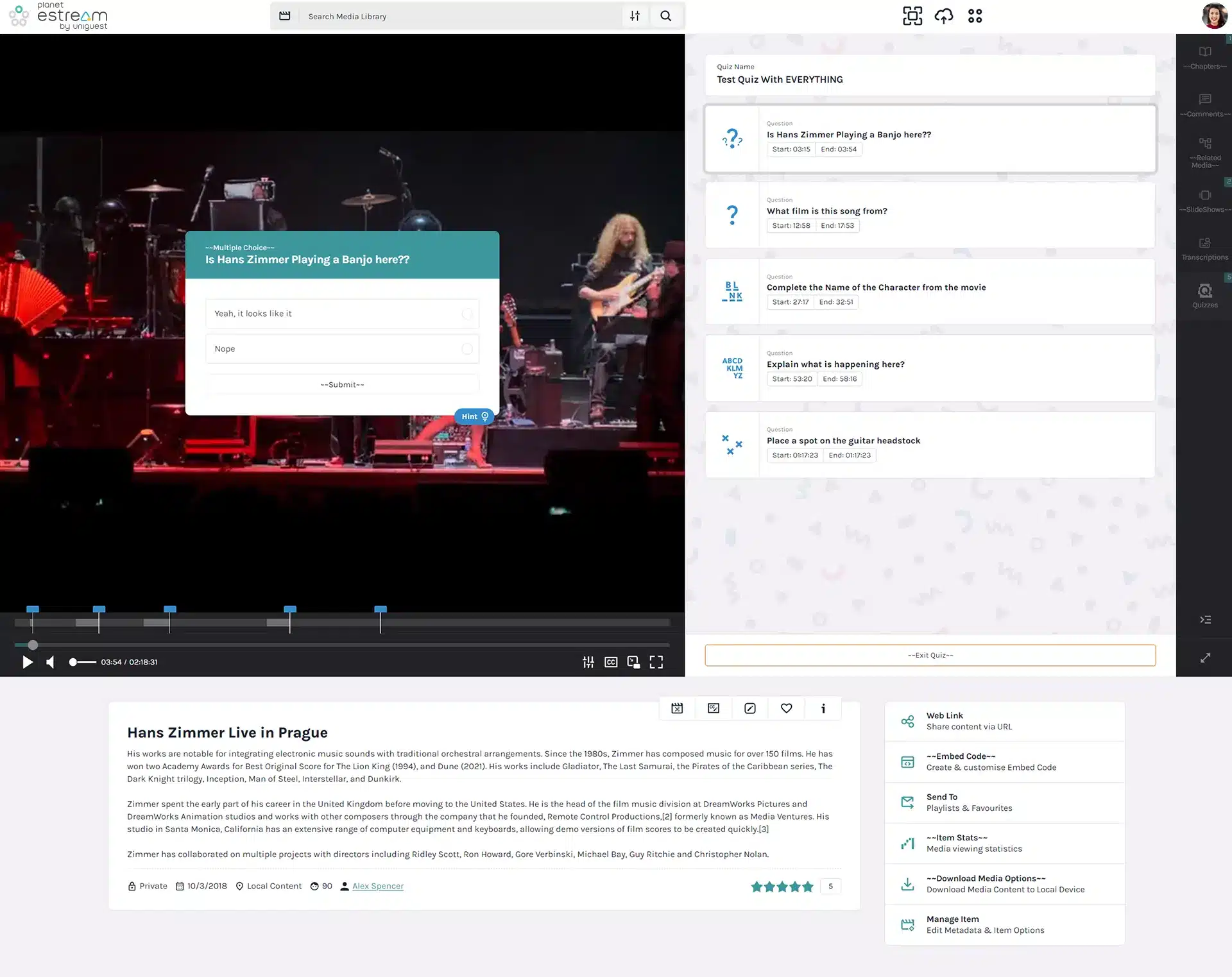 The new look eStream platform not only looks fantastic but the refined platform navigation and smart workflows that our development team have worked tirelessly to create, delivers an outstanding user experience.
Matt Goche
Chief Executive Officer , Uniguest