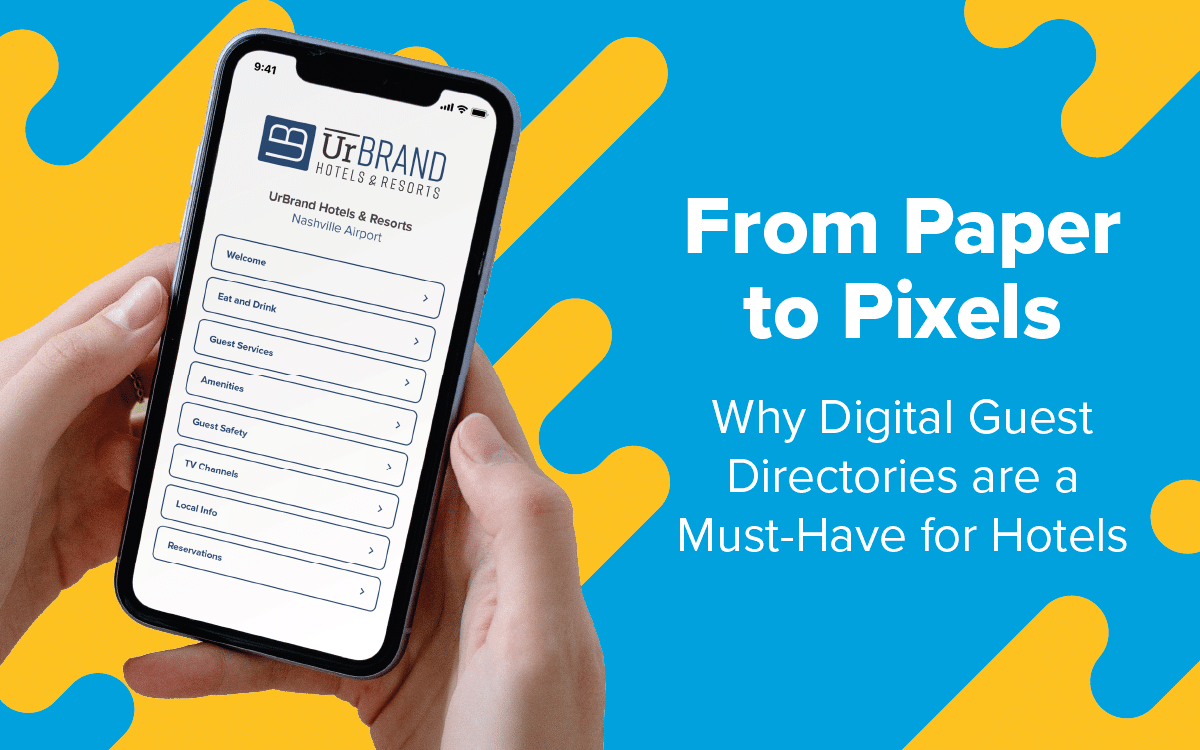 From Paper to Pixels: Why Digital Guest Directories are a Must-Have for Hotels
In today's world, where technology is advancing at an unprecedented pace, it is essential for hotels to embrace new trends to improve their guests' experiences and one area where this is particularly evident is with guest information directories. Typically, these directories are presented in a printed format, placed within each room, and contain important and useful information on the hotel and its amenities, as well as on the local area.
However, with increased adoption of technology, forward-thinking hoteliers are offering access to guest directories in a digital format, conveniently accessible via a QR code on a mobile device or in-room tablet, revolutionizing how hotels communicate with their guests.
With a digital guest directory, guests can easily access relevant information, including room service menus, partner offers, local transportation options, spa, and fitness center schedules.  As the directory can be easily maintained centrally by the hotel, guests can be confident that the information they access is accurate and applicable, reducing any confusion or frustration with out-of-date offers.
Guests can easily plan their activities and make the most of their stay, which in turn, increases customer satisfaction, leading to positive reviews, and repeat bookings.
From Paper Waste to Digital Convenience
Not only do hotels provide an elevated guest experience but with digital directories, print and paper wastage costs and in room 'clutter' which can be associated with standard directories can be reduced, making the property more environmentally friendly. Fewer staff resources are occupied in having to manually switch out any out-of-date information or updating with new offers or services. By switching to a digital platform, hotels can quickly reduce their environmental footprint, while reducing staff workload.
Unlocking New Revenue Streams
As the use of technology continues to grow, hotels that embrace digital technologies are likely to see significant returns on their investment, both in terms of revenue and customer satisfaction.
Digital guest directories offer a multitude of benefits that can increase the ROI for hotels. The convenience of digital directories increases the likelihood of guests taking advantage of additional services and products and can be customized to reflect the personality and branding of the hotel. Digital directories can also offer an opportunity for hotels to upsell services and products, leading to increased revenue streams, and refining customer satisfaction.
Digital guest directories are a must-have for hotels looking to provide a convenient and sustainable experience for their guests. By offering instant access to information, reducing printing costs and environmental impact, customizing their offering, and providing valuable data on guest behavior and preferences, hotels can enhance the guest experience and increase revenue.
Active engagement across an entire property
The Uniguest Digital Hotel Guest Directory provides a hub for engagement, a core for connection and a platform to link your other hotel technologies into a broader marketing campaign.  
A digital directory is about more than just providing service information, it is about providing guests with a simple route to every benefit a property offers whilst also deepening their bond with your brand. 
Sharing the same content on a digital signage screen as a guest sees on their in-room TV as they see on their personal device or public-use workstation embeds your messaging into their consciousness. You know they will see it. You know they will understand it. You know they will digest it in the right context for them. This gives you a much better chance of generating return visits, upsells and sign-ups. 
With the constant demand for properties to stay competitive and enhance their offering, there has never been a better time for hotels to make the switch from paper to pixels.