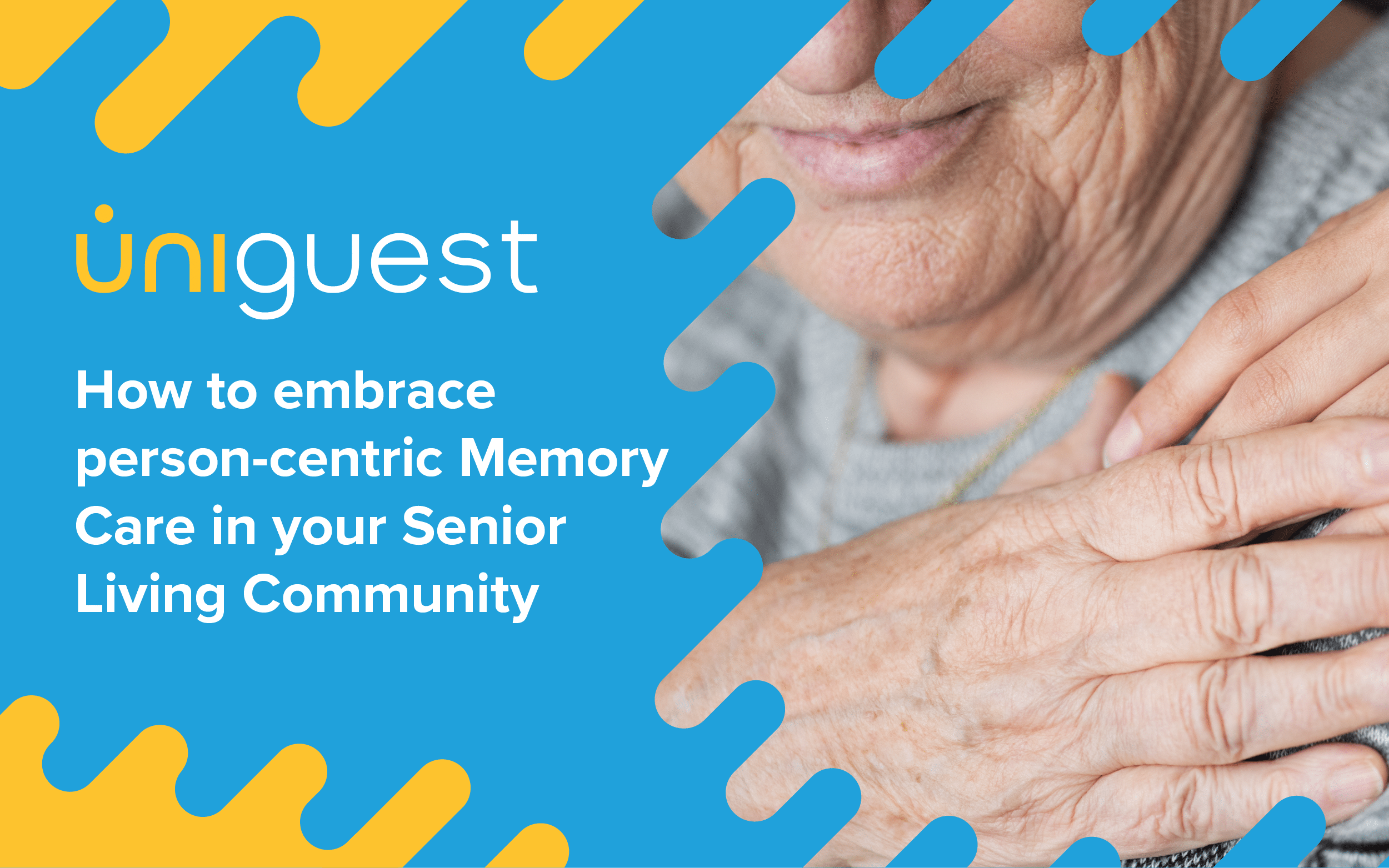 Person-centric memory care is the future of senior living. Is your community prepared?
Memory loss conditions are increasing in prominence: the number of dementia cases in the US is expected to rise by 30% by 2030. This upward trend means the senior living world must adjust the way it administers care in order to meet the needs of its residents.
Embracing a person-centric memory care approach can help your community deliver the highest-quality care — and in the process, differentiate itself from the other options in your area. Let's dive a little deeper to understand the concept of person-centric memory care, how to apply it within your community and the purposeful technology that can help drive a person-centric approach:
What is person-centric memory care?
Person-centric memory care is an approach that focuses on individualized support and engagement for seniors living with dementia and other memory loss conditions. This approach requires staff to personalize care strategies to meet the cognitive, emotional and social needs of each unique individual.
Rather than solely aiming to manage symptoms, person-centric care practices focus on enhancing each resident's overall well-being while preserving their individuality and fostering meaningful social connections.
An article from Oxford University Press provides additional details on person-centric memory care, defining it as, "a philosophy of care built around the needs of the individual and contingent upon knowing the person through an interpersonal relationship." According to the authors of the article, person-centered care, "challenges the traditional medical model of care that tends to focus on processes, schedules, and staff and organizational needs" and requires senior living leaders to embrace the approach for optimal results.
Four ways to embrace person-centric memory care
So what does person-centric memory care look like on a daily basis? How can you implement these practices in your community? Here are four ideas:
Build Individualized Care Plans
Each one of your residents has a unique background, personality and set of passions that they want to pursue. Person-centric memory care involves building customized care plans that consider these factors. Senior living leaders should ensure that interventions and activities are personalized for each individual's specific needs and preferences.
Promote Resident Autonomy and Dignity
Memory loss often means reduced independence for senior living residents. A core tenet of person-centric care is empowering residents to maintain their autonomy whenever possible. Caregivers can help seniors feel dignified by including them in decision-making about their care plans, consciously taking their feedback into account and building a plan that helps promote the resident's strengths over their weaker spots.
Encourage Meaningful Engagement
Engagement is more than just a way to pass the time; activities such as playing games, working on crafts, using a computer and socializing with other residents can reduce the risk of mild cognitive impairment by up to 30% for adults 70 and over.
In the spirit of personalization, it's important to promote activities that align with your residents' interests, hobbies and past experiences. Reminiscence therapy can help residents connect with memories and people from their past. Music therapy and art programs can stimulate their creative side. Intergenerational activities — such as community outreach efforts — foster meaningful social connections.
Foster Supportive Environments
Residents can benefit from a physical space that promotes comfort, safety and familiarity. Sonida Senior Living, formerly known as Capital Senior Living, provides an excellent example of how a physical environment can promote person-centric care.
Sonida's Magnolia Trails program focused on the minute details of each community, from the background music played during meals to the implementation of hands-on interactive experience stations for pet care, gardening and woodworking.
The program yielded incredible results. Over two years, occupancy jumped from 69% to 100% with a waiting list, and average monthly rent rose by more than 5%.
Technology to Support Person-Centric Memory Care
Community leaders are the most powerful force when it comes to embracing person-centric memory care. One way they can drive positive change is by investing in purposeful technology to help a.) make life easier for staff and b.) open up new opportunities for residents.
Here are two examples:
Uniguest: Individualized Reporting and Analytics
When it comes to creating highly-personalized memory care plans, visibility is powerful. Through Uniguest's Sagely Reports, community leaders can easily gain a clear picture of their census's habits and experiences, including engagement levels, activity interests and participation in wellness activities. This way, you'll know what activities pique the most interest, and which residents might need different opportunities for engagement.
You can't improve what you don't measure, which is where Uniguest's reporting and analytics come in handy.
Eversound: A Hearing Solution For Increased Focus
Eversound's wireless headphone system is senior living's preferred hearing solution, and it's specifically designed to enhance communication for every member of your community: especially those dealing with memory loss conditions.
Eversound's headphones amplify sound and eliminate background noise, allowing residents to focus on reminiscence therapy or music therapy without distractions. The system's transmitter can either act as a microphone for conversations or transmit audio from another device — TV, iPad, phone, etc. For more information on Eversound, chat with the team today.
Person-centric care is helping senior living leaders differentiate their memory care offerings. How will you continue building a person-centric foundation for your community?