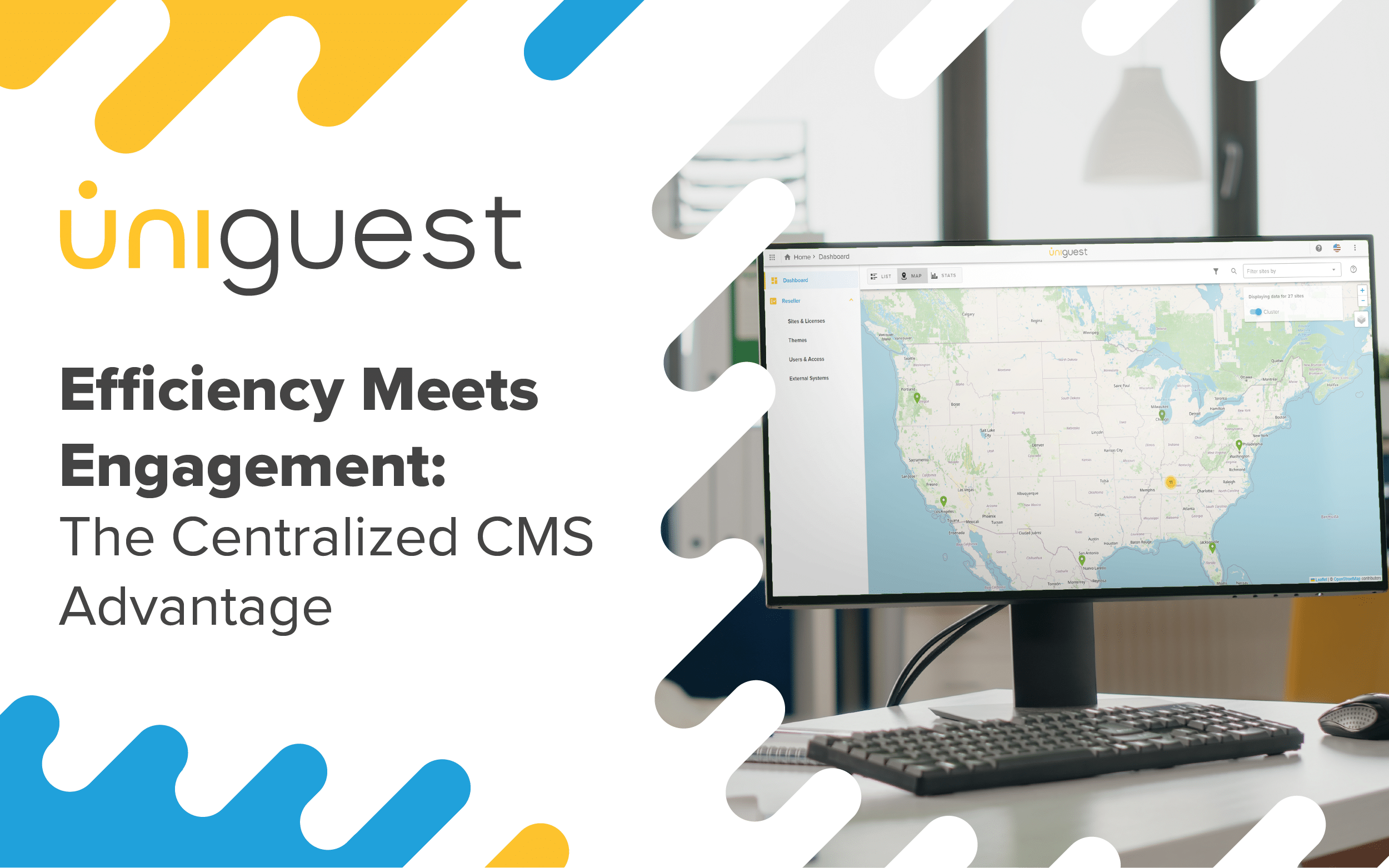 In the fast-paced world of digital engagement, it is commonplace for information, communications, and marketing content to be distributed to end users via multiple communications channels. Modern engagement technologies, such as digital signage, interactive IPTV, enterprise video, learning platforms, public-use workstations, and mobile apps, assist organizations in engaging with their customers, staff, students, guests, visitors and patients.
Almost all content created is published on more than one of these endpoints, which creates a challenge, as maintaining consistency and efficiency can be difficult when managing multiple platforms or systems.
A centralized Content Management System (CMS) can ease this burden, creating a control centre for all digital engagement content, streamlining processes, enhancing collaboration, and elevating the overall effectiveness of your digital content. In this blog, we explore some of the main advantages that a centralized CMS can deliver for those looking to increase the effectiveness of their digital content.
Streamlined Content Creation and Management
A centralized CMS acts as a single hub where you can create, edit, manage, and distribute all your digital engagement content, from live news, videos, images, company updates, and announcements – saving time and reducing the chances of errors or inconsistencies by eliminating the need to duplicate content across multiple platforms.
Consistency in Branding and Messaging
Maintaining a consistent use of your branding and messaging is crucial for building a strong brand presence. With a centralized CMS, you can enforce branding guidelines across all engagement endpoints, ensuring all content adheres to the same visual style, tone, and messaging. This consistency enhances brand recognition and trust among your audience.
Efficient Workflow and Collaboration
A centralized CMS facilitates seamless collaboration among team members by providing a single content management and distribution platform.
Easy Multi-Channel Distribution
A centralized CMS allows you to create content once and efficiently distribute it across multiple channels, ensuring your messaging remains coherent and impactful.
A centralized CMS platform can offer analytics and reporting features to provide insights into content performance across different channels. This data is integral to helping you identify what is working and what isn't, thus enabling you to refine your engagement strategy and deliver better results.
Simplified Content Updates
When content needs to be updated or revised, a centralized CMS makes the process straightforward. You can make changes in one place that will automatically reflect across all relevant channels, eliminating the need for manual updates and reducing the risk of outdated information.
Using a centralized CMS to manage and organize your content, you can create a more user-friendly experience for your audience. Staff, visitors, and guests will find it easier to navigate your interactive content, locate relevant information, and engage with your content.
Consolidating content management into a single platform can lead to significant cost and time savings by eliminating the need for multiple platform subscriptions and reducing the number of systems content admins need to manage.
CMS platforms often integrate with other platforms or systems, such as a point of sales system, management information system, learning platform, facilities management tools and more. Pulling data and content between platforms allows information to be updated dynamically and saves valuable time.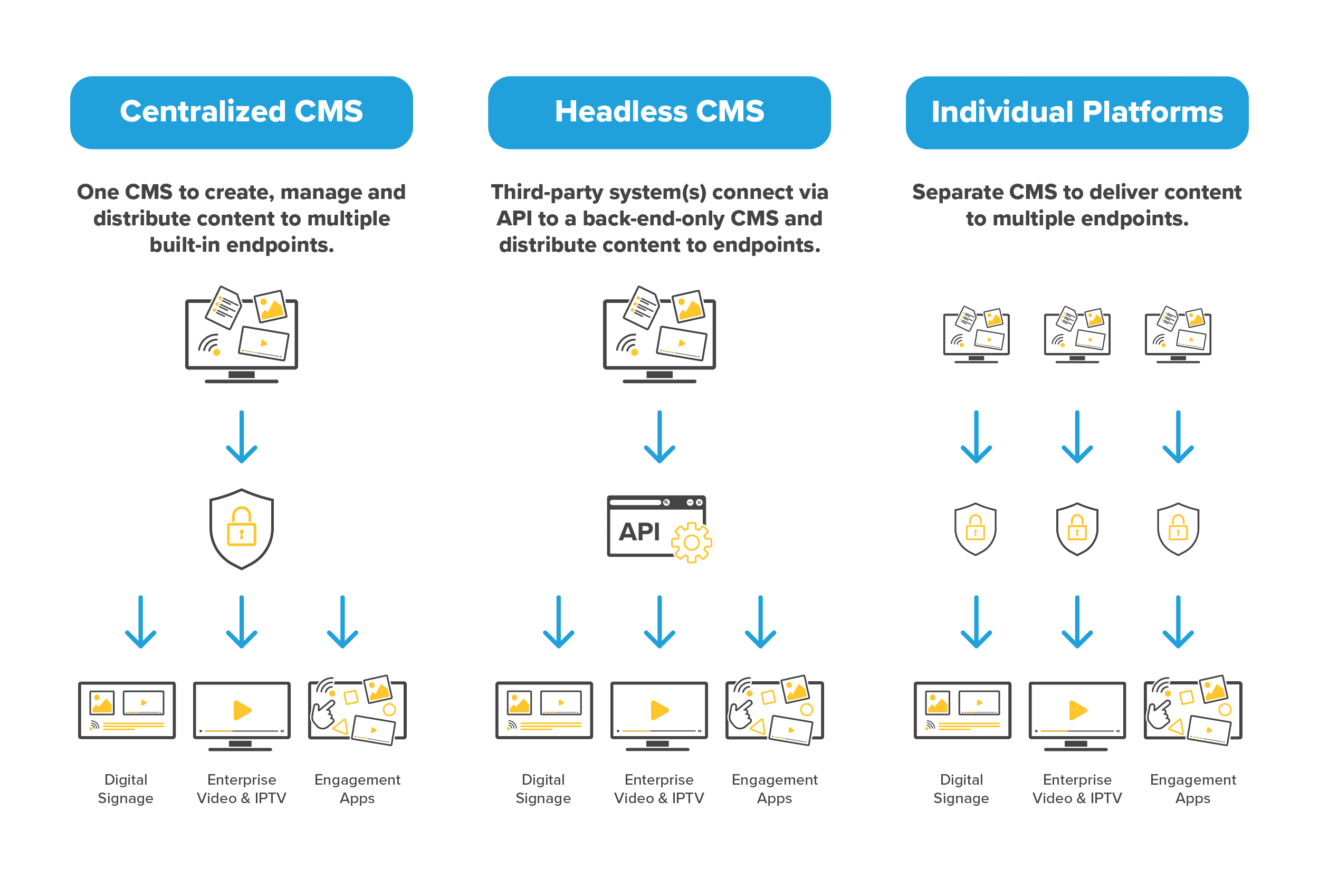 Headless CMS – the next step
A headless CMS decouples the front-end content presentation layer from the back-end content management tools. The back-end headless CMS is purely responsible for content distribution, scheduling, and end-point management. Content is delivered to front-end platforms using APIs instead of a static, built-in user interface. Because the back-end CMS is detached, organizations have more freedom to choose the software, technologies, frameworks, and languages they want to use for building the front end. This flexibility can lead to more innovative, dynamic and personalized user experiences.
To conclude, a centralized CMS offers a range of benefits that enhance content creation, streamline workflows, and boost the effectiveness and reach of digital content. By upgrading to unified content management, headless or not, businesses can achieve consistency in branding, improve user experience, and save time and resources.
Embracing a centralized CMS can quickly elevate the impact of digital engagement, ensuring content is readily available to audiences across multiple channels and helping drive meaningful and long-lasting interactions.
About Uniguest
Uniguest is a global leader in providing connected technology solutions to enable those in hospitality, senior living, sports/stadiums, entertainment, retail, education, government, corporate, and enterprise to engage with their audience. Uniguest is highly focused on creating deep client relationships as evidenced by its most recent NPS score of 78. Uniguest provides turnkey technology solutions that include hardware and software solution packages, professional services, system implementation, and 24/7/365 multi-lingual support. The Uniguest family incorporates the ONELAN, Tripleplay, Touchtown, Volara, Planet eStream, UCView, Janus Displays and Otrum technology and teams. www.uniguest.com