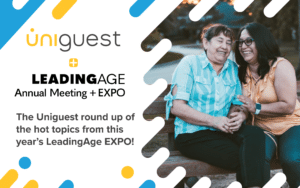 Mike Rethage, VP Senior Living Uniguest, shared his thoughts following another successful year at the event. 
LeadingAge 2022 attracted exhibitors and attendees from across the United States, generating a significant buzz and high levels of excitement across the show floor, with busy walkways and well-attended seminar sessions.  
One of the common themes recognized by exhibitors and delegates alike was the acknowledgement that the pandemic brought the role of technology within communities as well as the enterprise to the fore. Many technologies transitioned from being 'nice to have', to being vital in helping maintain the well-being of seniors, who without it would have quickly become isolated.  
With heightened awareness and armed with new knowledge, delegates were therefore keen to understand not only the benefits that implementing an integrated technology strategy could deliver, but also investigate some of the emerging technologies which would benefit their communities, staff, and residents. Many conversations were noticeably dominated by cable provider reliability, the availability of WIFI within communities, and general technology infrastructure discussions.  
A second theme highlighted the challenges for communities in investing in and then having to manage several disparate platforms. The importance of having platforms which could be consolidated to streamline management and resources was key, with vendors keen to promote the benefits of their multiple technology partnerships and integrations.  
Lastly, content is king! All communities seek out free curated content, which ultimately, they need and want to be able to share out as easily and seamlessly as possible to benefit their staff, residents, and their families.  
As highlighted by Touchtown Talks Live from LeadingAge, Uniguest, via its Touchtown platform, offers a plethora of free curated content along with access to popular content partners. 
Technology experts from Uniguest were also showcasing the leading Touchtown and Sagely platforms, demonstrating existing and new features, while new integrations and partnerships were also highlighted. These included: 
SMS Enhanced Text Messaging Service – a new channel for greater deliverability of messages

 
PointClickCare Integration – means resident data is synchronized so no dual entry

 

ALIS Integration – streamlining of resident and staff data 

 
Ultimately, this year's LeadingAge EXPO was a huge success and once again, the Uniguest team was able to demonstrate the results of investment in developing new features and ensuring integrations with other leading platforms to benefit communities and residents. 
Check out Touchtown Talks recorded live from LeadingAge to find out more, or visit www.touchtown.com for further information.