Introducing Tripleplay 23.1
Introducing the brand-new Tripleplay User Interface, available in all new production builds from October 2023, Software version 23.1. For further information or to discuss an upgrade email hello@uniguest.com or contact your Uniguest account manager or local Tripleplay reseller.
Applications Homepage
The Tripleplay homepage has been redesigned with modern aesthetics, creating a much cleaner and more intuitive landing page. It is much easier and faster for users to navigate, enabling them to find the applications, features, and platform information they need.
Our focus was to create a homepage with a modern look and feel that is easier for all users to navigate. We have also considered future development to ensure that new features are as accessible as our current toolset.
Simon Carp
Head of Product Management, Uniguest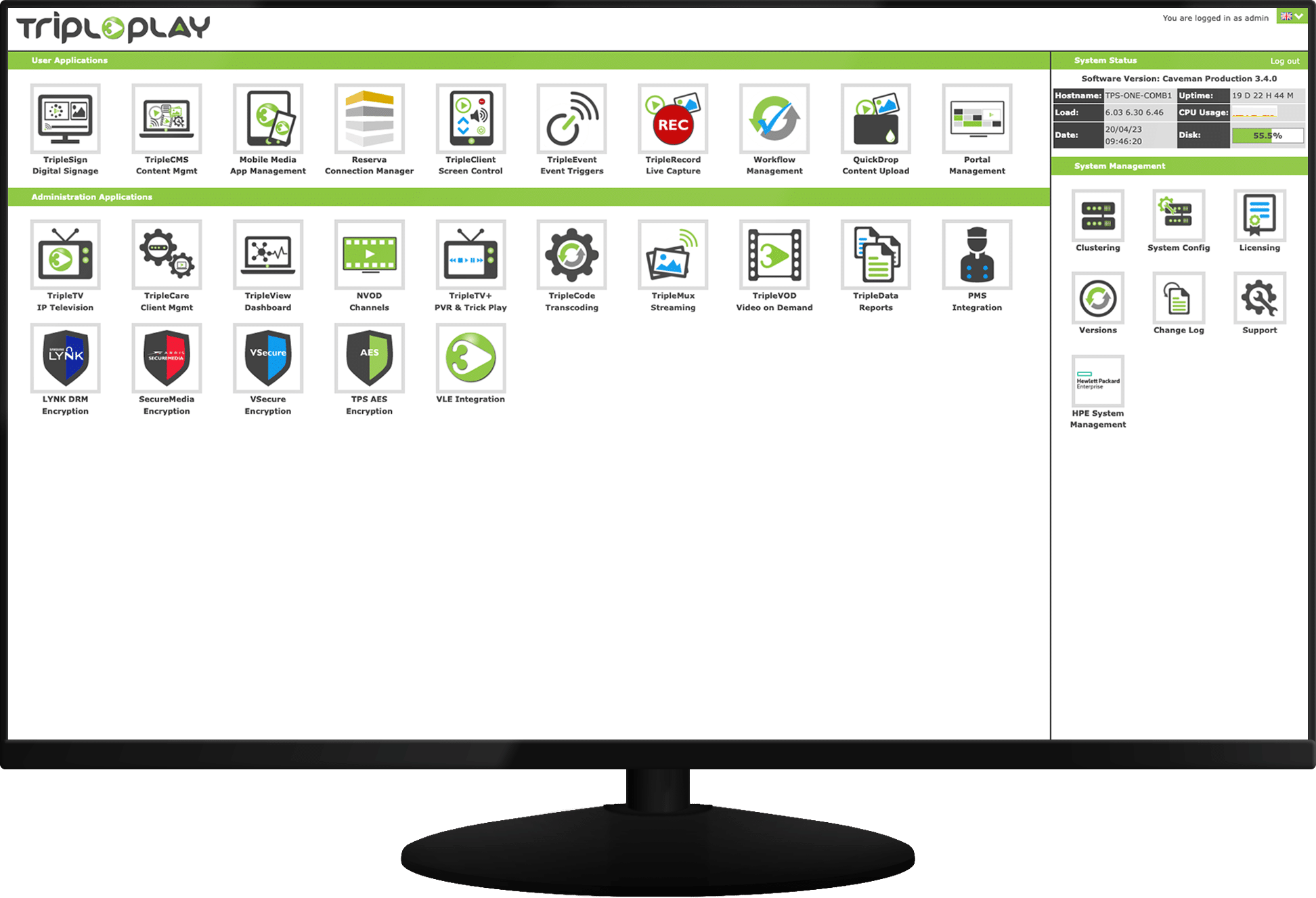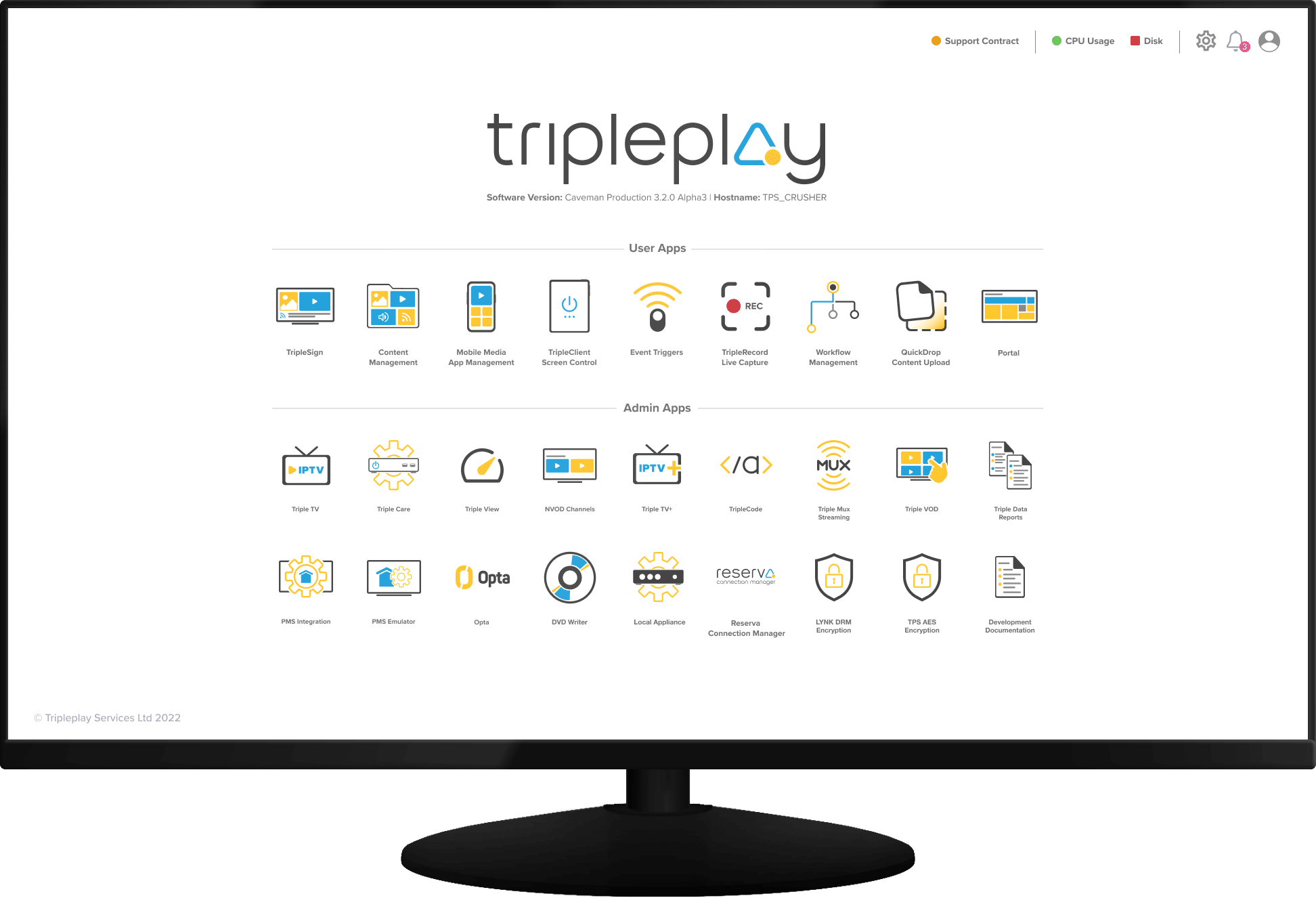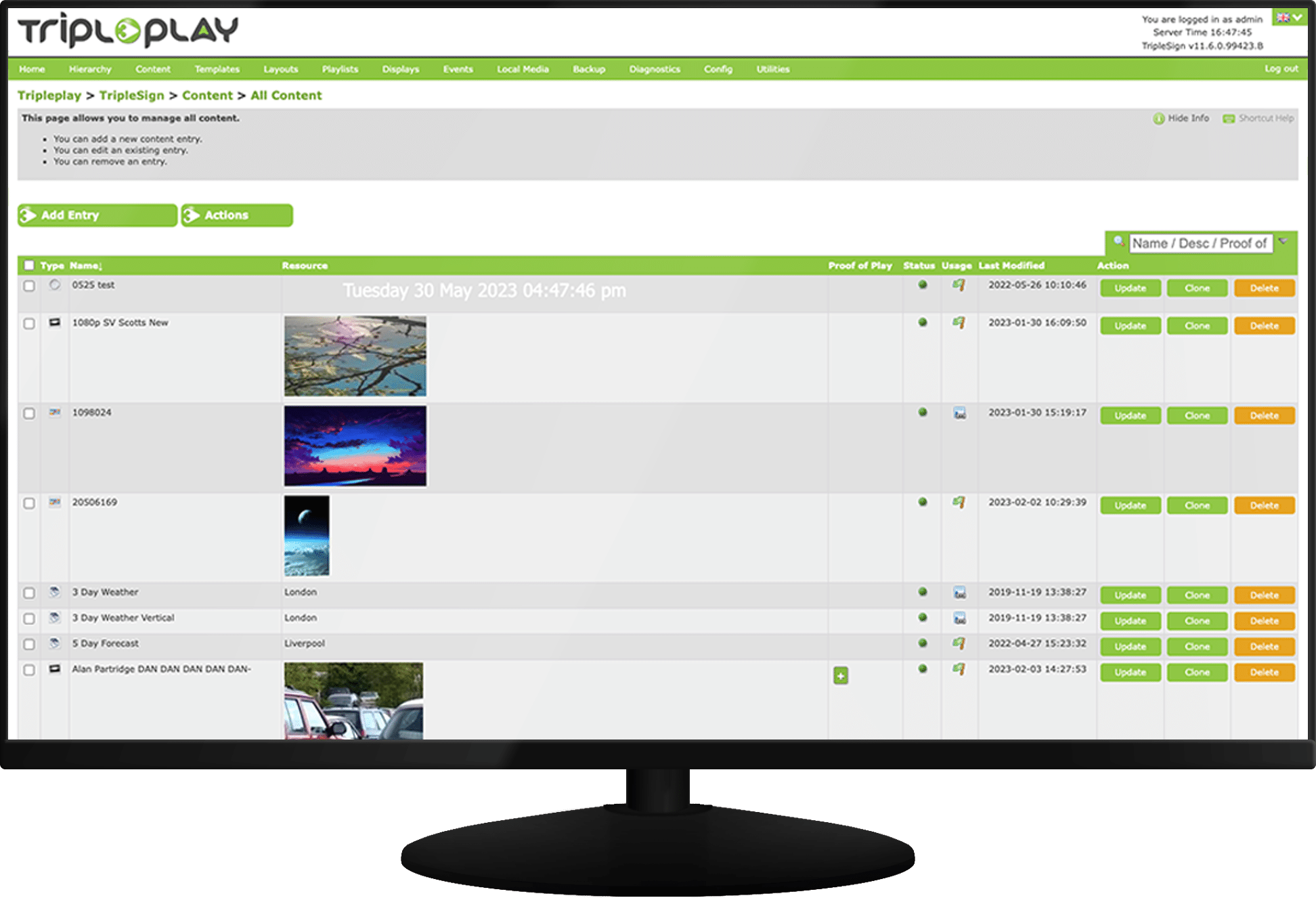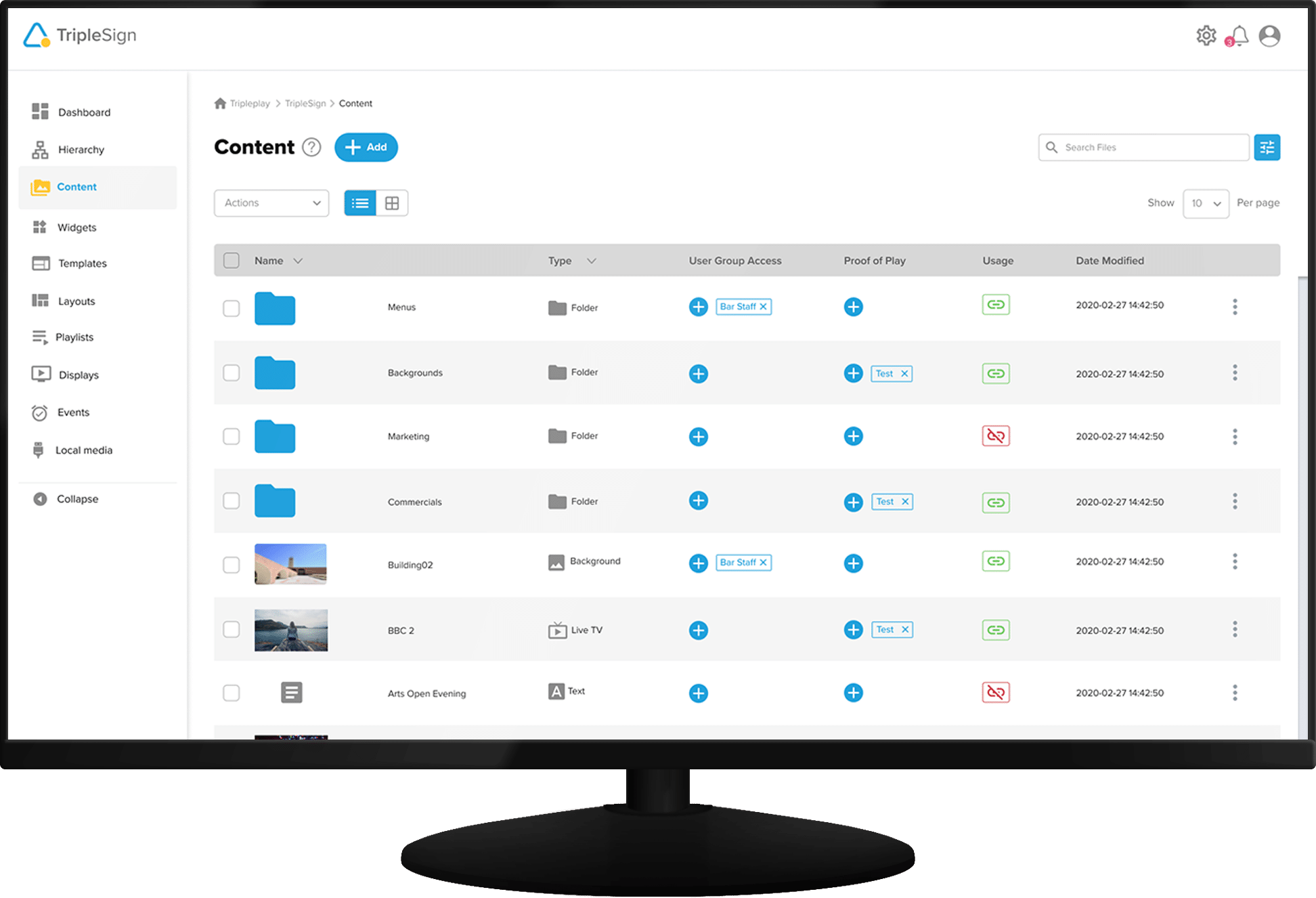 Digital Signage Content
As well as ensuring our side nav menu is always available for simple exploration of the software, we have also added folders to the content area to help users manage their assets. This includes the ability to upload and tag content in bulk.
We understand that it is important for customers to be able to make changes and update digital signage content quickly. So, we replaced our previous menu system with a new sidebar navigator, creating a clean and organized interface where users can quickly access important digital signage content management tools.
Simon Carp
Head of Product Management, Uniguest
Visual Editor
We have always been really proud of our visual editor, so we haven't played around with it too much, simply modernized the look and feel and simplified use of our asset library.
Over the years, we have invested a huge amount in our visual editor to create an industry-leading digital signage design tool. This update aligns this rich functionality with our wider platform design changes. Plus, we have taken the time to restructure some of the tools, ensuring all workflows are as streamlined as possible.
Simon Carp
Head of Product Management, Uniguest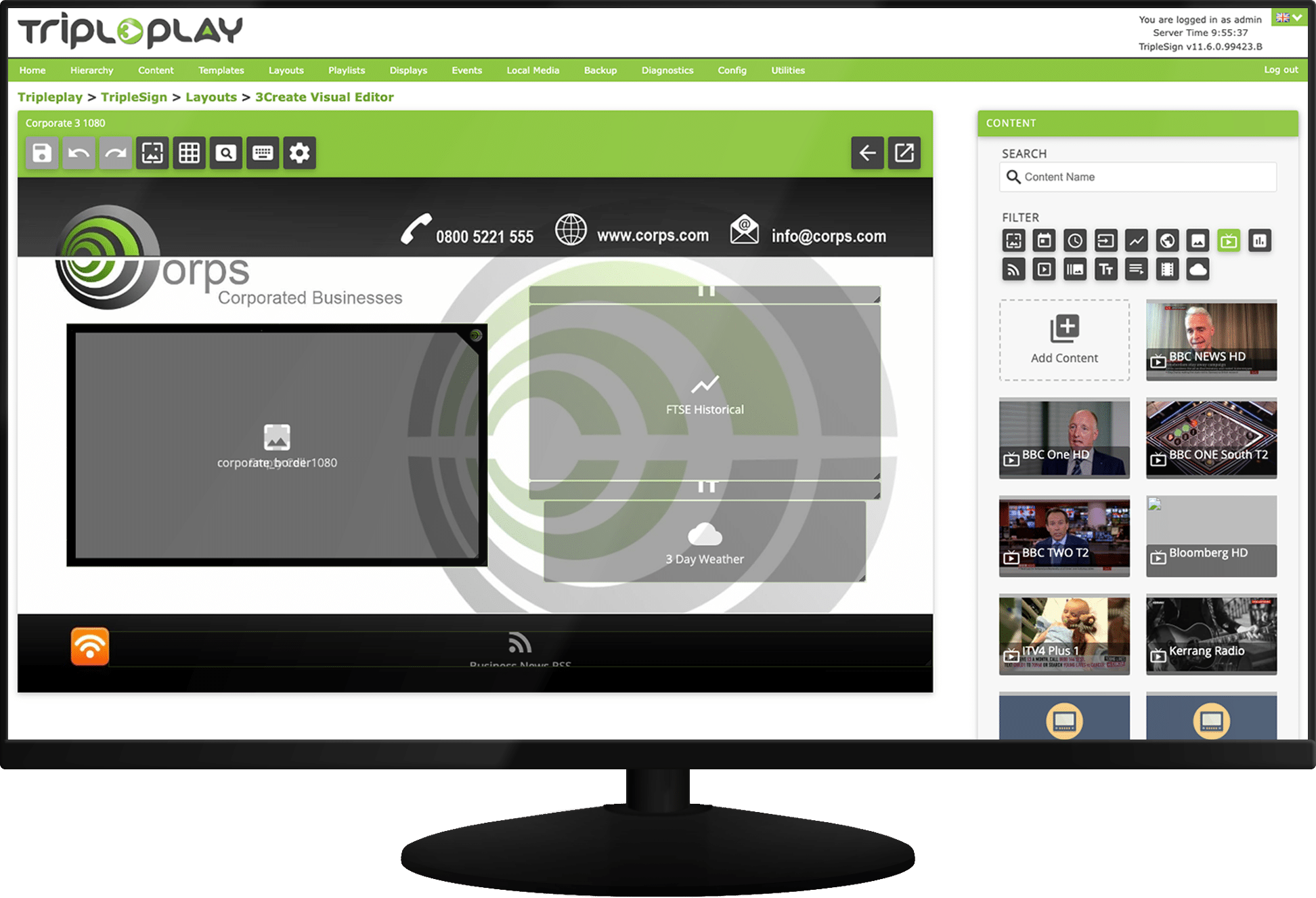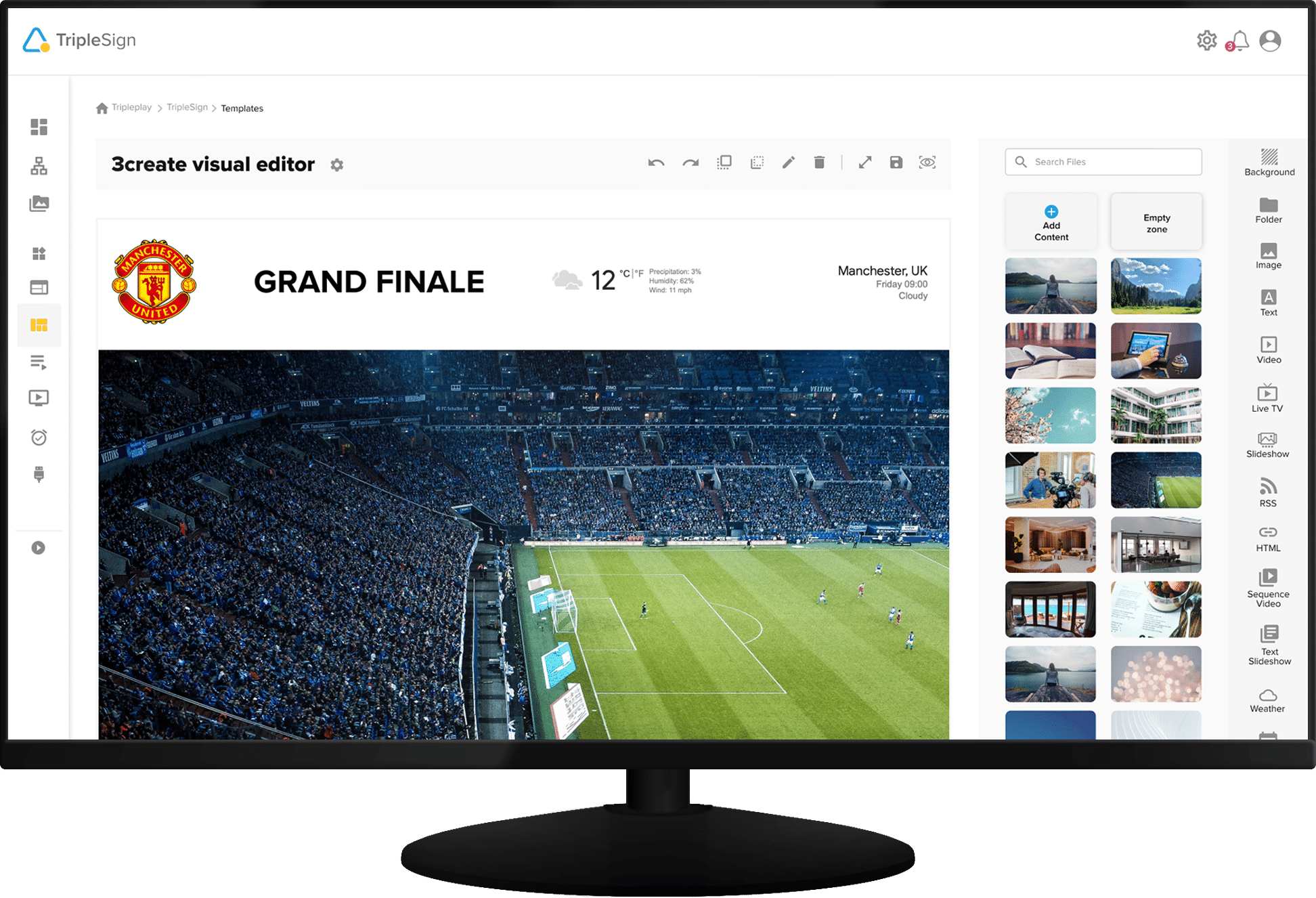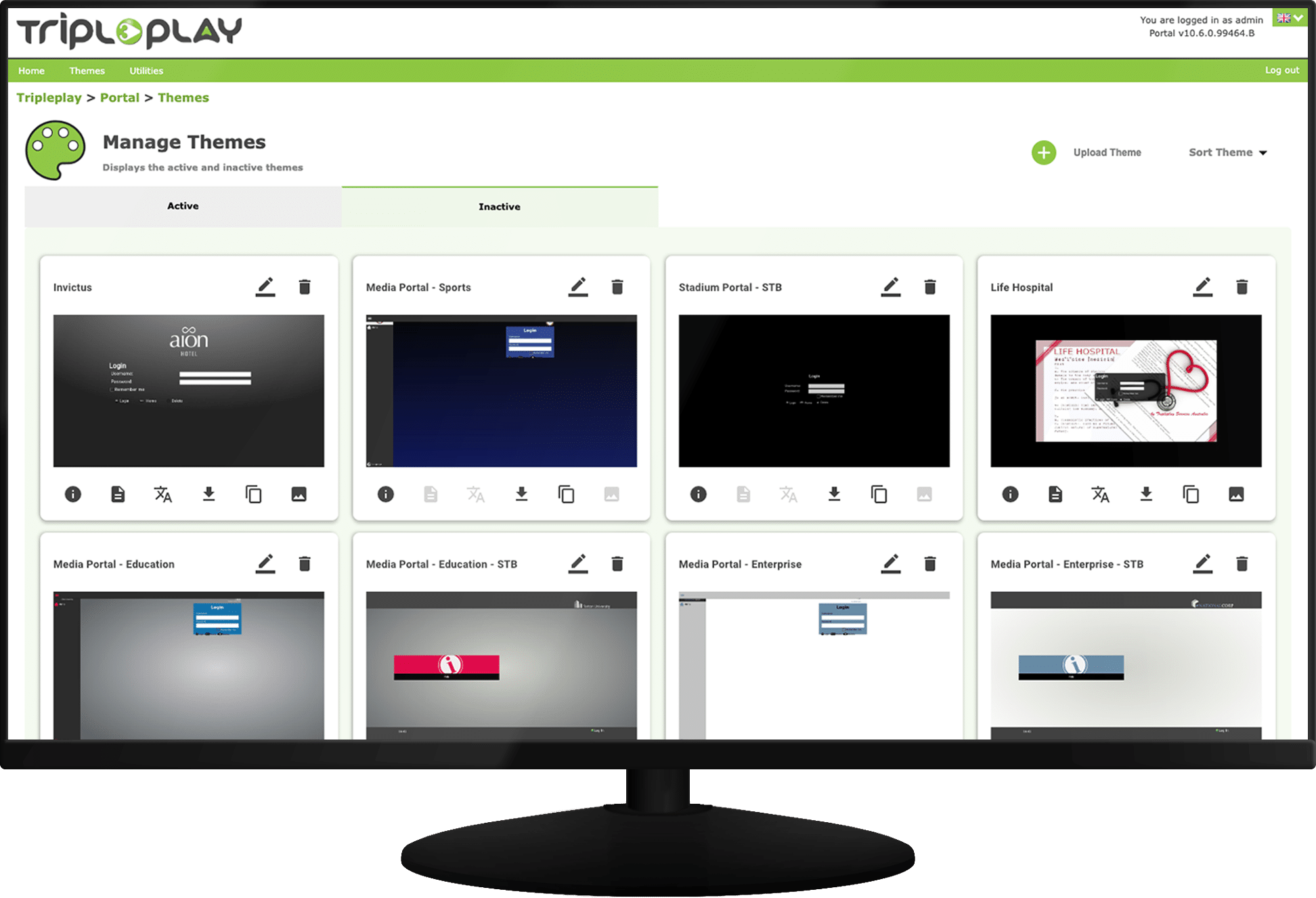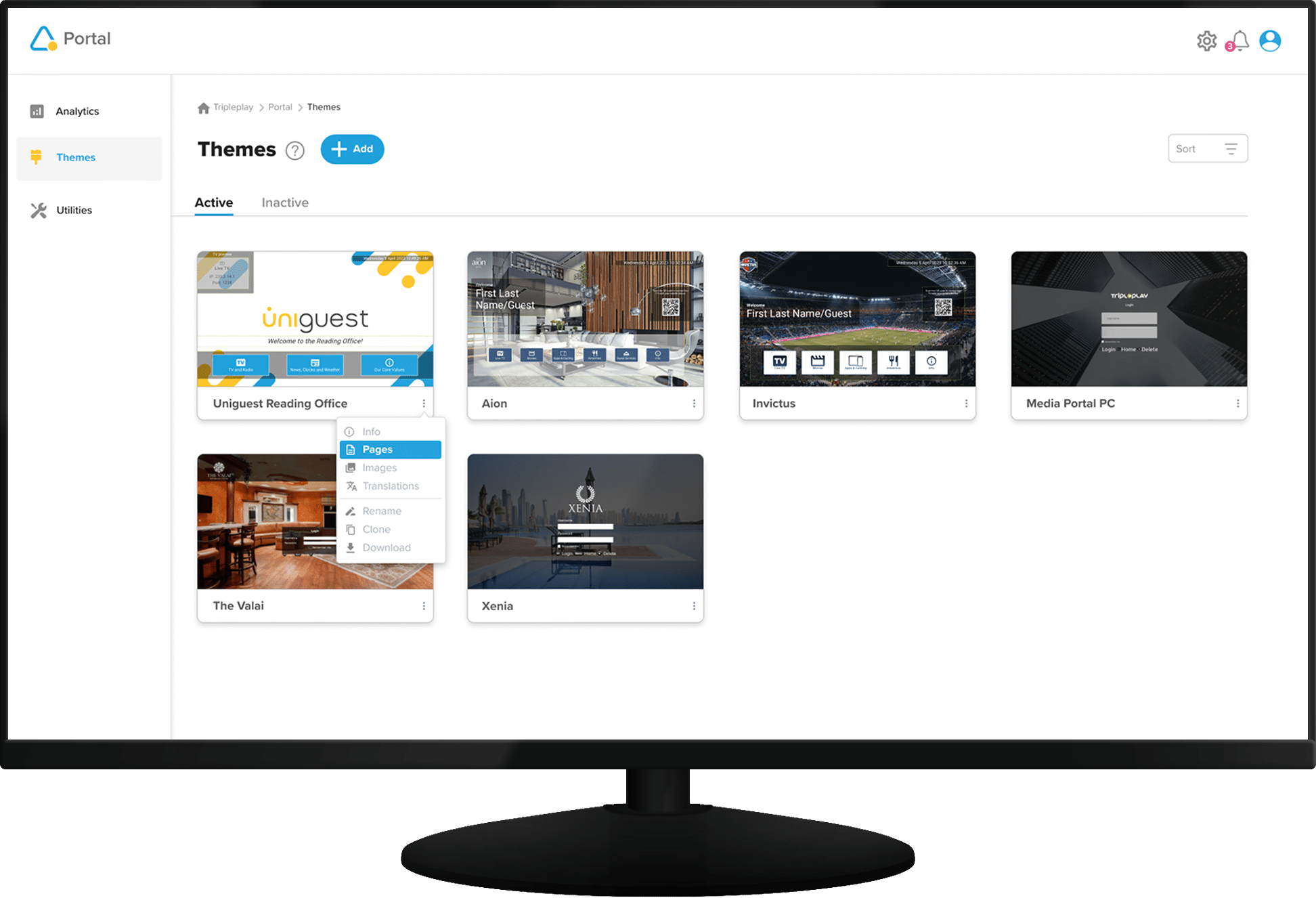 Portal Theme Management
We have added enhanced functionality to the new IPTV Portal editor we introduced in April this year. This includes support for panel style menus and vertical scroll arrows to improve the guest journey when navigating portal pages and text-based content. We have also introduced a new inbuilt theme, Invictus, to support our stadium and arena users.
The addition of panel style menus and vertical scroll arrows gives our users more flexibility when creating their portal pages. These introductions also make content easier to navigate via remote control, helping improve the overall guest experience.
Simon Carp
Head of Product Management, Uniguest
System Services Configuration Page
Our system configuration page has been overhauled and now benefits from a simplified and modernized interface that is optimized for efficiency and makes tasks much easier to see and perform, increasing the overall user experience.
Increasing efficiency and clarity was a crucial factor across the board when undertaking the redesign process. Our team paid particular attention when designing platform management tools, as we wanted to create a page where important system applications could easily be viewed and managed.
Simon Carp
Head of Product Management, Uniguest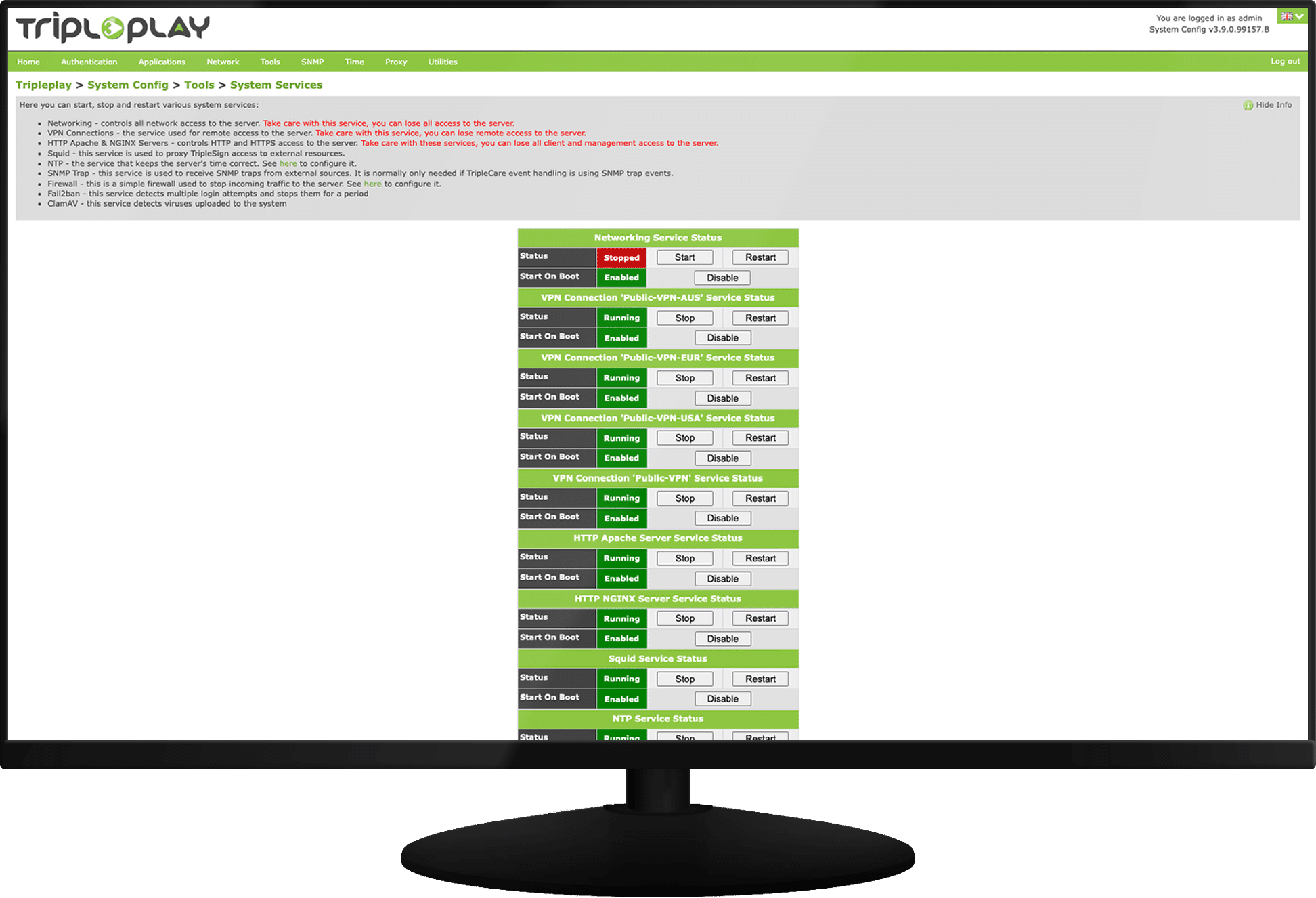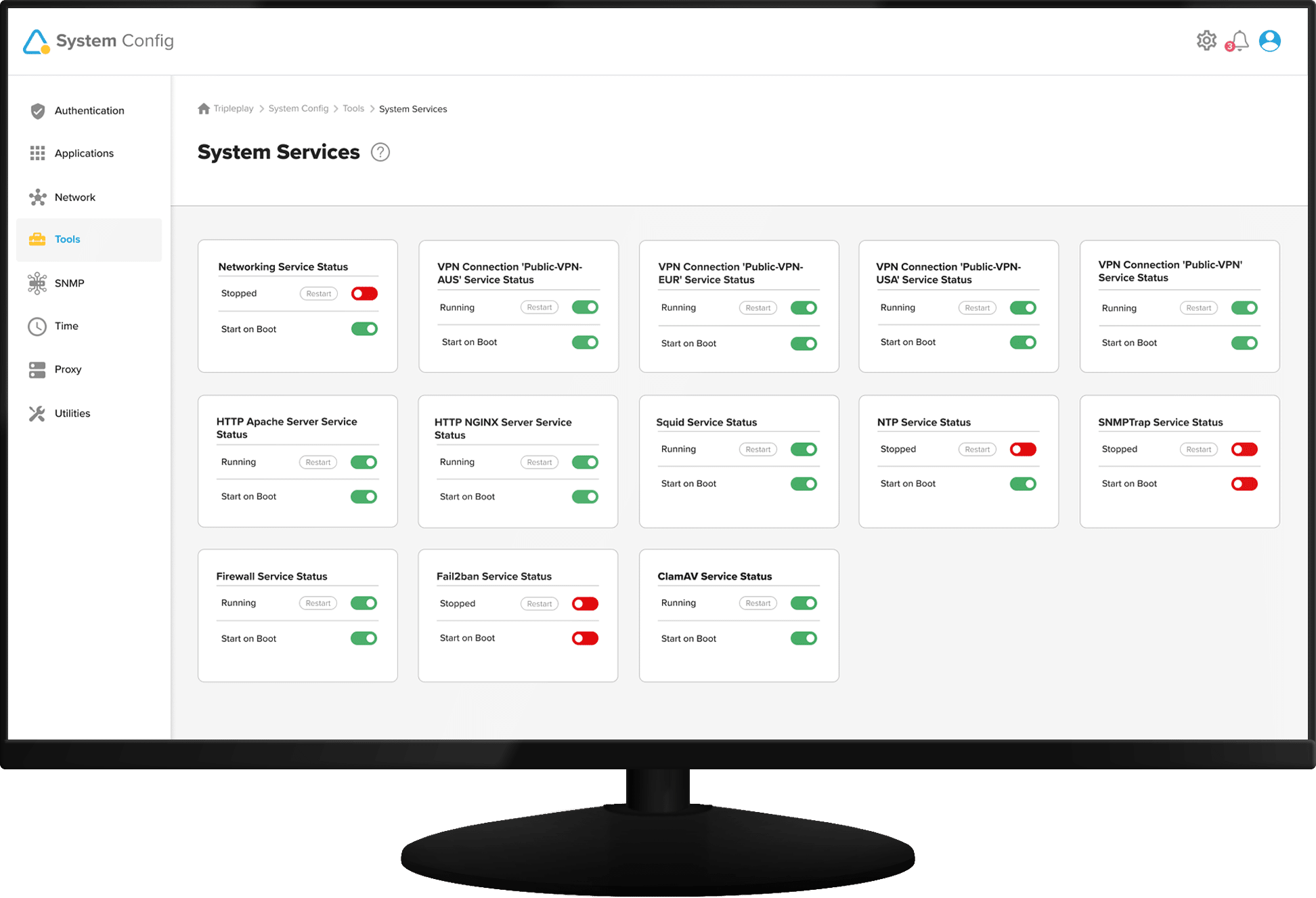 23.1 is a significant update for our Tripleplay software. The new UI brings a fresh, clean look that streamlines the powerful digital signage and IPTV toolset in Tripleplay. Our users will see the direct benefit of easier workflows, enabling them to save time and work more efficiently
Matt Goche
Chief Executive Officer , Uniguest