Renaissance Dallas Richardson ditches paper signage
.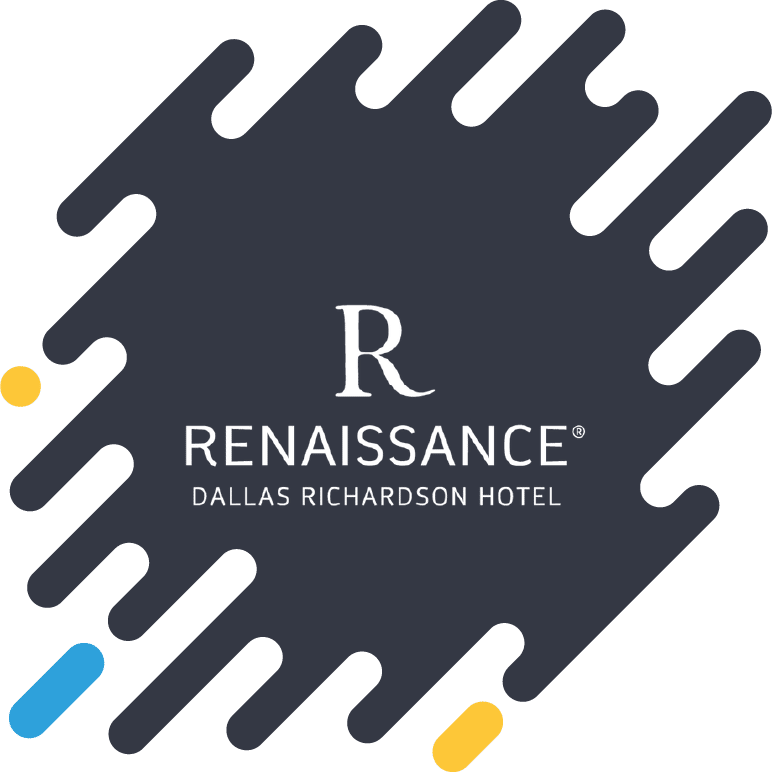 The aesthetic and efficiency of paper signage was far removed from the experience of The Renaissance Dallas Richardson's newly renovated property. Picture a waterfall cascading over white marble in the property's Rhapsody Atrium, Smart TVs in guest rooms, and printer paper taped to the wall outside of the meeting rooms. Not only did paper signage stick out in the ambiance, replacing it each day was time-consuming and Michelle Morales, Director of Event Sales at the property, no longer had the bandwidth to continue with inefficient processes.
"Toward the end of each day, we would print our reader boards and door cards on paper. This was an arduous process, especially on days when all of our meeting space was in use. Keeping everything organized so that the correct door cards were placed in the correct spots could be difficult at times, and if more than one group utilized space during the same day, it was important to send someone around to physically change the door cards," commented Michelle Morales, Director of Event Sales.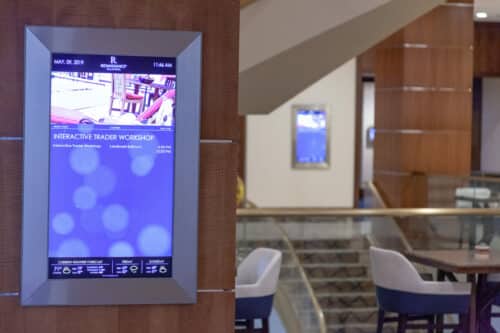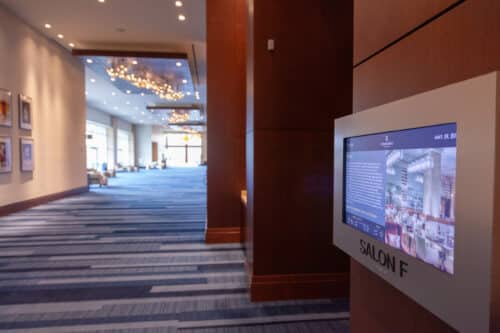 Downfalls of Paper Signage for Event Management
The Renaissance Dallas Richardson has 28,934 square feet of meeting space, made up of 22 event rooms. So each evening, a staff member would print out signage for these rooms. The signage included information about the event and the company or person hosting the event. Someone would then walk the property and place this paper signage. But with constantly changing schedules and meetings booked with little notice, paper signage was often reprinted and replaced manually.
"It was not always a good idea to complete this earlier in the day, or even during downtime, as events could frequently change and cause inaccurate information to be displayed" said Morales. "The layout and accuracy were subject to human error as well… [and] if the person who completed this was going to be out of the office, we had to be sure someone was scheduled to complete this task." Michelle continues to share how feedback cycles with the meeting host can lengthen the process. "Occasionally, the host would request the property change the layout of the signage, which resulted in additional scrambling."
In short, providing clear and accurate communication to guests was time-consuming and inefficient enough to evaluate a new solution for meeting and event communications.
Synchronized Communication Everywhere
Enter JANUS, a hotel digital signage suite by Uniguest that is designed to simplify and drive engaging communication across the entire property. The JANUS signage platform offers customers the ability to connect and deploy content like animations and video, interactive event listings and maps, helpful information to guide local exploration, and more.
The Renaissance Dallas Richardson hotel installed digital meeting room boards at the entrance of their event rooms. All of which synchronize to a pair of vertical directories that display a summary of meetings and their locations as well as a familiar property map to get attendees there quickly. The transformation from paper to digital signage aligned with the properties refreshed aesthetics while reducing manual administrative tasks on staff and driving guests to more revenue-generating opportunities.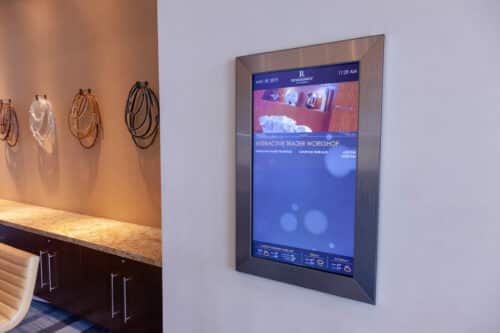 Michelle added, "The immediate first impression is that we have finally caught up with current technology. The displays are professional and have great capabilities. Digital signage has become a time saver, which makes us more efficient in our daily tasks.
"In addition, we can easily communicate more than just our daily events–engaging on a deeper level with our guests and our clients. Incorporating advertising and promotions for our restaurant or evening beverage rituals provides added benefits while supporting additional revenue streams. Modern hotel digital signage has definitely been a much-needed upgrade for us, and we are glad to have our Janus displays!"
The JANUS team (now with Uniguest) collaborated with the property to develop custom enclosures for the new digital signage that fit seamlessly into the environment. We designed metal frames for the meeting rooms and a pair of wood frames for the directories. The directory displays were installed in two locations and housed in a double enclosure and vertically oriented side-by-side.
Pairing the directories in one frame allows for guests to easily navigate between an interactive wayfinding map and the event listings without having to switch windows or walk to multiple screens.
Efficient Event Communication
Morales and staff were left with the training and 24/7/365 technical support needed to quickly manage event schedules so they can spend more time with guests. "The team at JANUS is professional and responsive," says Morales. And she and her property are "beyond happy with how the digital signage solution transformed our event communication process."
Renaissance Dallas Richardson Gallery