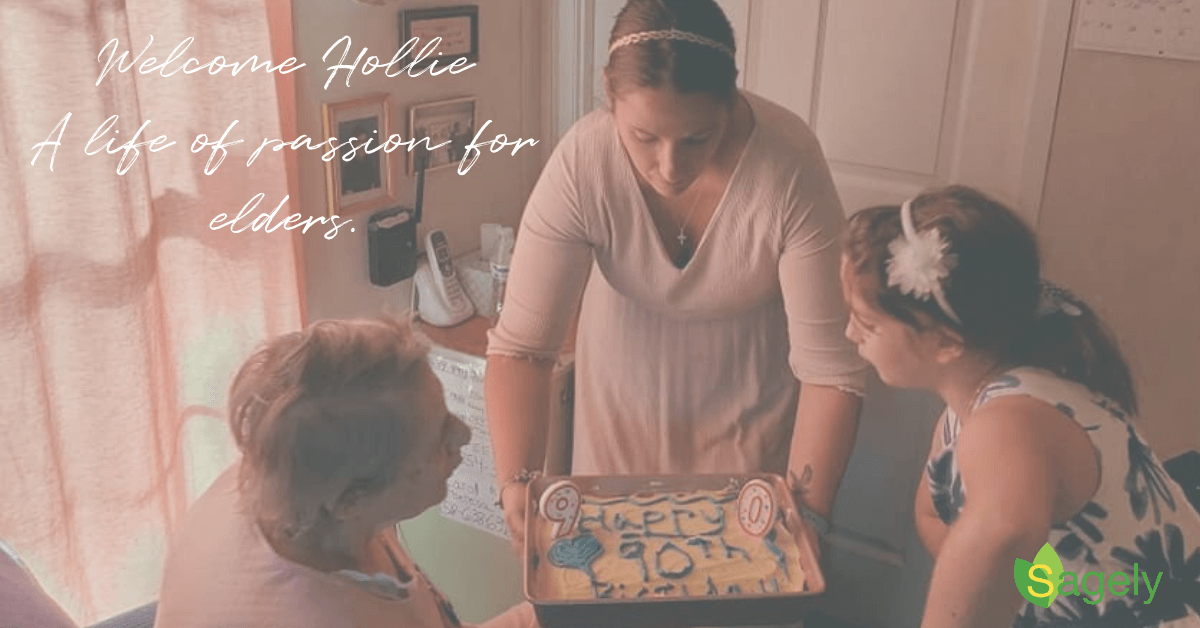 Sagely recently welcomes nationally recognized and award winning engagement expert Hollie Kemp to their 'Ohana…' Discover how her passion for caring for elders found her, the path and challenges she had to face along the way and the reasons she is joining Sagely today.
The Early Years.
I fell in love with Elders first through my Grandparents. I spent every weekend and most summers on the front porch of their farm in upstate NY. We did simple things like pick berries, play Yahtzee, work in the garden, and milk cows. My Grandmother would share stories of her 14 siblings, her mother, and the wisdom gained through a tough life lived. What I didn't know then that I know now is that she was building my heart for elders and my passion for serving them with each visit. My relationship with my Grandparents remained strong throughout my life, and I am blessed to still have my Grandma with me today, as we celebrated her 90th this year. The love we shared would later turn out to be the path to my career calling, serving elders.
The Path.
Over the years I have held many roles in Seniors Housing and supporting industries. I started as a caregiver, moved into management, and in more recent years have been leading large teams and organizational vision. Through it all, one thing has remained the same, the drive to give more and do more to help the elders I cherish live with vitality.
The Challenge.
There is so much complexity to meeting the engagement wants and needs of elders today in the Seniors Housing setting. Much of it has to do with time, communication, individuality, and authentic connection. We must strive for excellence and invest in these areas, not only with our residents and their loved ones but also with each other. Throughout my career, these are challenges I have worked on solving with some of the most talented memory care experts, activity directors, and operators and I am humbled to say we have had much collective success but I recognize there is more to be done.
The Solution.
I see personalized technology as the solution to connection, engagement, and ultimately improved wellbeing of elders and I wanted to join an 'ohana (which means family in Hawaiian) that believed that too. There is such synergy between my personal mission "To change how people age and see aging through personal service" and the Sagely mission "To keep elders happy, healthy, connected, and independent".
With the Sagely solution, I have personally witnessed how you can use data, analytics, and personalized technology to change the experience of your team, your residents, and the families you serve and I wanted to be a part of it.
Some of my favorite moments over the past five years involve the Sagely solution. These moments include feedback from staff, families, and residents raving about how Sagely has helped them in a myriad of ways.
From families, I heard over and over what peace of mind the participation notifications and app provided to them. It was a reminder that their loved one was not just ok, they were happy, and that gave peace to the family member.
For the care team, it was so many loves, but one was surely time back with their residents because of Sagely. They would report that they were saving time by not having to create daily calendars, or enter the calendar into a separate digital display, and they could plan more effectively because of the Sagely attendance feature and knowing what events their residents liked most. So much guesswork removed, so much time given back to Activity and Memory Care Professionals, who are some of the most dedicated and kind-hearted people you will ever meet.
Moments like these are the reason I decided to join Sagely. I want to help spread the word, improve the offering, and help more elders and professionals with Sagely. This new role allows me to cast the widest net with the best team in the business to impact tens of thousands of elders. I consider this opportunity a unique and personal blessing.
This new role allows me to cast the widest net with the best team in the business to impact tens of thousands of elders. I consider this opportunity a unique and personal blessing.