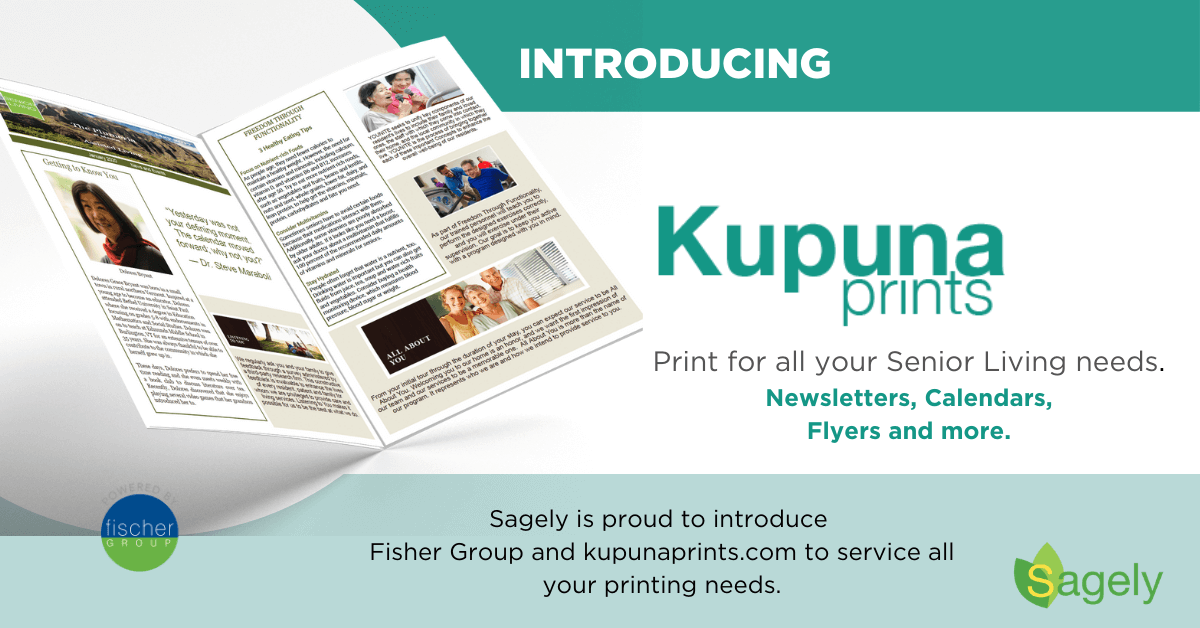 Print for all your senior living needs. Newsletters, Calendars, Flyers and more.
At Sagely we know that now more than ever, time is precious for Senior Living Engagement teams. This is why we decided to launch a new printing service with a wonderful partner Fischer Group.
We are very excited about our partnership with Sagely, and the launch of Kupuna Prints. Our journey with the Senior Living industry began in 2003, and we feel privileged each day to work with clients who allow us to serve them. We have developed Kupuna Prints to be an easy-to-use resource, backed up by friendly, attentive support, that we think will become an industry-leading solution.
Scott Burford
President, Fischer Group
As a company, we are committed to efficiency for the LEDs. We want to help these teams maximize quality of service and save time on administrative tasks that can be better spent with the Seniors they serve.
Kupuna Prints will offer the highest quality printing with quick turnaround and delivery at competitive pricing for both U.S. and Canadian communities. Multiple sizes and formats for calendars, newsletters, flyers and posters are featured with an easy-to-use interface for uploading files and placing orders.
We are very excited about our partnership with Sagely, and the launch of Kupuna Prints. We are continually looking to improve our product offering for our customers and a partnership with Fisher Group felt like a natural next step. Fischer Group, like Sagely is committed to the Senior Living industry and we immediately felt synergy between our missions and customer focus. As a former leader in Senior Living, I know how important the printed word is to Seniors, and I am delighted for Sagely to offer an efficient way for our customers to deliver it through Kupuna Prints.
We hope our customers will find this new service beneficial, now and beyond COVID-19.
Not a Sagely customer? That's ok, you can still use Kupuna Prints.
Ready to get started?
Create your account and follow these easy steps.
1. Select your print product.
2. Upload your file and proof.
3. Add the print to your cart and confirm your order.
It's that easy!
Print orders are typically received within 3-7 business days.
The Friends of Sagely Network" provides Sagely customers with access to additional services from our trusted friends in the industry who have a strong reputation for quality, responsiveness, and overall value.
Disclaimer
When customers purchase a product or service from a company in our affiliate network, they are working directly with that company for purposes of that product or service. Sagely is not involved, or liable, for any work offered by or ordered from an affiliate in the network.  In return for bringing customers and affiliates together, Sagely may receive a referral fee or commission from the recommended affiliate.