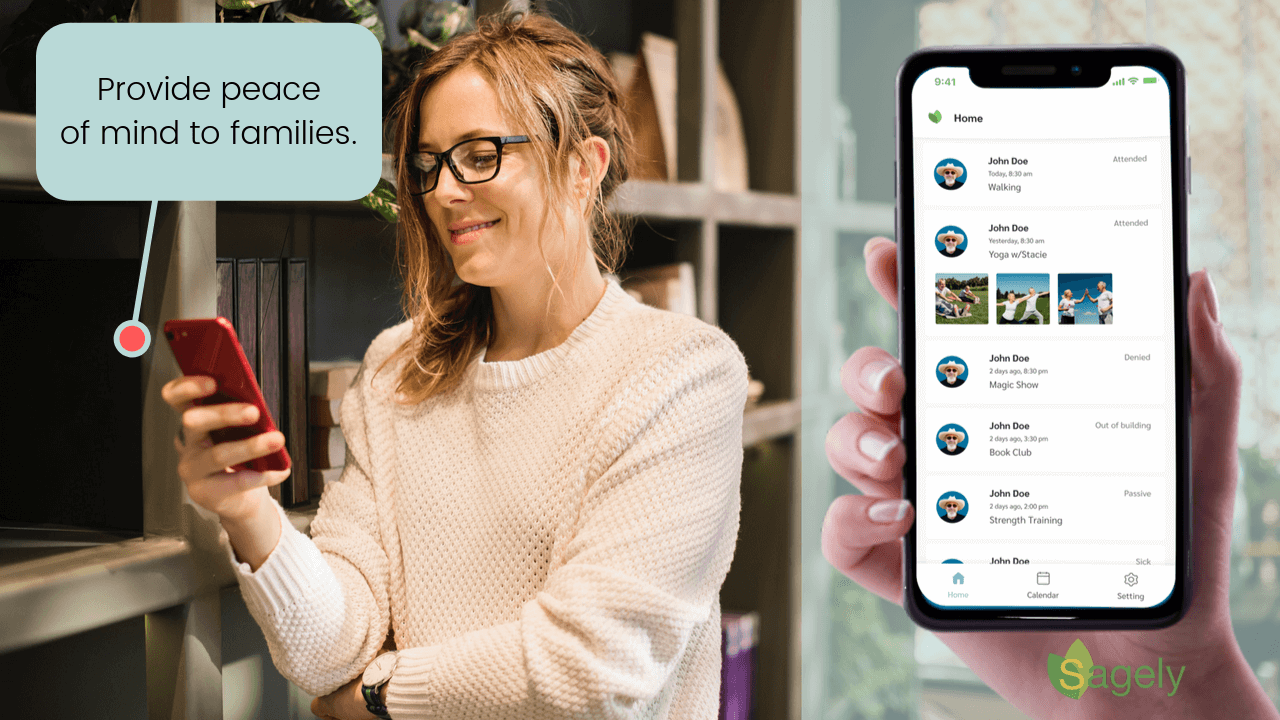 Why Sagely family app? 
Keeping Family Members Connected
When talking to families, we realize how important it is for them to know their loved ones are cared for. sagely family app
A key concern for them is whether the resident is participating in community activities and socializing or are they spending significant time alone in front of their TV?
As a consequence, receiving regular notifications and updates about resident participation yields great benefits for families and older adults.
Families are at peace knowing their loved ones are living in a caring, enriching environment. For example, knowing they are participating in activities keeps them connected to their loved ones.
Helping communities provide peace of mind to families
As an activity director, you want an easy, intuitive way to update families about the great time your residents are having participating in your activity program. 
Keeping families in the know is critical to building relationships and gaining trust. It brings so much peace of mind therefore helps families stay connected and engaged.
Note: The Sagely Family app can only be used by Sagely communities. As a consequence, family members can only use the app once they have been granted access through the Sagely platform.
Benefits of nurturing family & resident connection
More meaningful interactions between families and residents
collaborative relationships with families
Higher resident engagement and retention
Fewer family calls
Families are more informed coming into family care meetings
The Sagely family app helps you achieve this in an easy, intuitive way.
Families have access to the activity calendar. You can track activity participation automatically sending notifications to family members.
For instance, you can bring the family closer by taking a picture of the resident participating in the activity! Moreover you can personalize it with a personal note to the family.
Here's what our families are saying:
I am so happy & grateful for these opportunities given to my loved one! Thank you so much for sharing this pic of her participation! She told me last weekend that her trip out was a 'lolapalooza'!! Thank you so very much.
Love that my loved one attended these events. She never did at her previous living facility. Soooo refreshing!
I really like the Sagely Family App since it does make it nice to hear about my loved one's activities. This should make it much easier for my family members who live out in other states and cannot see her as often as I can.