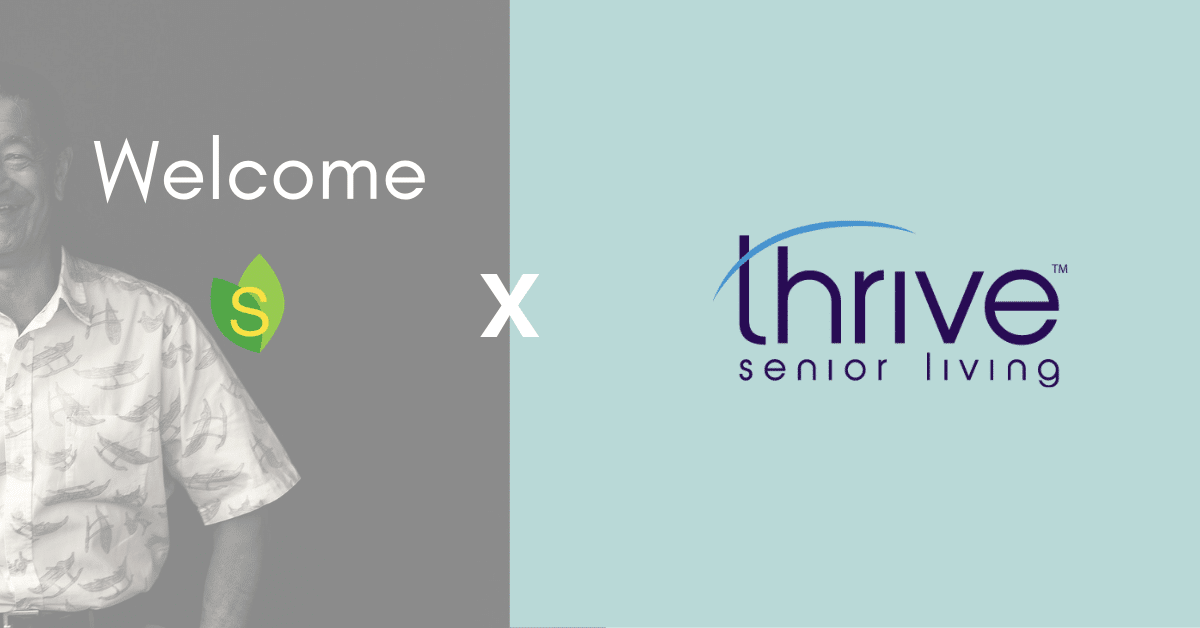 Thrive Senior Living partners with Sagely to further enhance older adults' social connectivity and well-being.
ATLANTA, GA and HONOLULU, HI, JULY 9TH 2019  – Sagely, a digital health company focused on innovative, technology-based senior centered solutions has partnered with Thrive Senior Living to support their shared values and mission to create opportunities for older adults to interact with society in ways that allow them to continue living life to its full potential. The partnership will include the roll-out in all of Thrive's communities.   This partnership will increase connection and social engagement, both inside and outside of the community. For example, the family and friends APP allows for immediate communication between the residents, team and community on all events and programs.
The evidence is clear, "a positive social network is a leading social determinant of health" said Tammy Marshall, chief experience officer for Thrive Senior Living.
At Thrive, we believe older adults prosper with social connectivity and interaction. We decided to specifically align with Sagely because it demonstrated the highest potential to help us further create robust relationships within our communities, while further connecting our residents with their families. Our work in empowering older adults and our teams will undoubtably be enhanced through Sagely's technology.
Tammy Marshall
CEO, Thrive
Thrive's communities offer a new perspective to aging. 
At Thrive older adults are not invisible, they are known, seen and heard.  This practice is at the heart of what has driven the company's growth. Mirroring a similar philosophy is Sagely's commitment to changing the dialog around aging. This partnership aligns with and reinforces the common values of both inventive, nonconventional companies.
Sagely's tools provide a better understanding of a residents' well-being.
The easy and intuitive data collection is gathered in comprehensive insight dashboard of key metrics leading to more effective wellness programs and resident careacross communities.
Working with Thrive communities simply makes sense as our visions align distinctly. Using data will allow to increase engagement, participation, program efficiency and as a result overall resident well-being. As a result, our solution will contribute and fully support Thrive's ambitions to empower and enhance older adults' social network and interactions" said Alex Bitoun CEO at Sagely. "It is refreshing to see Thrive's strong commitment to older adults' well-being. We are excited to contribute to the next steps in their trailblazing mission.
About Thrive Senior Living
Thrive Senior Living designs, develops and operates innovative independent living, assisted living and memory care communities across the country with a fresh perspective on senior living. Thrive strives to enrich lives and be faithful stewards of all that is entrusted to them by respecting and honoring older adults as valuable members of society. Headquartered in Atlanta, Georgia, the company currently operates communities in Texas, Florida, South Carolina, Alabama, Ohio, Virginia, Kentucky, Georgia, and the D.C. metro area. For more information, visit Thrive.
About Sagely
Sagely is a digital health company that focuses on keeping elders happy, healthy, connected, and independent. Sagely marries the power of software, data, and the human element. Our solution empowers caregivers, older adults, and their families to improve older adults' well-being. Working with some of the largest and most reputable senior living communities across Hawaii, the mainland U.S. and Canada, Sagely commits to develop and implement technology that ensures elders vitally connect to their loved ones, leading to measurable improvements in quality of life and health.