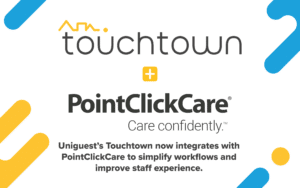 Uniguest's senior living platform, Touchtown, offers synchronization of resident data with PointClickCare for senior living communities 
Pittsburgh, PA 10/15/2022. Uniguest, a market leader in providing user-friendly, data-driven engagement tools for senior living communities, announces a new integration with PointClickCare, a cloud-based healthcare software platform, and the Touchtown senior living platform. 
The integration synchronizes users created and managed within PointClickCare with resident users in Touchtown Community Apps. This simplifies management information workflows, syncs automatically and saves time by eliminating the duplication of data entry. 
Integration with PointClickCare enables communities to improve their staff experience by streamlining processes and saving time; highlighting the importance of integrations with other senior living technology platforms to Uniguest's long-term business strategy.  
Price Barnes, Uniguest VP of Product Management, commented, "Integration with PointClickCare offers valuable time-saving functionality between two key platforms. Again, this reinforces our commitment to delivering features and integrations that bring tangible benefits to the staff and residents of the communities we support." 
To learn more about creating engaged communities with Touchtown, visit www.touchtown.com. For more information about PointClickCare, visit www.pointclickcare.com. 
ABOUT UNIGUEST 
Uniguest is a global leader in providing connected technology solutions to enable those in hospitality, senior living, sports/stadiums, entertainment, retail, education, government, corporate, and enterprise to engage with their audience. Uniguest is highly focused on creating deep client relationships as evidenced by its most recent NPS score of 81. Uniguest provides turnkey technology solutions that include hardware and software solution packages, professional services, system implementation, and 24/7/365 multi-lingual support. The Uniguest family incorporates the Touchtown, ONELAN, Tripleplay, Sagely, Volara, Planet eStream, UCView, Janus Hospitality and Otrum brands and technology.  
Media Contact: Stephanie Scott, Head of Marketing
stephanie.scott@uniguest.com