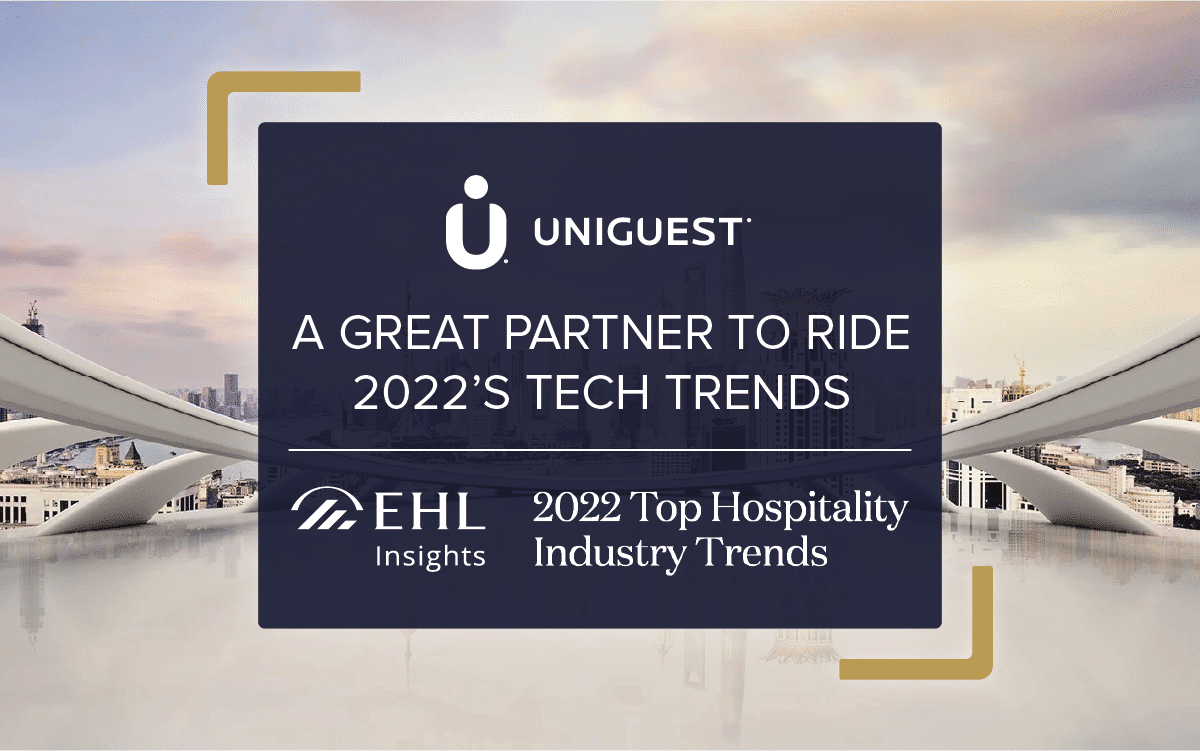 As we look ahead to the unknown of what 2022 will bring for the hotel and hospitality industry, we would be forgiven for feeling uncertain of everything we thought we knew. Thankfully, there are others in the world to help us plot a path and make our tentative plans feel more concrete.
The world's leading university for hospitality management, EHL in Switzerland, has released its annual forecast and expected trends for the industry in 2022 and there are a few that have piqued our interest where we believe we can help Uniguest clients and partners stay up-to-date.
'Bleisure' travelers & hotel workspaces
EHL believes that with the rise of hybrid working we're going to see an increase in business/leisure travelers, which they handily call 'bleisure' travelers; people who will extend their business trip to visit the local area, experience more than their own 'four walls' and may perhaps bring a significant other or family along for the ride.
This change is likely to add increased pressure onto hoteliers who have traditionally catered to business travellers and not families, or vice versa, to adapt to provide the quality service that both expect. Investment in business center technology in a family hotel, or guest room entertainment systems with BYOC/BYOD capabilities in a business traveler hotel are two areas we believe this will impact.
Holistic hospitality, health & well-being
With the pandemic seemingly lingering longer guests are having to be creative with and mindful of their well-being, ensuring that they not only feel physically protected, but mentally safe while in a public space.
The health center or gym has always been a great place for travelers to unwind, revitalize and balance off the excesses of a vacation or business trip, so providing safe spaces for exercise in the future will be hugely important. We've worked with some of the leading brands in the world to deliver in-room fitness technology and facilities, designed for convenience but now also providing exercise with peace of mind.
Digitalised guest experiences
While EHL claims the increased need for digital experiences is owing to a need to minimize virus transmission and while that is a factor, a bigger drive in our experience has been the difficulties the industry has had in recruiting and retaining staff.
Anywhere our technology can be used to augment staffing numbers we have been eager to explore, from our Digital Hotel Guest Directory and Check-In Kiosk to our Wayfinder and Shuttle Tracker, we have been deploying digital technologies that take burden from front of house.
Additionally, following the recent acquisition of voice control specialists Volara, Uniguest is now fantastically well placed to provide 'contactless' experiences for guests, whether for general information, to access entertainment services or to control their environment; simple, effective and modern engagement.
Full report here https://hospitalityinsights.ehl.edu/hospitality-industry-trends