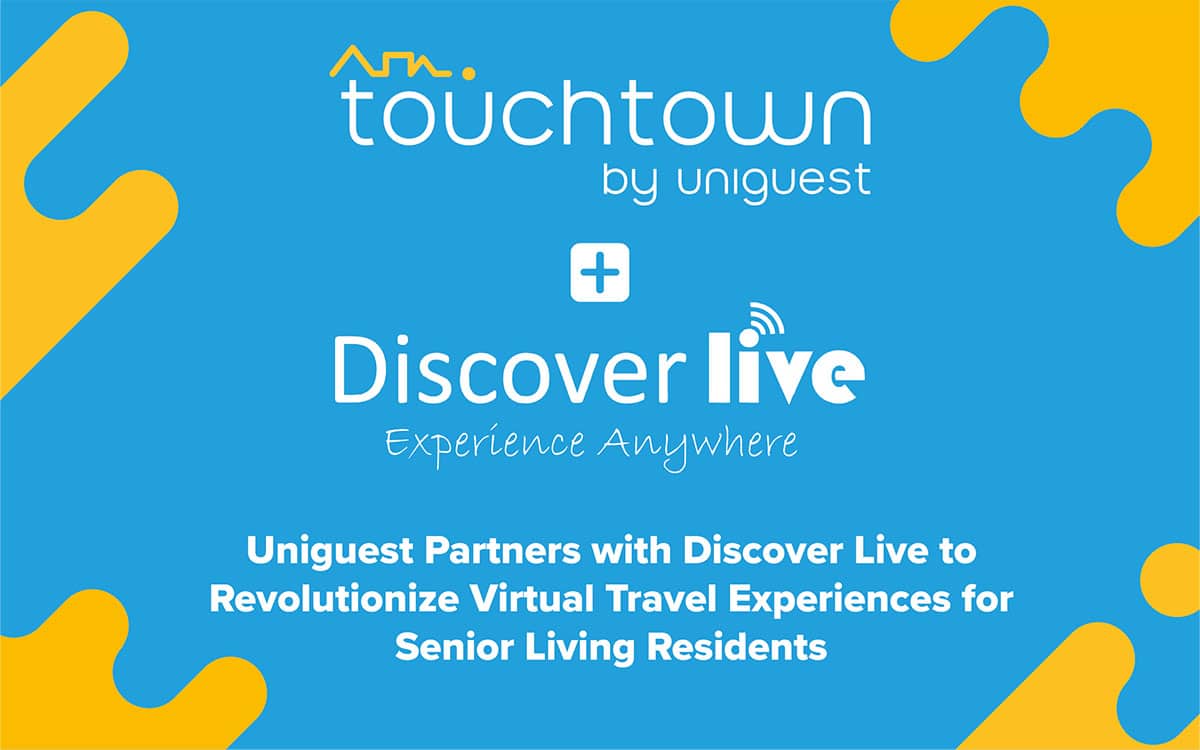 Nashville, TN 06/26/2023: – Uniguest, a global leader in digital engagement technology to multiple end markets, proudly announces its partnership with Discover Live, the pioneer and leading expert in live, virtual, world travel experiences. This collaboration aims to provide unparalleled virtual travel experiences for senior living residents.
Discover Live has been transforming the virtual travel landscape since 2017, virtually transporting tens of thousands of people to experience over 200 hundred  incredible destinations and events worldwide Renowned for their exceptional quality standards, customization capabilities, and outstanding customer service, Discover Live has earned its reputation as the premium provider of live, virtual experiences.
Through this strategic partnership, Uniguest will harness the expertise of Discover Live to enhance digital engagement offerings for senior living communities via the Touchtown Content Manager. By integrating Discover Live's captivating virtual travel experiences into Uniguest's platform, senior living residents will gain access to a diverse range of live, immersive adventures, curated specifically to cater to their interests and needs. This collaboration aims to ignite a sense of wonder, foster cultural education, and provide unparalleled entertainment, all within the comfort of their living environment.
Jason Wei, CEO of Discover Live, shared his excitement about the partnership, stating, "We are delighted to collaborate with Uniguest in providing senior living residents with the magic of virtual travel. Our immersive experiences have the power to transport individuals to breathtaking destinations and enable them to explore new cultures, all from the safety and convenience of their homes. Together with Uniguest, we can create unforgettable moments and enrich the lives of senior living residents, opening doors to new horizons and fostering a sense of joy and discovery."
Price Barnes, VP of Product Management at Uniguest, emphasized the commitment to enhancing the lives of senior living residents, saying, "At Uniguest, we are dedicated to providing innovative solutions that empower senior living communities. By collaborating with Discover Live, we are offering residents an unprecedented opportunity to embark on virtual travel adventures, expand their horizons, and cultivate a sense of exploration and connection from the comfort and safety of their homes."
For more information about Uniguest's partnership with Discover Live or to request a demonstration of the virtual travel experiences designed for senior living residents, please visit uniguest.com or contact hello@uniguest.com.
About Discover Live
Discover Live is the pioneer and leading expert in live, virtual, world travel experiences. Since 2017, Discover Live has transported tens of thousands of people to over 200 amazing places and events worldwide, setting the standard for live, virtual travel. Known for its quality standards, customization capabilities, and exceptional customer service, Discover Live partners with Fortune 500 companies and industry leaders to deliver best-in-class virtual experiences. Learn more at www.discover.live