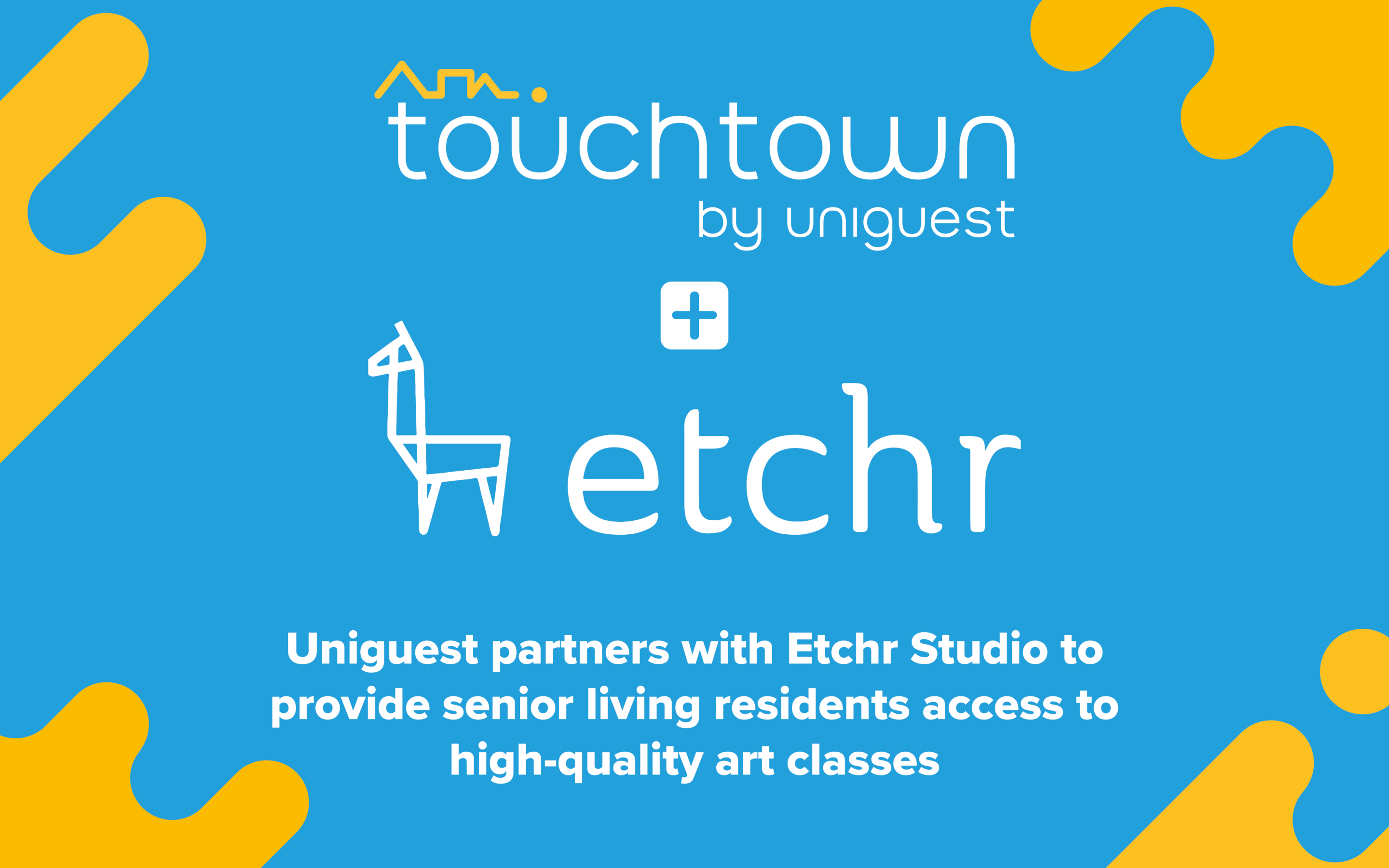 Nashville, TN 03/28/2023: – Uniguest, a global leader in digital engagement technology to multiple end markets and Etchr Studio, an integrated online art learning platform, have announced a new partnership to provide recorded art classes through the Touchtown Content Manager. The partnership will allow senior living communities to offer residents access to high-quality art instruction on-demand, from the comfort of their own homes. 
Art has been shown to improve many facets of wellbeing, and with Etchr's online Art Learning platform, senior residents can access structured art courses designed to take learners from beginner to feeling comfortable with various techniques, as well as individual classes focused on specific skills. With a step-by-step approach and teaching moments throughout the content, residents can grow their skills in painting, drawing, and sketching. Etchr's Studio also offers a growing community of senior art learners, providing an engaging and social environment for residents. 
Simon Frisby, Co-Founder of Etchr Studio commented, "We are excited to partner with Uniguest and offer our live and recorded art classes to senior residents. Our mission is to celebrate creativity in our community, helping everyone make more art, and a partnership with Uniguest allows us to reach a wider audience and help even more people explore their creative side. We look forward to seeing the impact that our classes will have on the senior living community."  
 Price Barnes, Technology and Product Development VP added, "We are thrilled to partner with Etchr Studio in providing senior living communities with access to top-quality art instruction. Our partnership reflects our shared commitment to enhancing the wellbeing of seniors by promoting opportunities for personal growth and creative expression." 
For more information or for a demo, visit touchtown.com or email to hello@uniguest.com. 
/ends 
About Etchr Studio  
Etchr Studio is an integrated online art learning platform and art supplies brand geared towards helping everyone make more art. With structured art courses and individual classes focused on specific techniques, as well as a range of high-quality art supplies, Etchr is the go-to destination for anyone looking to explore their creative side. Learn more at www.learn.etchrstudio.com 
About Uniguest  
Uniguest is a global leader in providing connected technology solutions to enable those in hospitality, senior living, sports/stadiums, entertainment, retail, education, government, corporate, and enterprise to engage with their audience. Uniguest is highly focused on creating deep client relationships as evidenced by its most recent NPS score of 81. Uniguest provides turnkey technology solutions that include hardware and software solution packages, professional services, system implementation, and 24/7/365 multi-lingual support. 
The Uniguest family incorporates the Touchtown, ONELAN, Tripleplay, MediaStar Systems, Sagely, Volara, Planet eStream, UCView, Janus Hospitality and Otrum brands and technology. www.uniguest.com 
Media Contact: Stephanie Scott, Head of Marketing 
stephanie.scott@uniguest.com