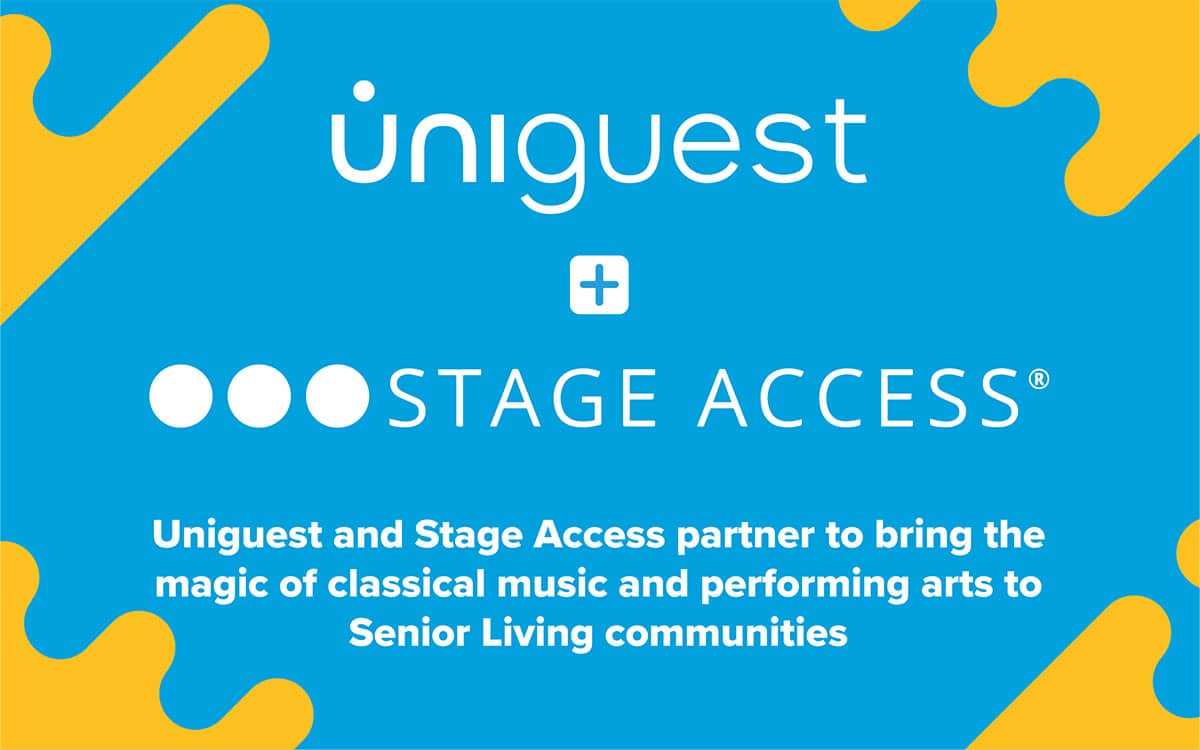 Nashville, TN 07/28/2023- Uniguest, a global leader in digital engagement technology, proudly announces its strategic partnership with Stage Access, the pioneer in producing, distributing, and licensing classical arts programming across multiple platforms. This collaboration aims to revolutionize the digital performing arts landscape and provide unparalleled access to classical arts experiences for senior living communities.
Through this partnership, Uniguest will leverage Stage Access's expertise to enrich its digital engagement offerings for senior living communities using the Touchtown Content Manager. By integrating Stage Access's captivating classical arts programming into Uniguest's platform, residents will have access to a diverse range of live performances, curated specifically to cater to their interests and needs. This collaboration aims to ignite a sense of wonder, foster cultural education, and provide unparalleled entertainment, all within the comfort and safety of their living environments.
Bruce H. Lipnick, CEO and founder of Stage Access, said, "Classical music is true enrichment for any age, and research shows that its affects on the mind and body of senior citizens can be remarkable. That's why we're so delighted to collaborate with Uniguest to bring classical arts to senior living communities, helping seniors enrich their lives and bring them content that engages, entertains and enlightens ."
Matt Goche, chief executive officer at Uniguest, highlighted the commitment to enhancing the lives of senior living residents, saying, "At Uniguest, we are dedicated to providing innovative solutions that empower senior living communities. By partnering with Stage Access, we are offering residents an unprecedented opportunity to immerse themselves in the world of classical arts, expand their horizons, and cultivate a profound connection with the performing arts. This collaboration aligns perfectly with our mission to enrich the lives of senior living residents through digital engagement."
For more information about Uniguest's partnership with Stage Access, please visit uniguest.com or contact hello@uniguest.com.
About Stage Access
Stage Access is the only company to distribute, license and produce classical arts content, with the streaming service called Stage Access at its core. The company also has a theatrical relationship with IMAX, which is releasing the critically acclaimed Renée Fleming's Cities That Sing: Paris in IMAX and standard cinemas in August, followed in September by Renée Fleming's Cities That Sing: Venice.
With Emmy® and Tony award-winning performer Kelsey Grammer as its on screen host, Stage Access is available in the U.S and Canada across every major streaming platform: online, iOS, Android, AppleTV, Amazon Fire and Roku. With a seven-day trial for all new viewers, Stage Access offers monthly, unlimited streaming memberships as low as $7.99. Stage Access also produces acclaimed original programs, including Yo-Yo Ma: Six Solo Bach Cello Suites from the Odeon, Athens; and The 3 Tenors: From Caracalla to the World – The 30th Anniversary Documentary.
For more about Stage Access, visit www.StageAccess.com, or find Stage Access on Facebook, Instagram or LinkedIn at @stageaccess or on Twitter at @stageaccesstv.