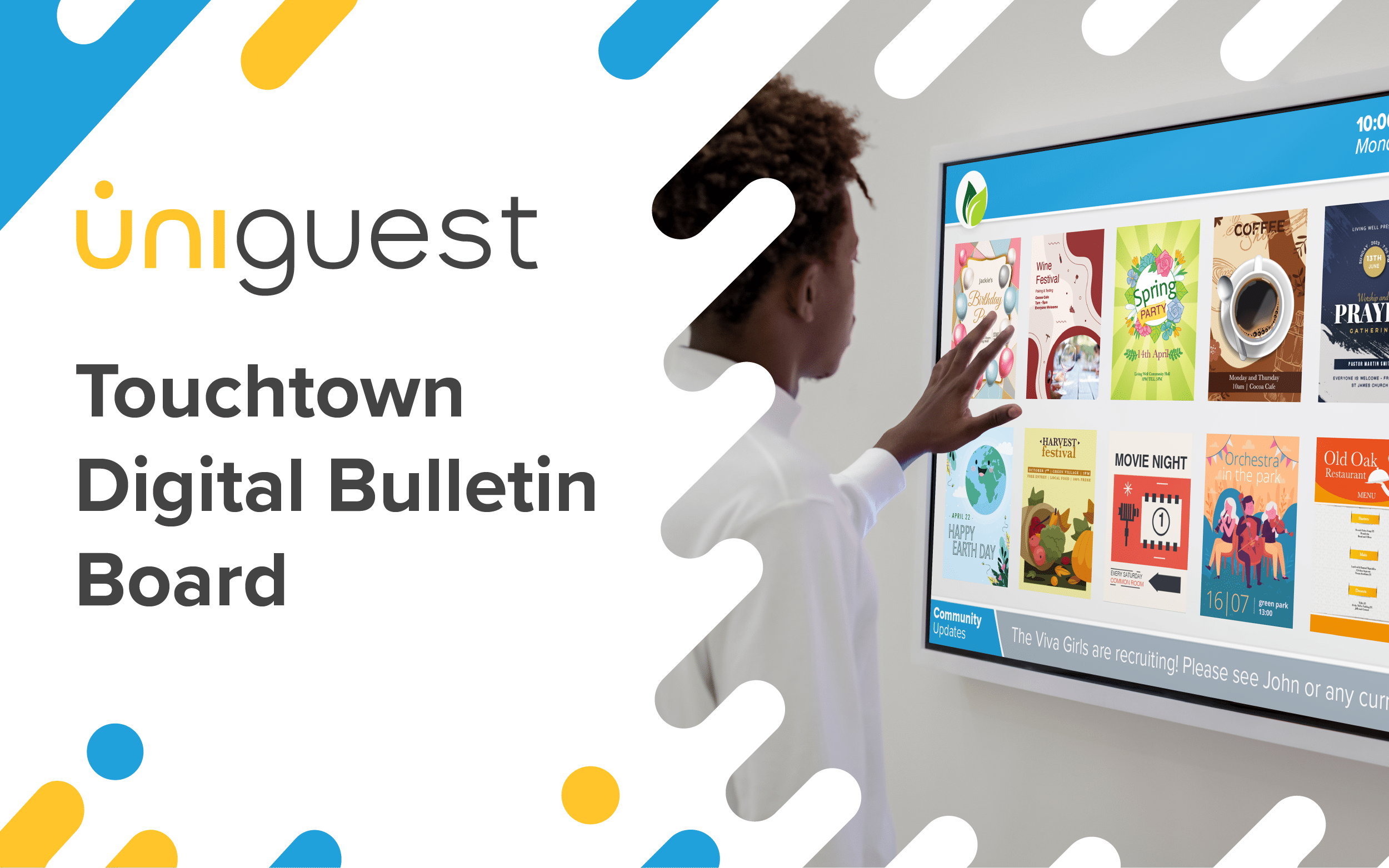 Nashville, TN 04/12/2023. Uniguest announces the release of a Digital Bulletin Board for its Touchtown platform, a market leader in providing user-friendly, data-driven engagement tools designed for senior living communities.  
The Digital Bulletin Board creates the perfect self-serve information kiosk for residents or staff providing quick and easy access to the latest community news and information via an intuitive touchscreen display.  
Synchronization with Touchtown's Activities-at-a-Glance feature also allows the latest information about community activities to be pulled and automatically displayed on the Digital Bulletin Board. This ensures content is always up-to-date and removes the requirement to enter the same data in different platforms, thus reducing staff workload.  
The introduction of Uniguest's Touchtown Digital Bulletin Board leverages the engagement opportunities offered by interactive touchscreen displays. It also supports communities in the move towards removing paper clutter and reducing their paper waste and printing costs.  
Price Barnes, Uniguest VP of Product Management, commented, "Digital Bulletin Board is the next step in digital signage within senior living. We are excited to see this technology flourish and support communities by allowing them to offer a truly interactive self-serve information experience for residents. In addition, it will enable communities to create awareness and ensure long-term engagement with the programs, activities, and amenities they have invested in." 
To learn more about Uniguest's Touchtown platform and how the Digital Bulletin Board can help create engaged communities, visit www.touchtown.com and register for a demonstration.  
ABOUT UNIGUEST 
Uniguest is a global leader in providing connected technology solutions to enable those in hospitality, senior living, sports/stadiums, entertainment, retail, education, government, corporate, and enterprise to engage with their audience. Uniguest is highly focused on creating deep client relationships as evidenced by its most recent NPS score of 81. Uniguest provides turnkey technology solutions that include hardware and software solution packages, professional services, system implementation, and 24/7/365 multi-lingual support.  
The Uniguest family incorporates the Touchtown, Onelan, Tripleplay, MediaStar Systems, Sagely, Volara, Planet eStream, UCView, Janus Hospitality and Otrum brands and technology. www.uniguest.com 
Media Contact: Stephanie Scott, Head of Marketing. stephanie.scott@uniguest.com