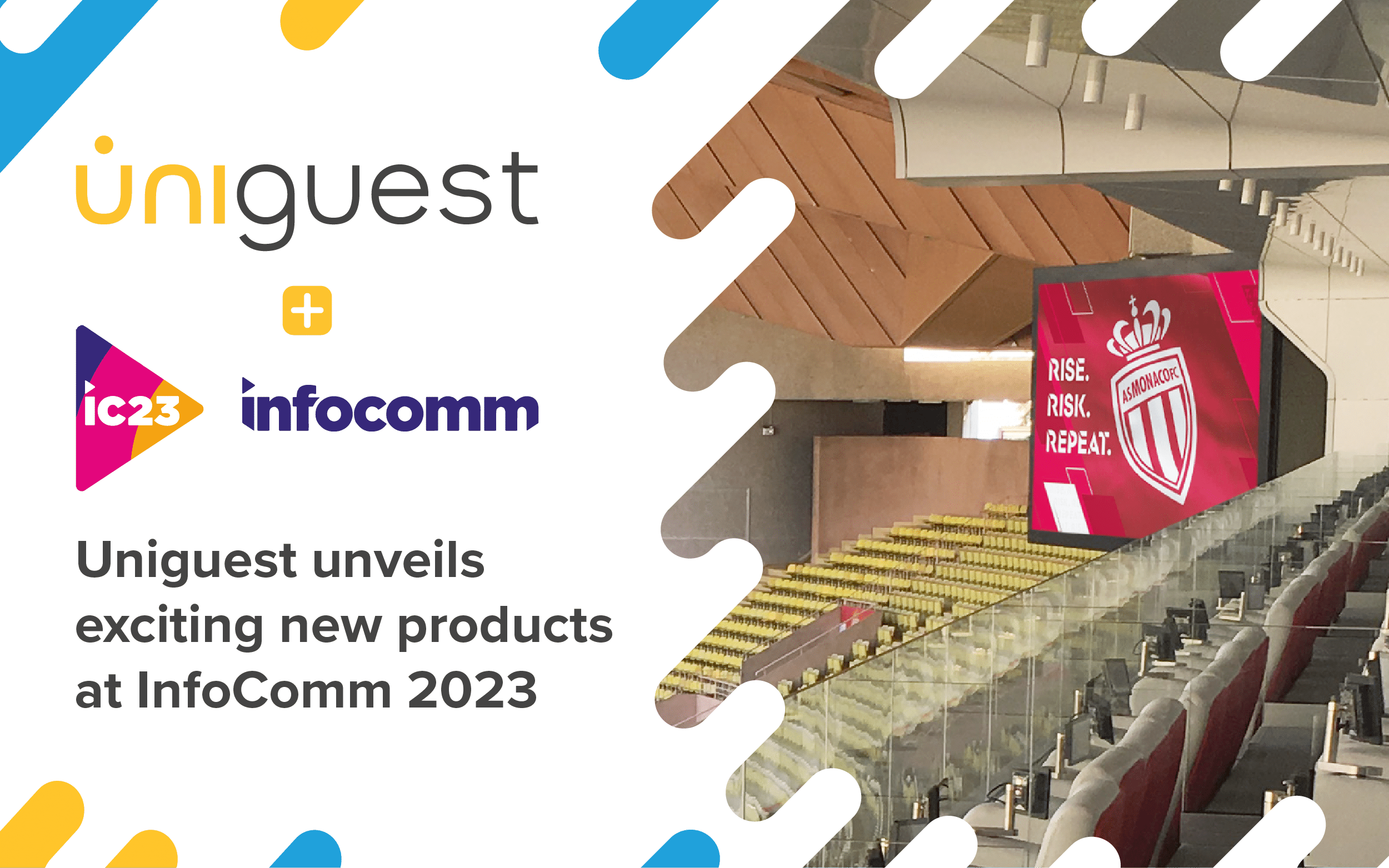 Orlando, Fl, 14th June 2023: Uniguest previews a new look and feel for its enterprise IPTV and digital signage platform, Tripleplay, at this year's InfoComm conference whilst also giving a US debut to some brand-new MediaStar technology, including a new 8K Media Player and a cloud-based version of Media Manager.
An updated User Interface (UI) with improved User Experience (UX) forms part of the next Tripleplay release, which will also include some exciting feature developments. The modern look and feel enhances the UX and simplifies operation; also aligning the Tripleplay platform with Uniguest's iconic branding. This refresh has also provided the opportunity to streamline workflows, simplify tools, and bring in new functionality, including a reworked digital signage content management system, new widget design tools and panel-style menus for the Interactive IPTV Portal.
Uniguest's MediaStar 8K Media Player supports video resolutions of up to and including 8K, with a price that competes with many HD and 4K Media Players; positioning it as the perfect solution for delivering high-end content and to future-proof digital media delivery networks. Uniguest has also launched a cloud-based version of the MediaStar platform management software. Media Manager-as-a-Service brings multiple benefits to customers, lowering ownership costs and increasing scalability.
Uniguest's VP of Marketing, James Keen said, "InfoComm is an excellent opportunity for customers to see and interact with our latest developments and catch up with our team face-to-face in a relaxed and engaging environment.
"It is very exciting to have such an excellent showcase for the next chapter of the Tripleplay IPTV platform. This UI refresh has been long in the making and provides an excellent base for us to develop even more fantastic new features and workflows for our users moving forward. Additionally, the release of our 8K media player helps our customers take a step into the future of secure IP content delivery while serving the needs of today; it's a simple innovation we're very proud of."
For further information on Tripleplay or MediaStar, contact your local Uniguest representative, visit www.uniguest.com or email hello@uniguest.com.
About Uniguest
Uniguest is a global leader in providing connected technology solutions to enable those in hospitality, senior living, sports/stadiums, entertainment, retail, education, government, corporate, and enterprise to engage with their audience. Uniguest is highly focused on creating deep client relationships as shown by its most recent NPS (Net Promoter Score) score of 82. Uniguest supplies turnkey technology solutions that include hardware and software solution packages, professional services, system implementation, and 24/7/365 multi-lingual support.
The Uniguest family incorporates the Touchtown, ONELAN, Tripleplay, Sagely, Volara, Planet eStream, UCView, MediaStar Systems, Janus Hospitality, Otrum, Bunch and Eversound solutions.
Media Contact: James Keen, VP – Marketing
James.keen@uniguest.com