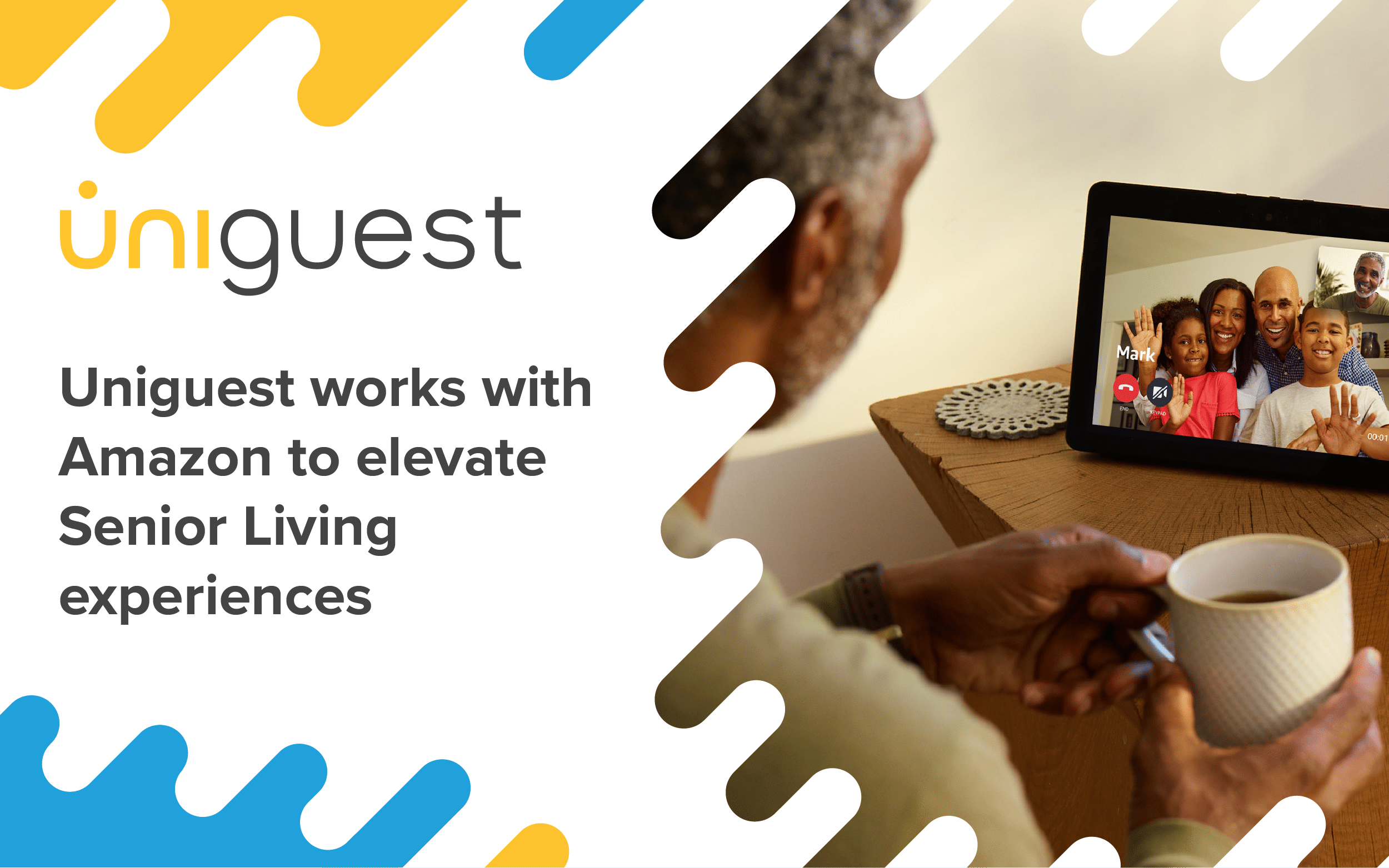 Nashville, TN 10/30/2023.- Uniguest, a global leader in digital engagement technology for senior living communities, is thrilled to announce its collaboration with Amazon, bringing cutting-edge technology to senior living residents. Building upon the success of Uniguest's solutions, currently used by hundreds of communities, this enhanced collaboration aims to revolutionize the resident experience.
Since its initial launch, Uniguest's Community Voice solutions have become a staple in senior living communities, with residents utilizing Alexa via their in-room Echo devices. The positive reception and high usage demonstrate the immense value and impact of voice technology in enhancing the quality of life for seniors.
With this collaboration, Uniguest is introducing enterprise management, simplifying the rollout process of Community Voice solutions to communities of all sizes. Enhancing management capabilities will streamline the implementation, ensuring that residents can benefit from the transformative technology with ease.
One of the standout features of this engagement is the integration of Uniguest's Volara voice management system. In addition to enjoying the benefits of Uniguest's senior living technology, communities will now have the opportunity to tailor content shown on the Echo devices to suit their specific needs. This customization will enable communities to curate content that caters to their residents' preferences, fostering more personalized interactions and experiences.
Matt Goche, Chief Executive Officer at Uniguest, expressed his excitement about the collaboration, stating, "Uniguest is dedicated to staying at the forefront of digital engagement technology for senior living communities. Our work with Amazon allows us to leverage the power of voice technology to enrich the lives of residents and empower communities to deliver exceptional experiences. With the addition of enterprise management and Volara voice management system, we are taking a giant leap forward in redefining senior living experiences."
Uniguest's collaboration with Amazon represents a significant milestone in the evolution of Community Voice solutions. This collaboration will not only enhance the current offerings but also pave the way for even more innovative and tailored voice-powered experiences for senior living communities.
For more information about Uniguest's collaboration with Amazon and the transformative Community Voice solutions, please visit uniguest.com or contact hello@uniguest.com.
/ends
About Uniguest
Uniguest is a global leader in providing connected technology solutions that engage audiences in various industries, including hospitality, senior living, sports/stadiums, entertainment, retail, education, government, corporate, and enterprise. With a strong focus on building lasting client relationships, Uniguest offers turnkey technology solutions, including hardware and software packages, professional services, system implementation, and 24/7/365 multilingual support. The Uniguest family incorporates a range of leading brands and technologies, including Touchtown, Eversound, Onelan, Tripleplay, MediaStar, Sagely, Volara, Planet eStream, UCView, Janus Hospitality, Bunch, and Otrum. Discover more at www.uniguest.com.
Media Contact:
James Keen, VP of Marketing
Email: james.keen@uniguest.com