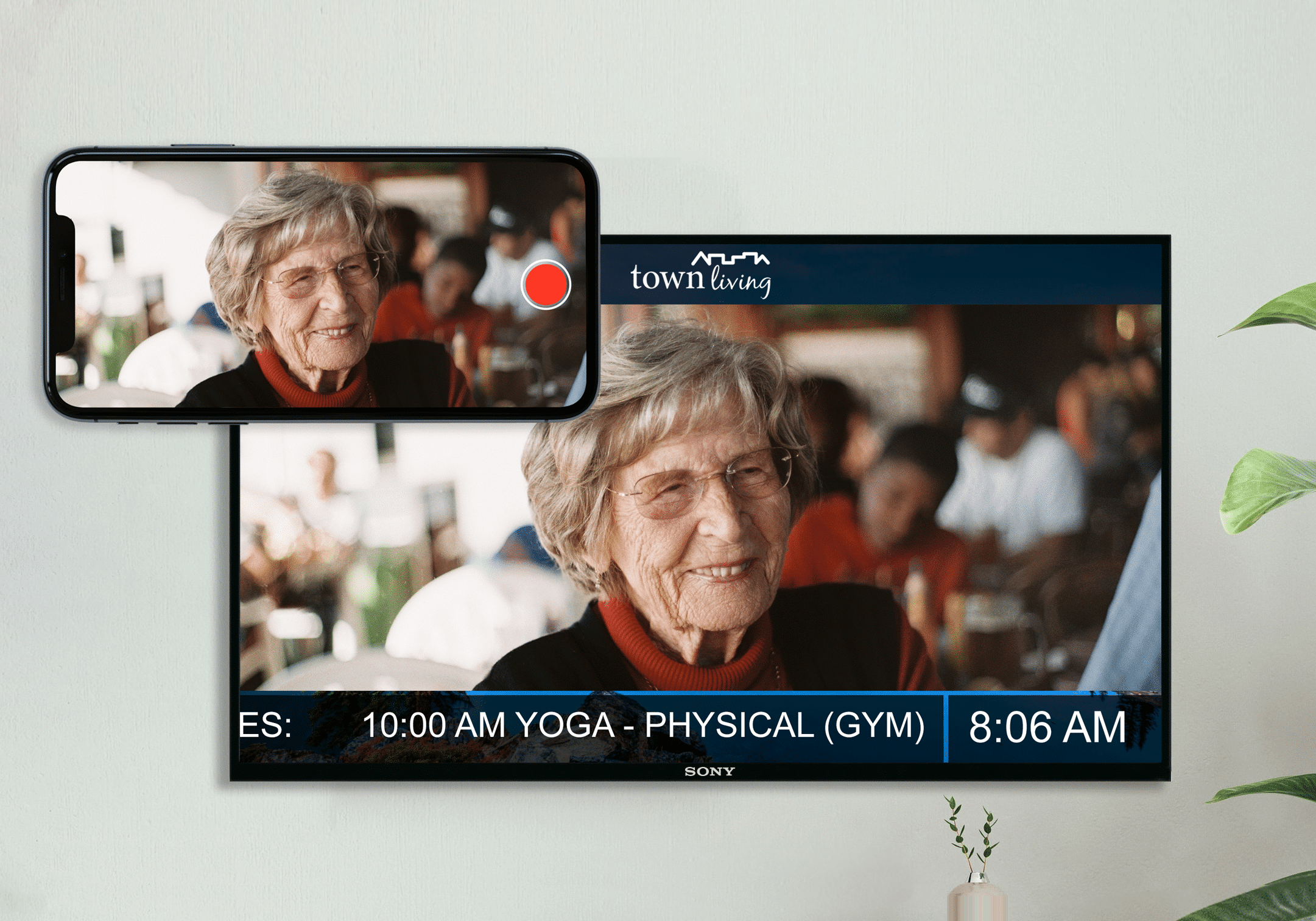 The aging population continues to progress with the evolution of video. As witnesses of the birth of television through the golden age of programming, they are in tune with TV. More than half of the Baby Boomer and Senior population watch videos online. Whereas seniors access the majority of online video on YouTube (Google & Ipsos MediaCT).
The Silent Generation expects it. Baby Boomers demand it. But, communities struggle to produce a frequent stream of video content. Challenges with technology, professionalism, setup, and editing hold creators back. Viewers retain 95% of a message when they watch it in a video—compared to 10% when reading it in text. 
Yet, not all video production needs to be intensive. Live video streaming makes it easy for all teams to connect with residents in the moment, while at the same time growing the community's presence online. So why are residents still stuck with cork board announcements and printed newsletters?
YouTube Live Stream to Touchtown Community Apps, a Digital Sign, and/or TV+ Channel
In an effort to empower improved programming and community engagement, Touchtown has developed the capability to stream video to Community Apps, Digital Signs or In-Room TV+ Channel by way of YouTube Live. Livestream community events on-the-go from a phone or laptop to the residents' rooms, lobby, common area, or the employee break room.
Scheduling a YouTube Live stream is the same familiar workflow as scheduling and publishing:
Activity, programming, events
Dining menus
Announcements
YouTube videos
Documents (PDFs, Word, Excel, etc.)
YouTube Live Produces Lively Benefits
In addition to captivating residents and staff on the fly with live video, all of your streams will have one unified home on YouTube. YouTube is the second most trafficked site, after Google (Alexa). So it's an added benefit that all live streamed videos are automatically stored in your channel for new residents and their families to discover online. Repurpose any video content to schedule to a Digital Sign or TV+ at a later date by simply adding the link to the Content Manager.
YouTube Live is much less expensive than setting up camera equipment and running cabling throughout the community. Lindsay Evans, Product Manager at Touchtown stated that "Our customers have expressed how expensive cabling alone can be for live video streaming. Communities spend as much as $70,000 to route video back to a computer. Everyone has a powerful video camera in their pocket, so integrating with YouTube Live was a natural extension of our offering."
Communities spend as much as $70,000 to route video back to a computer. Everyone has a powerful video camera in their pocket, so integrating with YouTube Live was a natural extension of our offering.
Engage Residents and Staff from Anywhere:
Schedule a live message from the CEO each day in the break room

Stream religious services to resident rooms daily

Schedule a priority message over regular content for important video updates

Hold a daily meeting/message in the employee break room at the start of each shift

Launch corporate training sessions to all locations

Livestream instructor fitness and yoga classes

Facilitate live meditation hours

Stream interviews of residents and staff members
I can't wait to bring special events and activities into the rooms of our veterans who are bed-bound so they can be a part of what's going on in Recreation Therapy and around the campus.
Alyssa Welch
Recreation Therapist, Central Arkansas Veterans Healthcare System
OK, We're Ready for Our Close Up 🤳
In the past 30 days, more online video content has been uploaded to the web than the past 30 years of TV content (Blue Corona). However, according to Buffer, 73% of marketers said they'd create more video content if there were no obstacles like time, resources, and budget. Now that we've removed some of the barriers, communities can livestream without worrying about tedious post production. Adopting YouTube Live will entrust your community to communicate effectively and reach residents and staff on the media that constitutes their daily lives.