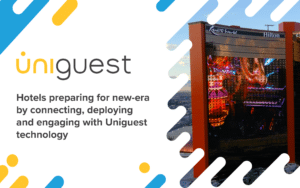 As the hospitality industry enters a new era of growth, hoteliers have faced an increase in demand from new and returning guests who arrive with expectations of enjoying a high-end luxury experience. 
However, according to a 2022 new member survey conducted by the American Hotel & Lodging Association (AHLA), ninety-seven percent (97%) of survey respondents indicated they are experiencing a staffing shortage, 49% severely so. The most critical staffing need is housekeeping, with 58% ranking it as their biggest challenge. 
With stretched workforces and demanding patrons, properties are actively seeking new technologies and tools to provide guests with a level of service which positions them above the competition and helps differentiate their offering in a crowded and challenging market.  
To the traditionalist's surprise, anecdotal evidence indicates guests are enjoying this modernization and technology transformation within the hotel space, particularly in luxury properties; resulting in increased loyalty, spending, and service efficiencies.   
Enabling Guests with Technology 
Uniguest studies show that nearly 2,000 unique visitors per month at a typical 150 room hotel utilize a property's Digital Hotel Guest Directory, easily and conveniently accessible by scanning a QR code on their personal devices. Guests benefit from a dynamic interface, with absolutely nothing to download. 
Given published occupancy rates, Uniguest research indicates that over 94% of guests are engaging with digital directory technology during their stay. Estimates suggest this is a saving of nearly $3,000 per year in print costs for a property and untold hours of staff time managing printed collateral, which rapidly becomes out of date.  
Digital Showcases to Delight and Inform  
The digital experience does not end there. Depending on placement, digital signage technology can be experienced by every guest that walks through your front door and isn't just limited to traditional use cases like wayfinding, menu boards, and advertisements, nor limited to traditional locations like the lobby or cafe.  
Many hotels are now enabling immersive multimedia experiences with digital signage, which is not only improving operational efficiencies but increasing on-site sales, transforming ambience, and driving up the Net Promoter Score as well. 
Making Service Accessible and Personal 
Furthermore, hotels with in-room technology have exceeded their guests' expectations. From the comfort of their own rooms, guests can access the information, local recommendations, and hotel services they need for a pleasurable and convenient stay just by speaking or tapping on the voice enabled device on their bedside table.   
Rather than picking up the phone to call room service or request a forgotten amenity at the front desk, guests can simply ask the device. Voice-technology is becoming a critical component to elevate the guest experience. This solution also provides guests simple access to their favorite music and videos centered around their unique interests, providing guests with an elite level of hospitality and a more personalized experience. 
As hotel staff serve different roles, the various engagement technologies – or styles of digital hands – also fulfil their own distinct purposes. However, they all unite in helping to deliver a convenient and memorable stay for guests, while helping to maximize the limited resources available to hoteliers. 
The white glove need not be eliminated from the hoteliers' repertoire, but it may be time to acknowledge that guests may prefer a digital hand under that glove to help facilitate a long-term transition to a self-serve methodology benefitting guests and hoteliers alike.